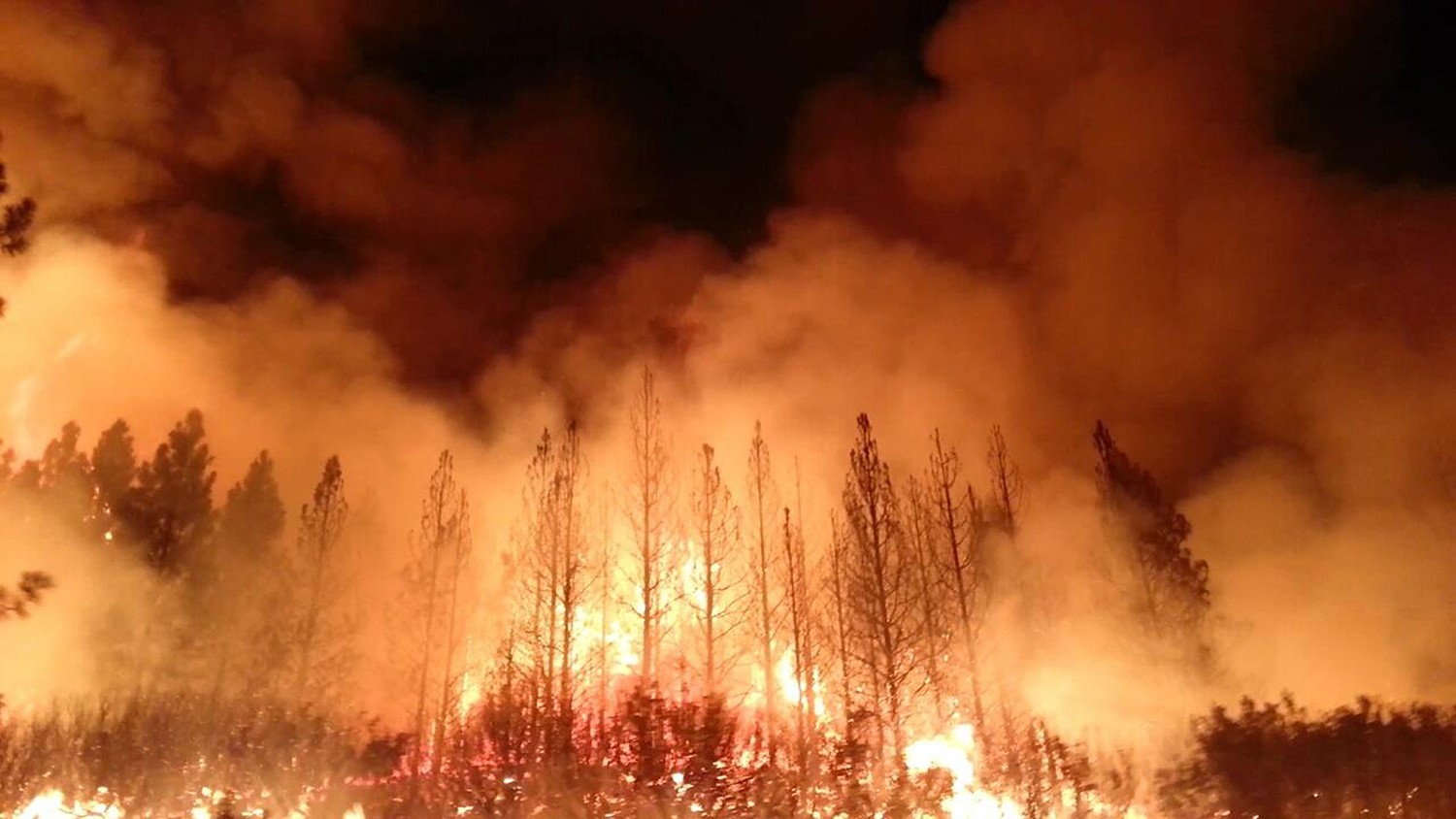 Californians have been heading to the Sierra Nevada foothills in search of a better life since the Gold Rush. And during the past half-century, many people with conservative viewpoints have moved into small towns and rural areas looking for like-minded neighbors. Even some liberals and hippies have flocked to the hills, congregating in progressive enclaves in an effort to live in tune with nature.
The rush to the hinterlands has also been fueled by strict zoning laws in cities enacted in the mid- and late-20th century that effectively banned the construction of dense new housing in many urban areas. These exclusionary zoning policies have also helped spread suburban sprawl, with housing tracts paving over wildland areas.
Academics refer to these areas as the wildland-urban interface, also known as the WUI (pronounced Woo-eee). And from 1990 to 2010, as cities built very little new housing, the WUI experienced a homebuilding explosion: a 41 percent jump in the number of homes constructed in it, according to a 2017 study led by researchers at the University of Wisconsin. Today, one in three Americans lives in the WUI.
And as we've learned in the past decade and a half, in California, the WUI is extremely fire prone — especially in this era of climate change and especially following the state's five-year drought from 2012-2017.
The numbers are staggering: 15 of the 20 largest fires in California history have occurred since 2000, with four of the five biggest since 2012. Of the 20 deadliest fires ever in the state, 10 have happened since the turn of the century. Of the 20 most destructive, 14 have occurred since 2000.
Every year, it seems, the state breaks a record for the most destructive or deadliest fire, or both. Now, of course, the record goes to the horrific Camp Fire, which as of Monday, had killed at least 79 people and obliterated 15,000 total structures, including more than 11,700 homes.
The big blaze also caused a massive humanitarian crisis, with tens of thousands of people now homeless. And despite being more than 150 miles away, it blanketed the Bay Area in thick, stifling smoke for nearly two weeks, sending air quality readings off the charts and residents scrambling into stores in search of N-95 masks.
"We're in the new abnormal," Gov. Jerry Brown told reporters over the weekend. "Things like this will be part of our future. Things like this and worse."
But it's not really the "new abnormal." It's the new California reality. And it's a nightmare of our own making.
No, not because we haven't been "raking" the forest floor, Mr. President. True, we've mismanaged our forestlands, suppressing fires for the past century rather than letting them burn naturally. And as result, our wooded areas are choked with highly flammable underbrush. Plus, we now have 129 million dead trees from the drought.
There's no doubt that we need to manage our forests better and create more defensible space around homes and buildings in the WUI. The $1 billion wildfire prevention plan approved earlier this year by the Legislature and the governor should help in that effort.
But experts agree that forest mismanagement is not the only problem nor is it the most important. The primary dilemma we face is that we have too many people living in wildlands or right next to them. And when winds are strong and the landscape is dry, those people are now in grave danger.
As veteran Mercury News environmental reporter Paul Rogers noted in a report on Monday, our world has changed substantially in the past few decades: Since 1980, temperatures have risen 3 degrees Fahrenheit in California during autumn months — September, October, and November — while rainfall has dipped by a third during those months.
These increasingly hot and dry conditions are powering conflagrations we've never seen before: fire tornadoes and walls of flame that destroy neighborhoods in minutes and erase entire towns in hours.
"We have to really start to think about new measures and approaches that have to be more drastic," Bruce Cain, director of the Bill Lane Center for the American West at Stanford University, told the LA Times in a Nov. 19 report (The LA Times has done the best reporting recently on the dangers of too much homebuilding in California's wildlands). Cain contends that we "need a strategic retreat from communities that are never going to be safe."
"It's not a land management and wildland fire management problem," Max Moriz, a wildfire specialist at UC Santa Barbara, also told the Times. "It's an urban planning problem."
And Char Miller, director of environmental analysis at Pomona College, told the newspaper, "Why is it that at the county, city, town level, we have repeatedly green-lit development in areas that we know are fire zones?"
Some experts have already suggested that Gov.-elect Gavin Newsom create a permanent commission on development in hazardous wildland zones. Others have proposed that the state buy out undeveloped private properties in order to keep them wild. One idea often put forward is burying electrical lines in wildland areas — but that is ten times more expensive than traditional above-ground lines.
Another obvious solution is for PG&E and other state utilities to pro-actively cut power in the WUI during dry conditions when winds are strong. Of course, when PG&E did that last month — and no fire occurred — the utility endured withering criticism and faced threats of lawsuits. Now, it's being criticized for not turning off the power before the Camp Fire ignited.
State regulators said last week that they will help prevent PG&E from going belly up as a result of the Camp Fire. But they should also establish protocols requiring the utility to cut power during dangerous conditions while exempting it from lawsuits resulting from such outages.
Of course, curbing development in the WUI will be extremely controversial — and it'll take real courage from state legislators and the governor to address it.
The same is true locally. We've continued to allow homebuilding in the Oakland and Berkeley hills even though the deadly 1991 East Bay hills firestorm (at the time the worst urban wildfire in state history) proved how dangerous it is. In light of the state's new "abnormal," the Oakland and Berkeley city councils should start thinking seriously about curtailing new development in the hills. (It's also past time for Oakland hills residents to renew the area's wildfire assessment district, which generated essential funds for vegetation management.) Last year's Tubbs Fire in Santa Rosa showed how a blaze can start in the WUI and then spread quickly to a nearby urban area.
Oakland and Berkeley have plenty of space to build homes outside the WUI — if they have the political will to overcome local NIMBYism.
"Nature has something to tell us," wrote California outdoors author John McKinney in a Nov. 16 op-ed in the Washington Post. "It's time we listened."
Yes, it is.