California's historic vote on legalizing cannabis is 649 days away, but the warchests must be filled now. 
The Coalition for Cannabis Policy Reform collected $80,000 for the campaign to legalize cannabis in California in 2016, said CCPR chair Dale Sky Jones. The group collected the haul at a marijuana investor forum held at the Fairmont Hotel in San Francisco on Monday and Tuesday.
Jones made her pitch to a room full of several hundred venture capitalists, and smaller investors looking to place bets on the legal cannabis industry, which is expected to gross $3.5 billion this year, according to
estimates
from event organizers The ArcView Group.
ArcView co-founder Troy Dayton — a former fundraiser for Marijuana Policy Project — led the funding round for legalization Monday afternoon, asking capitalists to pony up for the reforms they hope to profit from. One $50,000 donor was joined by one $10,000 donor, a few $5,000 donors and several $1,000 donations.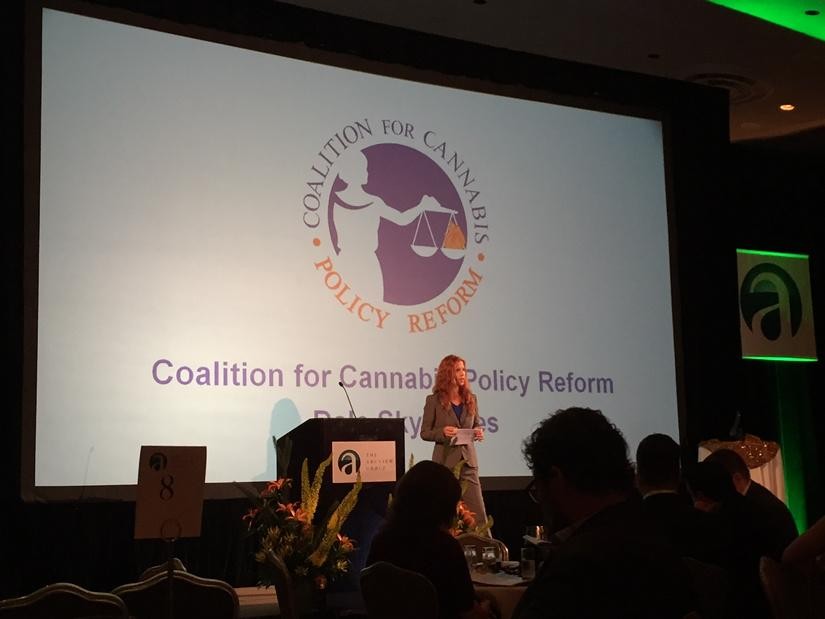 [jump] Dayton prodded the crowd on, noting tickets to ArcView's event cost $2,500 a piece, and saying he didn't want a repeat of the media narrative coming out of a 2014 investor conference in Las Vegas. There, Drug Policy Alliance executive director Ethan Nadelmann blasted attendees for vulture-ing down on the carcass of prohibition.
According to
LA Times
reports
:
"All of you [investors] came that close to seeing [legalization] blow up in our faces," Nadelmann told them, referring to the near-crisis in Oregon. "I am looking for you guys to step up and step up soon.

"You wait for some goody-two-shoes who is interested in civil rights to say, 'Let's legalize,' then we will come in and hire our lobbyist for our own interests. It is shortsighted. It is narrow-minded."
The Coalition for Cannabis Policy Reform — also called ReformCA — has just a few months to prepare a winning initiative for state review by the Secretary of State's suggested deadline, we
report
in the print
Legalization Nation
column. It could take $10 million to run a professional campaign without major opposition, experts say.
Since 2010, Oakland-based ArcView Group has amassed 415 investor members, funded 40 companies with $20 million, and raised $500,000 for legalization.