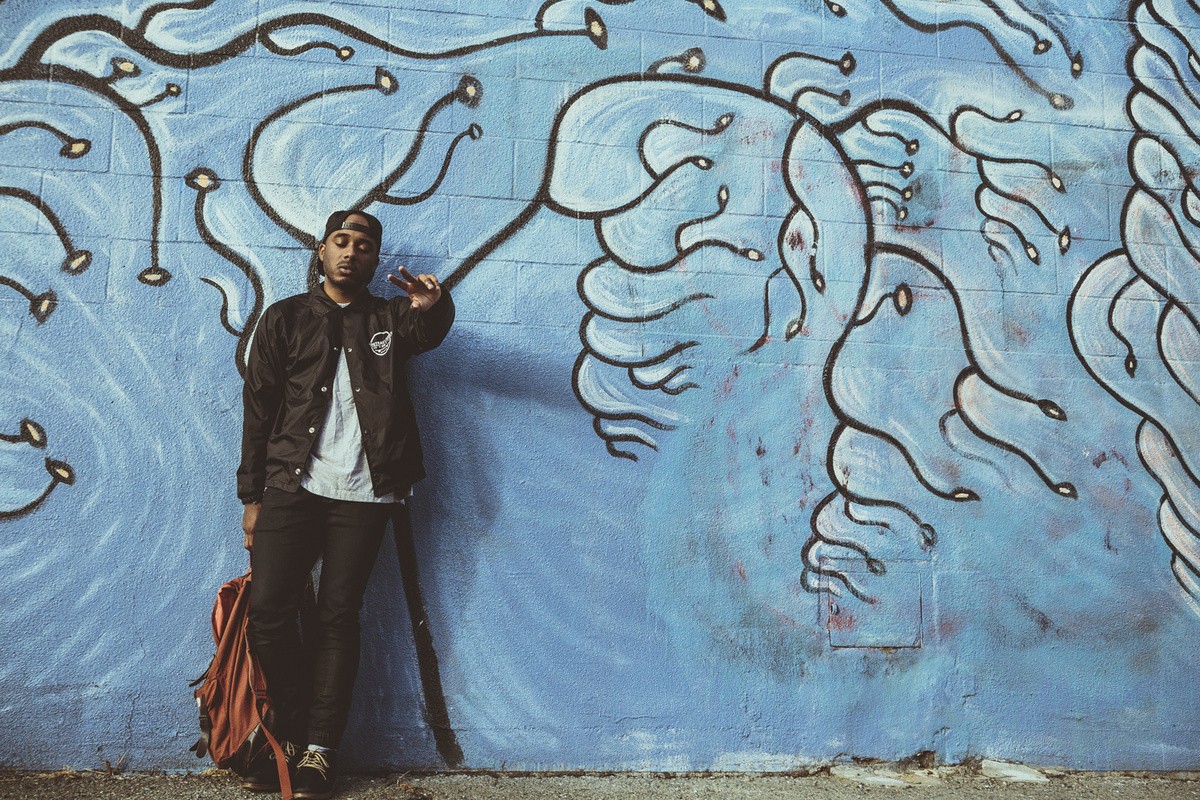 A colorful beach ball ascended in a steady arc toward the ceiling of the New Parish (579 18th Street) last night, eventually halting at the feet of Bay Area Freshman 10 rapper Caleborate, who promptly hoisted it back into the crowd. "Bounce!" he yelled, and the audience bounced. Cascading off last week's release of his new full-length,
Hella Good
, the Berkeley rapper was ultimately brought to tears by the end of his opening set for LA hip-hop crew Overdoz. Pausing the track for a moment, Caleborate fell briefly to his knees, rising just moments later with the declaration: "Let's do this shit. I don't care if I cry in this motherfucker!" Shamelessly grappling with the tumult of emotion on
Hella Good
, the rapper cemented his position as a Bay favorite last night, amassing greater hype than any other performers.
[jump]
In what felt like a family affair of old friends and patrons, Caleborate coasted across a clean beat with the chorus,
Ride around/Son just hold me down/Son I need that crown/They can't hold us now
, shouting out folks present who had held him down and enabled his artistic growth. The hook comes off new track "From the East Bay With Love," a joyful, Smokey Robinson-sampling delight that invokes images of summer bike-cruising and baffled police:
Cops pull us over/They can't even find a swisher
. Produced by Wonderlust, one of several beat makers on the album, Caleborate's lyrics ease through a hopeful melody laden with 808s. Injected with surprisingly honest questions of financial stability, spiritual health, love and homesickness, the album flourished on the lit floor of the Parish.
Bent over during the set to unveil his receding hairline for photos, it seemed that there was no limit to Caleborate's willingness to expose his flaws. As the creator of TBKTR (That Black Kid That Raps) label, Caleborate demonstrated close attention to detail, particularly for "Youth in Revolt." Highlighting the ubiquity of misogynist, cash-driven rap on "Youth in Revolt," the artist called out the incongruence of rappers who declare
black lives are important
, and simultaneously continue to perpetuate sexist, capitalist ideals through songwriting. Toward the end of an extended set, Caleborate began to lose steam, inviting the audience to sing the lyrics. Unsurprisingly, there was no shortage of people in the crowd who had already memorized
Hella Good
's verses and hooks. [embed-1]