Police arrested and released roughly 25 UC Berkeley students, who staged a three-hour sit-in today at Chancellor Nicholas Dirks' office on campus to demand fair benefits and protections for workers who are subcontracted with the university. Approximately fifty students filed into the hall but half left after being issued a dispersal order, said fourth-year Cal student Kristian Kim, who was one of the students arrested. At the same time, a group of roughly twenty students and workers marched through the rain outside the hall carrying signs reading "Stand Up Fight Back" and "#Justice4UCWorkers."
Michelle Morris, a senior at Cal and member of the Student Labor Committee, which led the protest, said the group has been active since late August in speaking with and advocating for subcontracted workers. Those workers often do the same jobs as university employees but don't get the same health and retirement benefits, and until recently, have been paid lower wages, she said. "There's a huge discrepancy. [The subcontracted workers] don't have the same protections that university employees have."
[jump]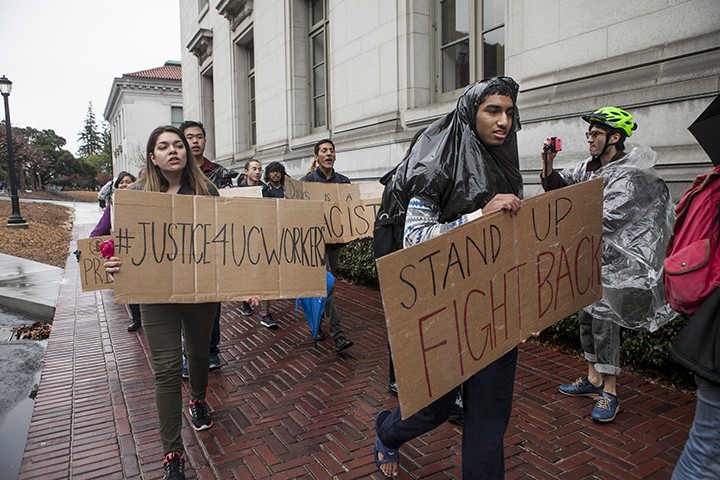 Antonio Ruiz said he has been a subcontracted worker at Cal for 22 years, and until October was making $11.50 per hour. He said he works two jobs to make ends meet and regularly pulls thirteen- to fourteen-hour days. "It's been really hard for me working two jobs," Ruiz said. "If I was a UC Berkeley employee, I could work one job like a normal person."
In July, UC President Janet Napolitano announced the "Fair Wage/Fair Work Plan," which guarantees that by October 2017, UC employees hired to work at least twenty hours per week would be paid at least $15 per hour. "The University of California's new minimum wage policy applies not only to direct UC employees, but also to those working for contractors doing business with the university," Cal spokesperson Janet Gilmore said in a statement. "This wage … exceeds both the state and federal minimum wage."
But students say that wages are only part of the problem. Subcontracted workers don't have the ability to unionize, are often afraid to report labor violations, and don't receive the same health and retirement benefits as university employees, Morris said. Gilmore confirmed that the Fair Wage/Fair Work Plan only covers wages and not other benefits.
Elvira Puzul, a custodian at California Memorial Stadium, said she doesn't get holiday or vacation pay, and if she doesn't bring in a note from her doctor, she doesn't receive sick pay, either.
Although Gilmore said contractors are required to follow all local, state, and federal laws, Puzul, who works for Performance First Building Services, said she hasn't received job training for tasks that often require operating machinery, climbing onto ladders, and other other hazardous activities. Another Performance First employee, Consuelo Barrera, said she often works more than forty hours a week but does not get paid for those hours.
Jose Carnevali, a spokesperson for the US Department of Labor, confirmed the agency had launched a probe into Performance First, but said he could not elaborate on when the investigation began or what prompted it. "This is an open investigation," Carnevali said, "so, we can't comment."
Barrera said that as a single mother of three children, including one with health problems, she relies on the government for food stamps and other benefits even though she works full time. Barrera said that before the university instituted its Fair Wage/Fair Work plan, she was making only $10 per hour. Currently, she is making $13, she said. "Our work is harder but we get paid less," Barrera said, tears welling in her eyes. "I think we will win though. I really have faith that we will overcome this."
Students are hoping to get the attention of Chancellor Dirks to eliminate subcontracted workers and bring those employees into the university fold, Kim said. "We want him to take responsibility for the subcontracted workers, who despite working for a different employer, are still part of the campus community," Kim said.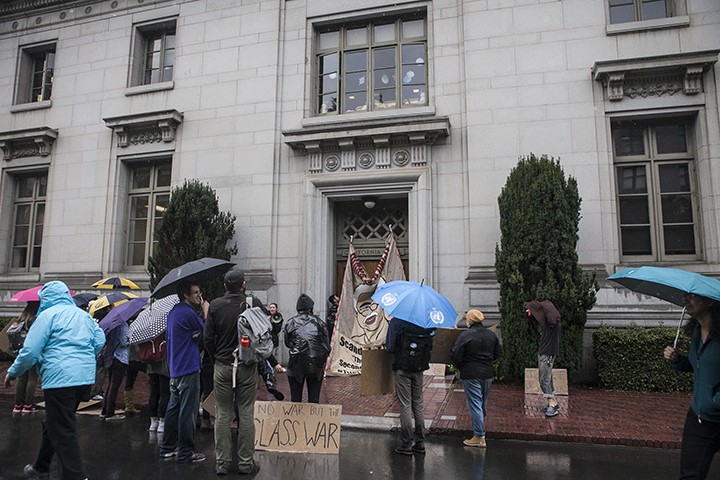 Gilmore said the university was committed ensuring that "employees and contractors are treated equitably and with respect," but said the students should take a different tact. "It is regrettable that this small group of students, by virtue of its continuing office occupations and disruptions, refuses to show the same degree of respect for campus employees who work hard to support the university. If this group believes that repeated violations of the basic 'time, place, and manner' rules that govern on-campus protests will help advance their agenda, they are mistaken."