Three Oakland city councilmembers today proposed a series of gun control measures that would ban large-capacity gun magazines and introduce requirements for the safer storage of firearms for both residents and law enforcement agencies. The proposal comes just two days after a grisly shooting in San Bernardino left fourteen people dead after two shooters opened fire at a workplace holiday party. However, Councilmember Dan Kalb said the measures are not a reaction to the recent tragedy.
"We've been working on it for a number of months," Kalb said, adding that the timing was "purely coincidental."
"The reality is there are mass shooting in this country almost every day," he said. "Some don't get the high profile media attention that others get, but they happen everywhere, so it's not surprising, sadly."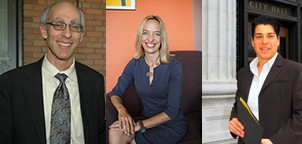 The measures, proposed by Kalb and councilmembers Annie Campbell Washington and Rebecca Kaplan, would make possession of large-capacity magazine clips illegal. It would make it unlawful for any person to keep a firearm in a residence unless the weapon is stored in a locked container or the firearm is disabled with a trigger lock; require that firearms, when concealed in vehicles, are locked or disabled; and would direct the city administrator to draft a policy requiring law enforcement officers safely store firearms in their cars. 
Currently, the Oakland Police Department does not have any policies requiring guns be stored locked boxes when in patrol cars or other vehicles, according to OPD spokesperson Officer Johnna Watson. Watson said the department was amenable to the proposed requirement and was already working on efforts to implement locked boxes for patrol cars.
[jump] There have been several high-profile cases in the Bay Area in recent months where guns stolen from law enforcement officers were then used to commit homicides. Most recently, a gun used to kill Oakland mural artist Antonio Ramos in September was recently reported to have been stolen from a US Immigration and Customs Enforcement agent. And, the fatal shooting in July of Kate Steinle at Pier 14 in San Francisco was also linked to a gun stolen from a US Bureau of Land Management ranger's car. In August, UC Berkeley Police Chief Margo Bennett's department gun, laptop, and iPad were stolen out of her car at the Point Isabel Regional Shoreline in Richmond, though it's unclear if that gun has been used in the commission of any crime.
"We must make it much harder for guns to get into the hands of those who use them to cause harm," Kaplan said in a statement. "Leaving guns unsecured in unattended vehicles creates a serious danger and risk to the public and should not be allowed."
Both Kalb and Campbell Washington acknowledged that the proposed measures would not prevent all gun violence in the city. "We need a holistic approach," Campbell Washington said. "We must absolutely push gun legislation but we must also fund mental health in this country." She called on federal leaders to increase funding for social services and to enact tighter gun control restrictions.
Locally, Kalb said the council's public safety committee on Tuesday approved a plan to allocate roughly $9.5 million over a two-and-a-half-year period in grant agreements with various nonprofits and public agencies to provide violence intervention services as part of the city's Measure Z funds. That plan still needs council approval. The committee is also expected to receive a report in January on strategies that Richmond's Office of Neighborhood Safety used successfully to reduce homicides in the city, Kalb said.