Purveyors of various international cuisines that the stereotypical American might find intimidating could learn a thing or two from the country's Ethiopian and Eritrean restaurateurs, who over the past few decades have made great inroads, particularly here in the Bay Area, in familiarizing diners with the vocabulary of injera and berbere. Injera, the new Ethiopian/Eritrean restaurant in Alameda, is typical in the way its menu includes detailed descriptions for every dish, as well as a lengthy narrative introduction to the cuisine: the spices that are used, the proper way to use the sourdough flatbread known as injera to scoop up the food, and so forth.
Chef Aron Haile said his goal is to serve food made in the traditional way, but to make it accessible to newcomers. In that respect, his restaurant strikes a nice balance: It serves uncompromising versions of dishes not available at more Americanized Ethiopian restaurants, and yet you don't have to be an adventurous eater to find something you'll enjoy.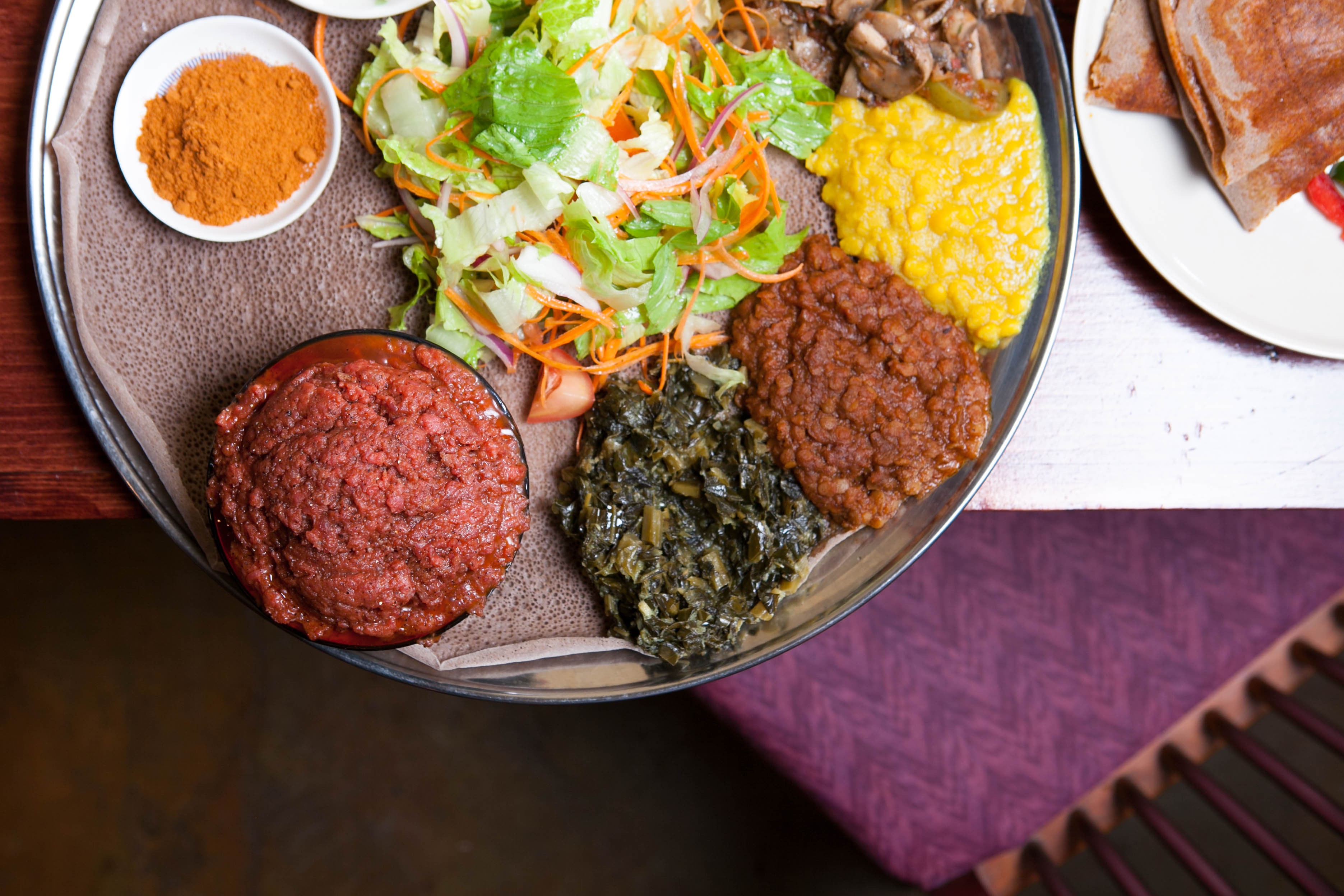 Haile, an Eritrean native who previously owned and operated a trucking business, decided to open Injera, partly because the Alameda resident wanted to spend less time on the road away from his wife and kids, and partly because, like so many talented home cooks, he'd spent years listening to friends tell him that he just had to open a restaurant someday — and preferably on the island, which, unlike nearby Oakland and Berkeley, had a relative paucity of East African eateries.
In July, he finally took the plunge. Customers of Homeroom Racing Cafe, the eccentric Thai restaurant and slot-car racing mecca that used to occupy the space (and was the subject of my very first Express dining review), will hardly recognize the place, which had been known for looking more like a church basement or a clubhouse for pre-adolescents than it did a nice sit-down restaurant. Now, it looks clean and modern, with a display of traditional baskets on one wall the only outward indication that it's an Ethiopian spot.
It should come as no surprise that a restaurant named Injera would be notable for its bread. As is the case at more or less every Ethiopian restaurant, the injera forms the edible base for each family-style platter, and additional pieces of bread, piled high in a basket like rolled-up hand towels, function as both side starch and dining utensil — used, as they are, in place of forks or spoons to scoop up the food.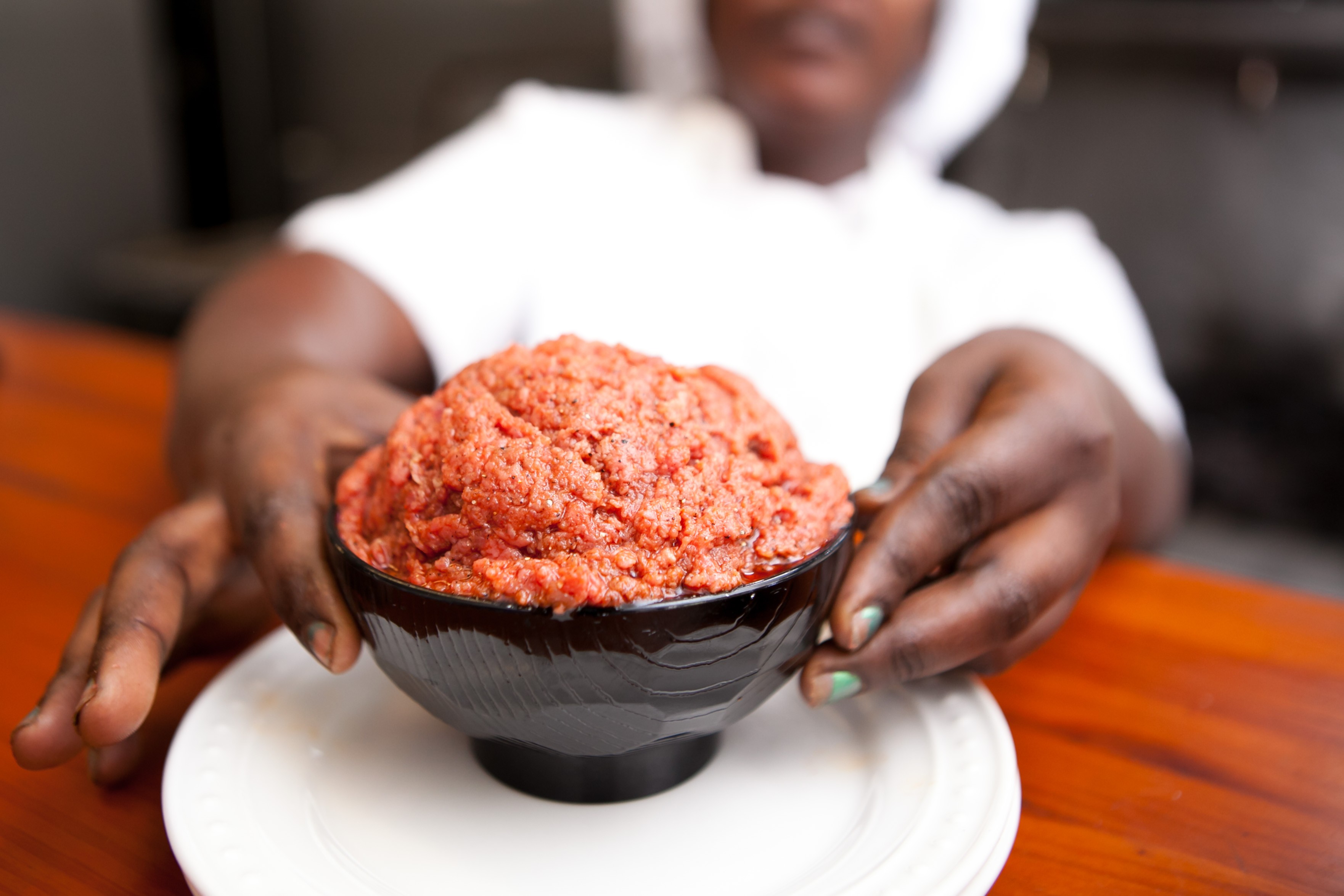 Haile uses 85 percent teff and 15 percent barley to make his injera — a proportion that yields bread that is tender and only slightly spongy, and that, compared to versions made with plain white flour, doesn't sit quite as heavily in your stomach after you've eaten a large quantity. A three-day fermentation produces a fairly intense tang, which provided an excellent foil to the restaurant's assortment of richly spiced stews and stir-frys. The bread's sourness makes it an acquired taste, but here in the Bay Area, even less adventurous diners should be predisposed to like the stuff, considering the region's longstanding love affair with San Francisco sourdough.
Injera enthusiasts should definitely also try the kategna, a dish I haven't seen at any of Oakland's multitude of Ethiopian eateries, perhaps because, according to Haile, it's less of a restaurant dish than it is a snack that a home cook might serve with hot tea in lieu of a more extensive meal. No matter how you categorize the dish, it was delicious: The injera was toasted until the edges were crisp and the bread was the color of dark rye. Tossed with butter seasoned with berbere spice and served folded up like a French crepe, this made for an awfully addictive appetizer.
A couple of quick pointers if you're unsure how to navigate an Ethiopian or Eritrean menu: A wat is an onion-based stew. A tibs is a stir-fry. And, if you have trouble making up your mind, the ubiquitous "veggie combo" is always a good way to go. At Injera, the off-menu option comes with scaled-down portions of five different dishes. Haile's gomen (sautéed collard greens) and tikil gomen (a sauté of cabbage, potato, and carrot) stood out for their fresh, clean flavors — no complicated spicing to distract from the vegetables' natural sweetness. I liked the low-burning heat of the simmered mushrooms and the soupiness of the kik alicha, a stew of yellow split peas cooked down to a sweetly earthy mash.
The best of the bunch, the red lentil stew known as mesir wat, was the ying to the kik alicha's yang — a similarly textured, spicy, smoky mash that was delicious both by itself and in combination with any of the other dishes. (Of course, the best part of a communal Ethiopian meal is the free-form, DIY aspect; the way you use your bare hands to mix and match the items laid out on the injera plate in whatever combination you find pleasing.)
If anything, the flavors at Injera were sometimes more muted than I would have liked. None of dishes I ordered packed enough of a punch to satisfy a true chilihead, and the doro tibs — a fajita-like stir-fry of boneless chicken breast, onions, and bell peppers — was downright bland. (That said, I had only myself to blame for choosing the "mild" version of the dish, and, to be fair, the young child in our party seemed to enjoy it well enough.)
On the other hand, the gomen bsega — a sautée of cubed beef, garlic, ginger, and collard greens — was an ideal example of Ethiopian food that was full of flavor despite not being spicy in the least. The secret, as it is with so many of the cuisine's tastiest dishes, was butter — i.e., butter clarified in-house, then seasoned with sundry spices — that soaked into the meat and vegetables and infused the entire dish with a wonderful richness.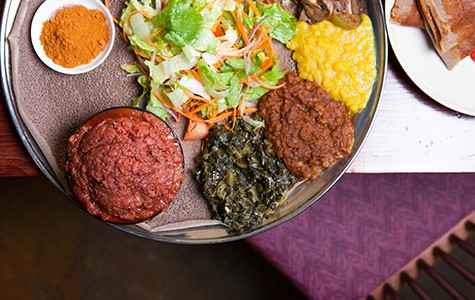 Injera also serves an excellent version of kitfo, a raw minced beef dish that's often likened to beef tartare. You can order your kitfo cooked rare or even all the way through, but if you aren't too squeamish, Injera is a good place to give the traditional raw preparation a try. Although the beef was ground a little finer than I like, the flavors — a mix of fiery, cardamom-tinged mitmita spice blend and more of that seasoned butter — were on point. Eating big scoops of kitfo straight-up can be a bit intense, but the order came with some collard greens and split peas on the side, either of which combined with the raw beef to make for a perfect bite. I made use of the little shaker of mitmita that was provided, for extra heat, and the tangy housemade cottage cheese, which added a creamy note and helped mellow out the intensity of the spices.
Note that the portion size is enormous — at least two hamburgers' worth of raw meat. So, depending on how dedicated a kitfo eater you are (and how you feel about large quantities of leftover raw beef), this might be a dish best ordered when you're sharing with a larger group. The good thing about Injera? The kitfo eater and the person who would never try kitfo will have no problem breaking bread together here.