Last Thursday afternoon, Azha Ayanna Luckman and Apryl Fuentes were at B4bel4b Gallery in Oakland prepping a table that was draped with pink satin and sprinkled with glitter for a pop-up art party that night. As a creative duo, the two 22-year-olds produce Shade Magazine, a Tumblr-based platform for showcasing the work, experiences, and identities of young queer people of color. Fuentes scrawled "@ShadeZine," their project's Instagram handle, onto the back of light pink stickers featuring a rose graphic and the mag's logo, as Luckman carefully laid out zines and arranged votive candles decorated with of-the-moment celebrity mugs — ranging from Bernie Sanders to David Bowie. That night would be a rare offline appearance for the Oakland-based mag, although it has a robust online following. "We originate from the internet," Luckman explained. "Our home is the internet."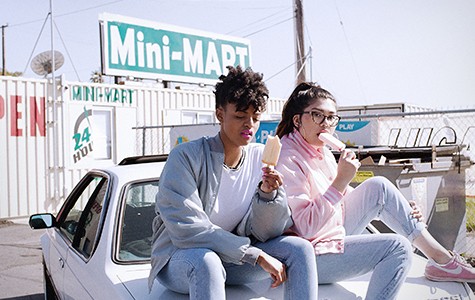 Unlike the typical Oakland artist whose creative community is largely local, Luckman and Fuentes are part of a growing movement of mostly young women who are celebrating their sexualities and identities through queer and feminist artwork that's primarily consumed via social media — thus, their artistic peers and fans are spread out all over the world. That night at B4bel4b, they had been invited by a popular Brooklyn-based publication called Alt Citizen (the creators are currently traveling across the country in a baby blue school bus). At the end of the month, they will be part of a feature in Nylon Japan.
Still, while Shade could be considered part of a growing international trend in female-centric art — in which publicly posted photos of menstrual blood on frilly undies are a staple — Luckman and Fuentes stand out as one of few participants with an adamantly intersectional approach, which pays particular attention to the ways that race, gender, and sexuality overlap to create distinct life experiences. (Also, they don't consider their content gender-specific). "I can't relate to body positivity and period art when my people are dying," said Luckman, who is Black. "I can't relate when I can't get a job but you can, but you're upset 'cause you can't show your tits."
Fuentes and Luckman first became frustrated by the lack of representation for intersectional experiences online through what they saw on Tumblr, of which they have been avid users for years. For many subcultures, the social blogging platform is a crucial space for online congregation, yet neither Fuentes nor Luckman were seeing their experiences reflected in the conversations they encountered there. "I think openness about being queer and non-binary and all those things … that was kind of like a white topic," said Luckman. "You didn't have anything [like that] for Black kids and other kids of color."
Fuentes and Luckman set out to change that by starting Shade Magazine in early 2013, and they emerged alongside a wave of other people and projects who had apparently also recognized that void. "We came in at a very pivotal moment," said Fuentes. Today, Tumblr is rich with entries exploring intersectional identities, and for many queer youths who feel alienated from peers or family, it can provide a sense of community — a home.
Luckman and Fuentes met in 2011 in astronomy class at San Francisco State University. But it wasn't until the summer of 2012, when the two were both working retail on Haight Street in San Francisco, that they became inseparable. "We were on a bus crying, and [Azha is] like, 'I don't want to sound weird, but can we be best friends this summer?'" Fuentes recalled. For the rest of the season, they camped out in another friend's apartment (because neither had a place to live) and shared struggles they've had with working through queer identities and feeling excluded by their peers. "I had never met anyone who looked like me who I could talk to about that," said Luckman, "I didn't feel like I had anyone to relate to." Not long after, they started Shade.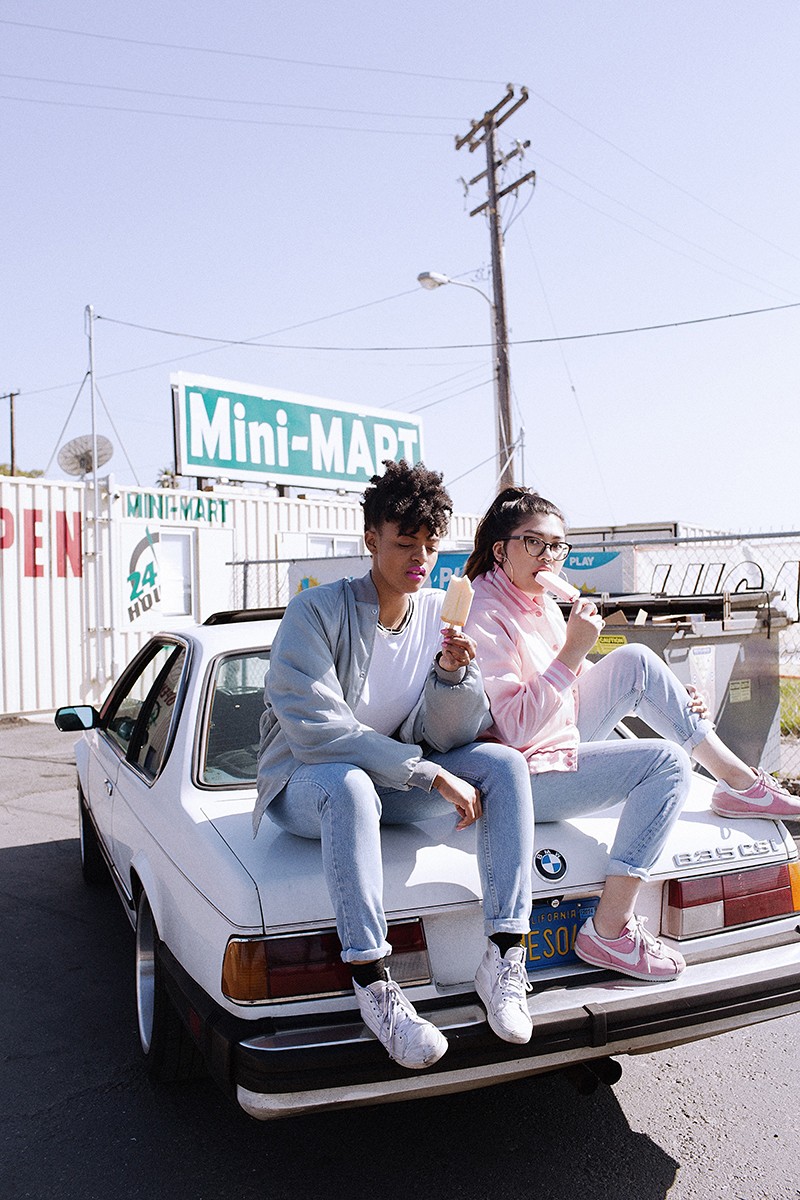 Beyond the blogging that they do on Tumblr, which largely features their own photoshoots (many in collaboration with photographer Mancy Gant) or artwork and that of others that they like, the duo also produces zines in collaboration with graphic designer Kayla Jones. Their first was a digital booklet entitled Xicanas in Suburbia that, in part, dealt with Fuentes' experience coming into her own as a young Chicana in a Southern California suburb and feeling unaccepted by both whites and Chicanos for being atypical.
Their first print zine was titled Sassy, and it interrogates the way that labels like "sassy" and "bitchy" are used to delegitimize and disempower female frustration through portraits of women of color accompanied by quotes exploring what those terms mean to them. The best friends are currently working on two more as well: I'm Sorry We Lied will be a zine of artwork inspired by their artistic role models such as Devonté Hynes and Solange Knowles, and Searching for Him In All of You will be about "us struggling with men our age and monogamous relationships being nonexistent," as Luckman put it.
The duo chose the name Shade because it alludes to shades of skin, but also because it invokes the lingo of young, queer communities in the Eighties — specifically, they were inspired by the drag ball performers in the documentary Paris is Burning. Fuentes pointed out that she would never have known about the stories of that queer subculture if that movie hadn't been made. She and Luckman are hoping to offer similar documentation to their generation of queer youth of color. "If you don't record your own history … especially as young people of color, that is not going to exist beyond your lived experience," she said, "because that's not the shit you see in textbooks and mass media."