In recent years, Oakland has seen a rise in unattended donation boxes — the large bins on street corners throughout the city in which residents can donate unwanted clothes, shoes, and books. The owner of these bins, a handful of for-profit companies and nonprofit organizations based outside of Oakland, market the boxes as a simple way to promote recycling and reuse. In practice, however, the bins have become increasingly problematic for the city, as they aren't regulated, and have become magnets for illegal dumping. As a result, city officials are considering new limitations on the unattended bins.
Throughout Oakland, it's not uncommon to see donation boxes covered in graffiti and surrounded by trash and discarded bulky items; in some cases, people also break into the bins and spread the contents on the street. When the companies that own the bins don't regularly collect donations and remove the surrounding garbage they attract, they quickly become a further source of blight in Oakland neighborhoods.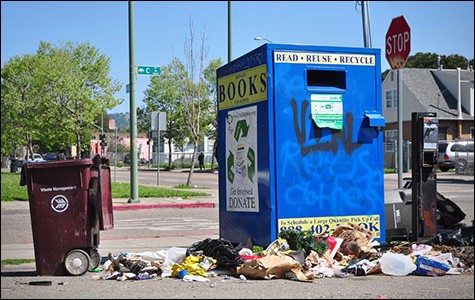 "As a practical matter, it's next to impossible to keep these boxes cleaned up," said Oakland City Council President Pat Kernighan. "They are creating a problem that doesn't seem easily solved."
Opponents of the bins also argue that they divert donations away from East Bay charities that recirculate items locally and use their revenue to fund jobs and important social service programs. The out-of-town businesses that operate the donation boxes are instead typically driven by profits and generally sell donated clothing to wholesale buyers, thrift store chains, and textile recyclers. That means materials can be shipped across the country and overseas, which is less environmentally efficient than local reuse. And to some, the bin operators are clearly using misleading marketing tactics to collect clothes from residents who likely don't realize they are giving their goods to non-local, for-profit businesses, instead of local charities that need these donations.
Earlier this month, city councilmembers requested that the city's planning and zoning department draft an "emergency moratorium" on new donation bins; the council is scheduled to review this proposal on April 22. If approved, the temporary ban would go into effect immediately, and then officials would draft a permanent ordinance to impose restrictions on new and existing bins, with the goal of encouraging maintenance. The possible regulations, outlined in a report from the planning department, include prohibiting bins within 1,500 feet of existing ones, establishing standards for maintenance, requiring a design review process for installation, and mandating an annual renewal of a bin permit. The city has proposed a several possible structures, such as requiring operators to pay $649.49 for the first year and $255.90 for review and inspection in subsequent years. (Some councilmembers have requested stricter limits and higher fees.) These types of regulations would give the city's code enforcement officers tools to ensure proper maintenance and prevent blight and dumping, said Neil Gray, an Oakland city planner. "We want to be proactive," he said.
Meanwhile, some councilmembers and advocacy groups have been pushing for an outright ban. And as these proposals move forward, the companies that operate the bins have aggressively lobbied city officials to reconsider — with at least one company considering shady political maneuvers that have further fueled the opposition.
Such was the case with USAgain, one of the main for-profit bin companies, which currently has 44 green-and-white boxes in Oakland. A few weeks ago, before meeting with council staff members to request that the council not pass overly burdensome regulations, a consultant for the Chicago-based USAgain (pronounced "use-again") sent an email with documents outlining the kind of ordinance the company would support.
However, the consultant also mistakenly attached an internal strategy document, a copy of which was obtained by the Express. This "Broad Outreach Strategy" memo outlined a series of questionable public relations tactics the company could take — which seemed to validate concerns among city councilmembers that USAgain is misleading the public about its impact. The memo stated that to "overcome the 'grassroots advocacy'" of established charitable organizations that collect textile donations — such as Goodwill Industries — USAgain could create a "shadow group" that would give the business "political capital to help pressure elected officials." One possible name: "Citizens Advocating Responsible Recycling Policy." In addition to "social media engagement," this approach, the memo stated, could also involve the creation of a nonprofit business-advocacy group.
In an interview, officials with USAgain insisted that, despite the internal memo, they don't have plans to create an outside entity of this nature and argued that the company's strategy is straightforward and transparent. Whether USAgain chooses to adopt any sort of "shadow group" strategy or not, the internal document seems to support mounting criticisms that these companies are acting deceptively when they present themselves as environmentally friendly municipal partners.
The growing presence of the boxes has already hurt the charity that USAgain cited in its strategy memo. "Since the bins have proliferated, we've seen a decrease in donations — anywhere from 5 to 10 percent," said Kimberly Scrafano, vice president of development and community affairs for Goodwill Industries of the Greater East Bay, which currently operates 29 stores and 32 donation centers. "That makes a significant impact on what we can provide in the community to folks in need."
Clothing and shoes account for 51 percent of the material goods sold at Goodwill, Scrafano noted, adding that Goodwill dedicates 92 cents of every dollar spent at its stores to its local job training and placement programs, which residents can access for free. Scrafano also argued that unattended bins are unnecessary given the presence of Goodwill, Salvation Army, and St. Vincent de Paul of Alameda County in the region. "These local nonprofits can adequately provide for all the recycling needs that are in the community … and get a higher value and be able to put that value back where it belongs." Goodwill, which has advocated for an outright ban on the bins, has the capacity to process and sell more than it currently does, she said.
St. Vincent de Paul has also observed a decrease in donations as more unattended bins have appeared in Oakland, said Melanie Diegel, director of community relations and marketing. "We depend on those donations. … And these businesses are making quite a bit of money, and that money is leaving Oakland."
USAgain, which has advocated for modest fees, is one of at least four for-profit operators that have bins in Oakland. In addition, there are a handful of outside nonprofit organizations that own Oakland boxes and have also faced scrutiny for misleading marketing and diverting goods from nonprofits with locally driven missions and stronger charitable spending. Salvation Army, for example, operates six donation boxes in Oakland, two of which are on the organization's property. Some supporters of the new restrictions have suggested that charities like Salvation Army, which contribute more than 50 percent of proceeds to direct local services, be exempt from new fees. Cindy Engler, a community relations manager with Salvation Army, noted that "those donations are sold at our family stores and go right back to a program that serves the city of Oakland."
City Councilmember Lynette Gibson McElhaney said she supports the waste diversion goals of these businesses, but argued that they must face stricter standards. "Our legislation will move to eliminate the nuisance posed by this use and, like every other business, ensure that they fully pay the costs associated with permitting and monitoring if they are to exist in the City of Oakland," she said in an email.
Kernighan and Councilmember Noel Gallo said they would consider a full ban. "I don't see the value of these boxes," Gallo said, arguing that there are enough legitimate sites that accept donated clothing and shoes. "I think they need to be removed altogether." Gallo, who leads regular volunteer efforts to clean up illegal dumping in East Oakland, argued that the bins have clearly created blight. "I'm trying to have a clean city and those donation boxes have not helped." Gallo and other supporters of a ban said they are concerned that the city would not have the staffing capacity to enforce new restrictions.
USAgain officials noted that the company always makes clear it is a for-profit business and argued that the business has diverted 1.8 million pounds of textiles from Oakland's waste stream (though critics have pointed out that this is misleading, given that, without the bins, the clothes could have ended up at charities and thrift stores). Asked about the internal strategy document, Carlo Cavallaro, director of government affairs and senior legal counsel for USAgain, said, "There's nothing nefarious. … We're open and obvious about what we're trying to do. We're trying to operate our business and be respectful of how we operate." Tobin Costen, division manager for Northern California, added, "We are upfront and honest about who we are. Our number-one goal is to make sure we are recycling textiles."
Costen said the company operates a 24-hour phone line that residents and business owners can call with complaints about dumping; USAgain, he added, collects items from the bins on a weekly basis — and more frequently at high-volume locations. He said the company will also clean the surrounding area within fifteen feet of the bin and will remove furniture and other items incorrectly left next to the bins. "We are actually part of the solution," he said. And if a bin repeatedly attracts too much trash, then the company will remove it, Cavallaro added.
In their communications with the city council, USAgain officials said they would support policies that impose disclosure and transparency requirements and mandate written consent from property owners before placing new bins. The company said it would also support an ordinance that establishes appropriate management and maintenance requirements. USAgain is, however, opposed to outright bans and limits on the number of bins from certain companies.
Rich Robinson, spokesperson for Campus California, a nonprofit bin operator that has roughly sixty boxes in Oakland, said the organization also opposes a ban on boxes but is open to paying fees — as long as they are reasonable. "The key is to make sure that bad actors are weeded out of the business. That takes a scalpel, not a bludgeon."