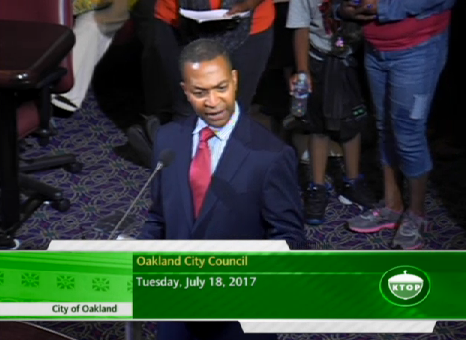 Several dozen Oakland residents, including Councilmember Desley Brooks and Alameda County Supervisor Keith Carson, have published
an open letter
to Mayor Libby Schaaf, City Administrator Sabrina Landreth, and Police Chief Anne Kirkpatrick alleging that the city isn't doing enough to address "systemic racial inequalities in policing."
The letter's authors say that the mayor and police chief appear to lack control over the department, and they also question why several officers who led the department's internal Celeste Guap sex crimes case
were promoted in May
, despite findings from an independent court investigator that they mishandled and prematurely closed the probe. They're requesting that these and other officers face discipline.
But the authors of the letter also claim that two recent incidents demonstrate how OPD doesn't adequately protect the Black community and treats white suspects more leniently.
"In both [cases], a white man terrorized African Americans unfettered while OPD responded with great patience and tolerance for the suspect," the letter read.
One of the cases they refer to involved Jesse Enjain, a 32-year-old white man who shot at multiple Black people on Las Vegas Avenue in the Oakland hills earlier this year.
Despite physical evidence of the attacks, OPD did not attempt to arrest Enjain until days later
when he went on yet another shooting spree.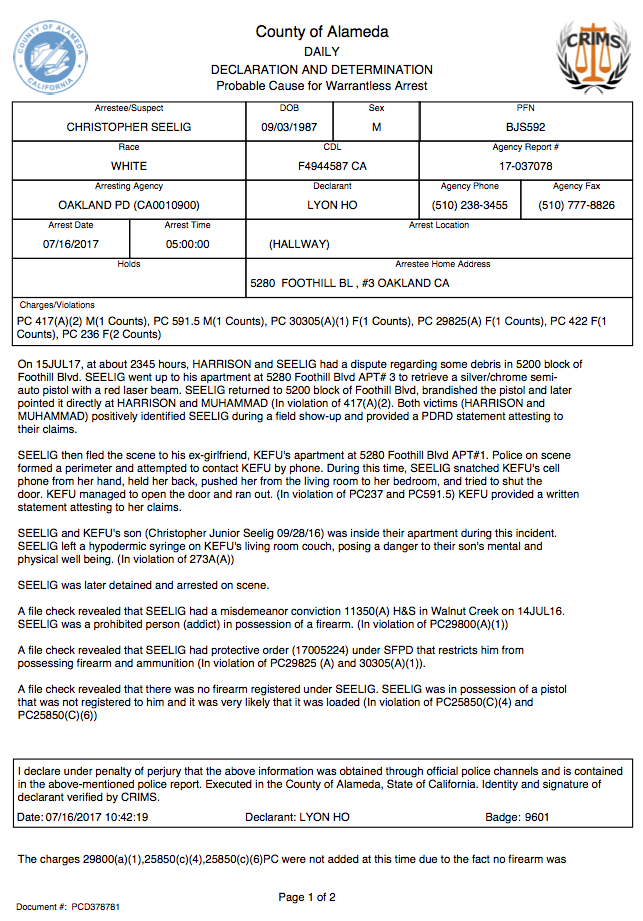 The most recent incident involves a white man who pointed a laser-sighted pistol at several Black men on Foothill Boulevard on July 16, threatening to kill them.
At a city council meeting last month, Minister Keith Muhammad of the Nation of Islam Mosque No. 26 described the incident. He said the man with the gun threatened members of his mosque after yelling racial slurs at them. When they called the Oakland police, said Muhammad, the response was "imperfect."
He said that many city councilmembers received text messages complaining about how OPD responded to the incident.
The
Express
was unable to reach Muhammad for additional comment. The Oakland police also didn't immediately respond to a request for more information about the incident.
But the open letter alleges that "OPD allowed the suspect to remain in his apartment unfettered for two hours."
Court records identify the attacker as Christopher Seelig. He has been charged with seven felonies, including brandishing a pistol and making criminal threats.
Councilmember Brooks said there were meetings between the police, elected officials, and Black victims after the incident on Las Vegas Avenue and the recent incident on Foothill Boulevard, but that not enough has been done to address what she and others say is racial bias within OPD.
In the open letter, Brooks and others point to recent findings from Stanford researchers showing that OPD officers use less-respectful language when they stop and talk with Black people than they do with whites.
"Whenever there's an incident, there's an apology, there's goodwill, but there's not change," Brooks said. "We need change."
Other signers of the letter include former Berkeley Mayor Gus Newport, candidate for District Attorney Pamela Price, and OUSD board member Jumoke Hinton-Hodge.
More than 100 Black men sued OPD in 2000, alleging a pattern and practice of racial discrimination that involved illegal stops, searches, beatings, planting evidence, and illegal arrests. That lawsuit led to the department being put under federal court oversight and the implementation of a mandatory reform program that includes steps to reduce racial profiling.
According to data collected by OPD and analyzed by Stanford University researchers, the department has made progress in reducing racial disparities. Few other Bay Area police departments are subject to the same level of intense scrutiny as OPD when it comes to interactions with non-white residents.
Even so, attorney John Burris, who was part of the lawsuit in 2000 that led to the oversight program, told a federal judge last month that OPD still has much work to do to address systemic racial bias and build trust with the Black community.