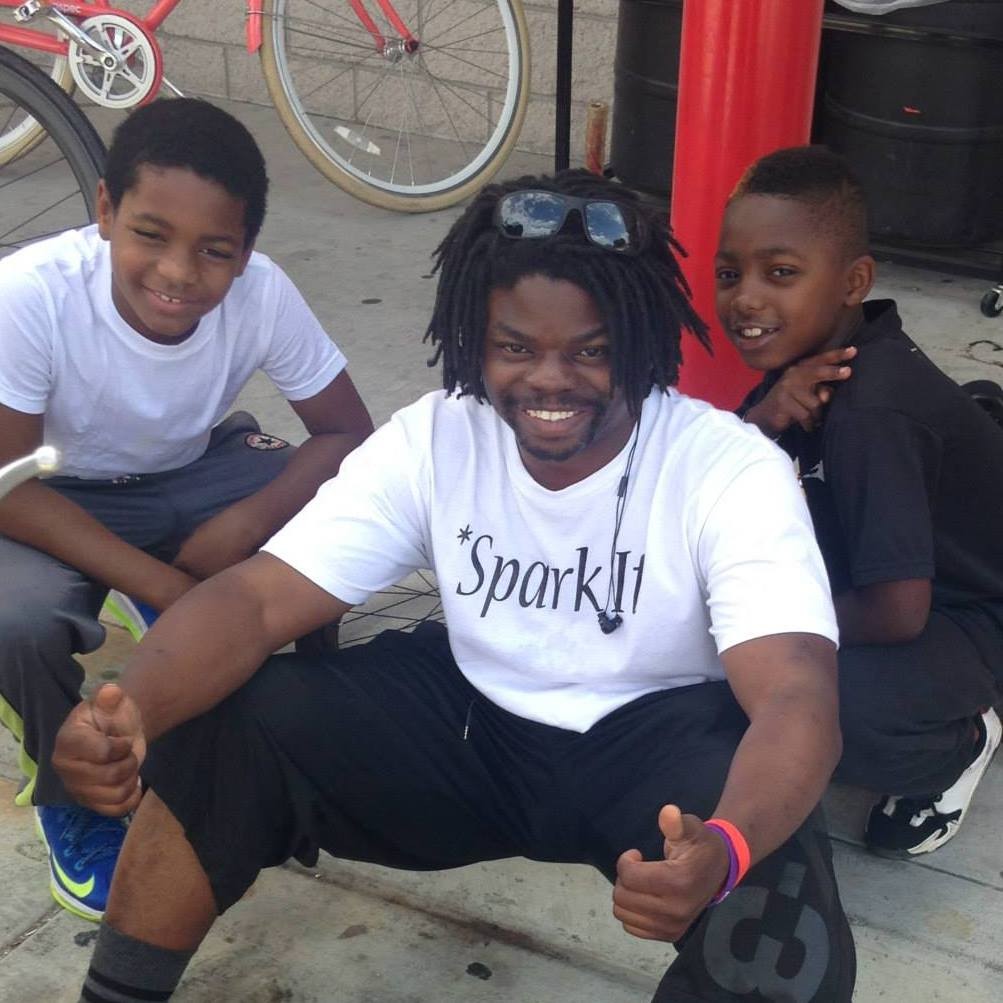 When a popular youth organizer and bicycle advocate was arrested by an Oakland police officer during the group's regular First Friday bicycle ride, news spread rapidly through Richmond, causing at first concern and then outrage.
Najari "Naj" Smith spent the first weekend in August in jail after being arrested during a regular group bicycle ride in Oakland that included three bicycle organizations that have primarily African American members. The arresting officer charged Smith with creating excessive noise.
Smith is a member of the Richmond Bicycle and Pedestrian Advisory Committee and the founder and executive director of Rich City Rides, a nonprofit bicycle organization that teaches young people bicycle mechanics, gives them opportunities to work for their own bicycles, and offers guidance on healthy lifestyles and positive social interactions through group bike rides, public path maintenance, and civic advocacy on transportation issues.
"Naj is a well-known and well-respected person in Richmond," said Mayor Tom Butt, who plans to contact Oakland Mayor Libby Schaaf about the arrest once he learns more about the circumstances. "It looks like this is a case of 'Bicycling While Black.'"
Rich City Rides has
organized an event on Aug. 31
in support of Smith called "Biking While Black." Smith is scheduled for a court appearance on the same day. There is also a
petition
being circulated calling for the charges against him to be dropped.
Richmond Councilmember Melvin Willis said he intends to participate in the Aug. 31 event to call for justice. "This is something the entire Oakland City Council needs to take a stand on," he said.
At the Aug. 3 bicycle ride, participants formed a "bonding and healing circle," a tradition started by the bicycle organization Red, Bike and Green in 2008.
Smith said that during the circle ritual, an Oakland police officer broke through the line and stopped Smith, without any warning, by grabbing the handlebars of his bicycle. The officer said he was being detained for excessive noise coming from the stereo trailing on a small cart behind Smith's bicycle. Smith said he immediately complied with the officer's request and turned off the stereo. The officer then ordered Smith to stay put and momentarily walked away.
Smith, who was leading a group of about 40 young riders, thought the officer was going to write a citation, but when he returned, he put Smith in handcuffs, confiscated his bicycle and stereo equipment, and took Smith away to spend the weekend at Santa Rita Jail. Smith made the $5,000 bail two days later and has a court date set for Aug. 31 on charges of creating excessive noise.
"I cooperated with the officer as much as possible," Smith said. "Everyone in the group was upset and I was trying to put the best example forward. There is a lot of tension with the Oakland Police Department and I didn't want the arrest to turn into a mess."
Oakland Police Department spokesperson Felicia Aisthrope said Smith was detained for interfering with traffic and playing music too loudly, and that he did not have proper identification. Aisthrope added that the department has reached out to East Bay bicycle organizations in order to start a constructive conversation about the circumstances of Smith's arrest. "It is important that our community concerns be heard, and that discussions and future solutions be shared," she wrote in an email.
Oakland attorney Walter Riley is representing Smith pro bono. Riley said the police department's claims are insufficient. He said the Oakland Police Department is well aware of these bicycle organizations and their emphasis on creating positive interactions with the community. Furthermore, Riley said the police showed poor judgment in arresting Smith, who was leading a large group of young people.
He added that Smith, 39, has never had any contact with police or the justice system before this incident and that Smith has devoted his life to making healthy changes in the lives of young people. He also pointed out that
Oakland police officers disproportionally stop African Americans
.
"This is not a case of an individual racist officer," Riley said. "This is the police department as a whole. No matter how well intended you are there's something in this system that wants to bring you down."