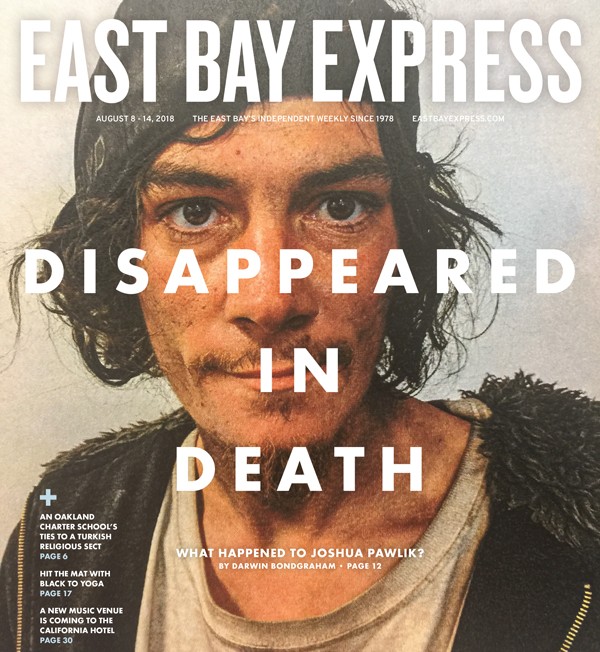 "Disappeared in Death," Feature, 8/8
More Questions Than Answers
Thank you, Darwin BondGraham, for getting Josh's story out there. I met Josh when he was a teenager. I did not know of his passing until I read this article and I have read it multiple times. I certainly have more questions than answers.  I respect law enforcement. I know they have a job to do and they put their lives on the line every day. I also know you have good and bad in every profession. I have read this line over and over "still appears to be unresponsive and not aware of our presence." So, why the AR-15s and armored vehicle? You already have four policeman on scene. All of this is being set into motion and still Josh doesn't wake up. 
As stated in the article, Oakland Police Department has not released much information on this situation, which in my mind makes me wonder, why? It gives me pause to think, are they hiding something? If not, why did it take five months for OPD to let his mother see what was recorded? Honestly, at this point can you prove nothing was erased? 
Kelly, Josh is now free and at peace. He will always be your angel. I pray that you continue to have the strength to fight for the answers you deserve.
Gloria O'Brien
A Gentle Soul
I knew Josh in Fredericksburg. I've never met a gentler soul. He was friends with my son. I've mourned the loss of him since the day it happened. I hope and pray that he has found peace.
Lee Buckley
Paid the Price
So stealing and being a drug dealer is being a good person?! I don't think so. 
Josh made many bad decisions in his life and he paid the price. There are actual "good" people who get killed on a daily basis that deserve sympathy… Josh, not so much.
Robert Hope
Don't Blame the Victim
Josh did not deserve to be gunned down while he was probably overdosing. Also, I knew him for many years and never knew of him to carry a gun, have money, or do cocaine, and if you can blame the victim here you have no soul, just like the cops who murdered him.
Jennifer Peterson
"Oakland Charter School Under Investigation for 'Financial Mismanagement,'" News, 8/8
Appalled
I strongly recommend viewing Killing Ed. The film documents the Gülen movement in the U.S. and how they bankroll their movement with their long string of charter schools throughout the country. I am appalled that OUSD approved a Gülen charter chain school and that the principal of a charter school has the authority to unilaterally increase his severance package to $450,000. How and why is this legal under California charter school policy? Ask the California Charter School Association.
Marian Killian
Oakland First
OUSD needs to explain why we are bringing in teachers from overseas. Are they being paid less than teachers from America? Why don't we have a hire Oakland-first policy? How can a legal contract be changed unilaterally or did we just not read the original contract? Where was the oversight? Isn't oversight an ongoing process or does it start only when there are massive complaints?  Once again OUSD management and the board have shown their incompetence.
Richard Clarke
"In-Home Extortion," News, 8/8
Even the Exonerated Must Pay
Remember that "length of sentence" often doesn't apply, since many people are subjected to electronic surveillance during their pretrial phase — before they have been convicted of anything. And since it can take months, even years, to resolve a case — including charges being dropped or an acquittal — the exonerated individual is still required to pay.
Rebecca Brown