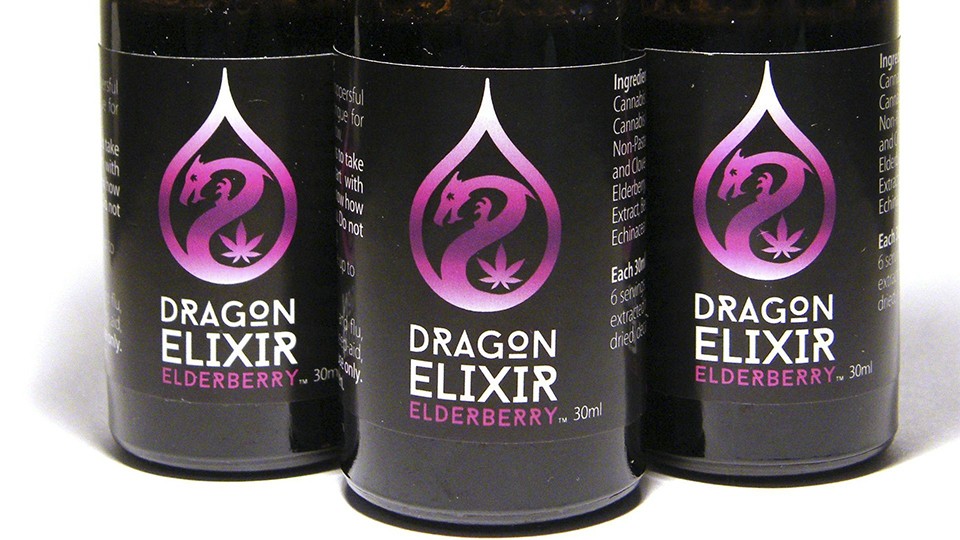 Anyone who has ever worked in an office probably realizes how easily that space can turn into a germ incubator, especially during cold and flu session. With dozens or hundreds of diverse humans stuffed into the same questionably ventilated space, sharing bathroom and kitchen facilities, touching the same doorknobs and light fixtures, a stout defense against germs becomes crucial.
We're generally loyal to Air Borne and its assorted store-brand knockoffs, but you can never have too much protection. In addition to seven grams of "dried, decarboxylated cannabis," both indica and sativa extracts, the Dragon Elixirs Elderberry blend contains immune system-boosting ingredients like Echinacea, organic elderberry, and organic elderflower extract.
The product is recommended for "cold and flu relief," but the addition of cannabis extracts also allows Dragon Elixirs Elderberry to work as a sleep aid and pain reliever. As recommended on the label, shake well before using, then depending on your desired effect, squeeze four to eight drops of the brackish, brown liquid under your tongue and hold it there for one minute before swallowing. It has a syrupy texture, with a distinct elderberry flavor that makes it taste like slightly better-than-average medicine.
In addition to the Elderberry blend, Dragon Elixirs also produces the Breathe blend, a Passion blend for men that claims to "enhance male blood flow, enhance libido, mood, energy," as well as a Femme blend for women that "uses cannabis and specific healing botanicals to aid with menopausal and menstrual symptoms, and hormonal balance." l