Best Hong Kong-Style Desserts

Sweethoney Dessert

Sweethoney's menu is seemingly endless, and every option is delicious. For those unfamiliar with Hong Kong-style desserts, the underlying concept of most dishes is to bathe tropical fruits, red beans, berries, grass jelly, rice balls, and similar treats in rich soups and puddings derived from tofu, milk, coconut cream, sesame, walnut, pumpkin, or other naturally sweet broths and purees. A typical dish, for example, is the mango pomelo sago sweet soup with green tea ice cream, served in a shallow square bowl and eaten with a big spoon. Some popular choices include the simple yin and yang of black sesame soup poured beside walnut soup. And beyond the realm of soups and puddings are delicacies such as mango and durian pancakes. The crepe-like cake is folded around the fruit and a dollop of whipped cream. The most appealing thing about this place is that the ingredients rely on their own inherent sweetness. They're not adulterated with too many artificial sugars. Sweethoney is also a popular hangout. It's crowded late at night, but there always seems to be an open table. Think of it as an alternative to hitting the bars.
1423 E. 14th St, San Leandro, SweetHoneyDessert.com
. (Darwin BondGraham)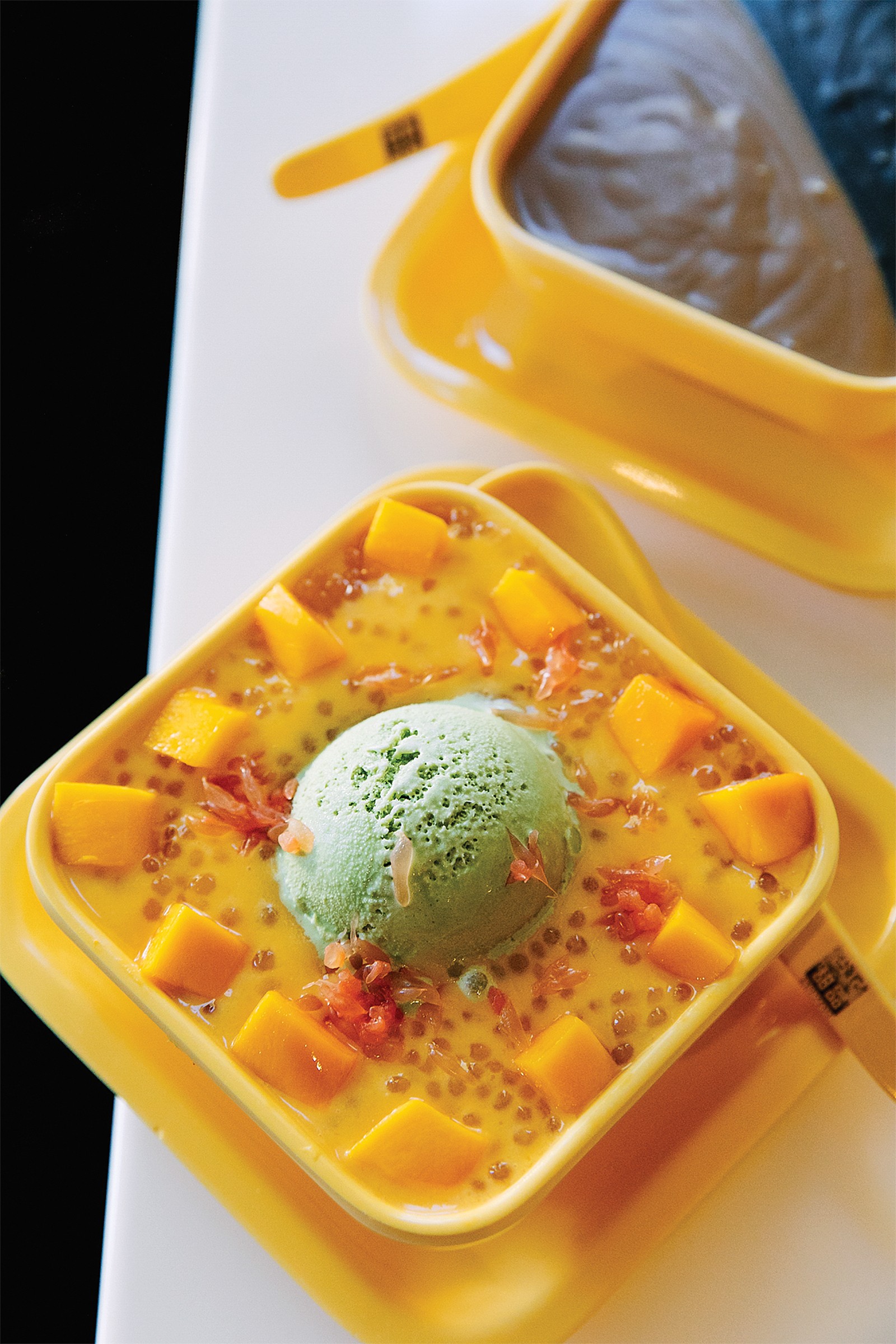 Best Dried Fried Ribs (With a Draymond Green Photo)

China Pack Kitchen

There are two things Oakland is not in short supply of: good places to eat and quality basketball players. To combine them both, just stop by China Pack Kitchen on 35th Avenue, right off the 580 exit. Go there and order the dried fried ribs. You don't even have to tell them we sent you. Just go. For less than $7, they'll hook you up with an overloaded box of crispy golden nuggets of pork, shimmering with salt adorning their peaks and valleys, like snow-topped mountains of tender rib meat. While you're ordering — we recommend to-go, because the place is pretty small — you'll most likely notice how the owners proudly display a large photo with Golden State Warriors forward Draymond Green. In the photo, kept just behind the front counter, they're dwarfed by his size, but their smiles aren't, as they're honored to serve the Klay Thompson-catching backbone of the Warriors. If you ask the owners about Draymond, they'll quick to tell you the latest news, like recently winning the defensive player of the year. While you shouldn't wait for the Warriors next season to begin — because October is way, way too far away — the dried fried ribs are the perfect food to munch your way through a game. And, of course, cheer on Draymond.
3118 35th Ave, Oakland, ChinaPackKitchen.com
. (Brian Krans)
Best Place to Get Boba and Channel Your Inner Kevin Durant

TeaOne

Before he had a championship ring and a Finals MVP, Kevin Durant was just like any other Bay Area transplant — enthusiastic, curious, and in desperate need of food recommendations. So in October 2016, Durant took to the Warriors thread on Reddit, asking Bay Area locals for tips on where to shop and eat in the East Bay. When Reddit user KingShindo asked Durant, "Actually, man, have you ever tried boba? lots of good places in the bay to get some." Durant humbly replied that he hadn't. "School me a bit," he wrote. After a quick crash course in boba flavors and straw-sipping etiquette, Durant replied with a photo of him walking down Telegraph Avenue sipping some boba from Berkeley's own TeaOne. While TeaOne is a growing Bay Area chain, Durant's inaugural boba run makes the Berkeley location a must-visit for any die-hard (or bandwagon) Warriors fan.
2380 Telegraph Ave, Berkeley, Tea1USA.com
. (Rosemarie Alejandrino)
Best Bar That Used to Be a Bait Shop and Now Serves Popcorn

The Kingfish
The Kingfish has been an East Bay staple since it opened as a bait shop in 1922. After a rocky few years (it was almost razed to make room for a new condo development in 2015, before owner Emil Peinert picked up the building and moved it 35 meters across the road) this piece of Oakland heritage is doing better than ever. Inside the fishing shack you're likely to find locals watching the Warriors over a hearty selection of draft beers, while outside patrons enjoy the summer sun by the new patio bar. Grab a bowl of free popcorn and put your favorite summer soundtrack on the digital jukebox. The regulars will show you how to play shuffleboard, the favored house game, before you finish your first drink.
5227 Telegraph Ave, Oakland, KingfishPubAndCafe.com
. (Rosa Furneaux)
Best Way to Spice Up Your Cocktails

Caged Heat Syrup
If you're the type of girl who keeps hot sauce in her hand bag, then you're probably the type of girl who needs some Caged Heat Syrup for her cocktails. Named after a campy 1970s movie about women's prisons, Caged Heat Syrup is made with cardamom, ghost pepper, and tamarind — it packs a punch in the heat department and lends a balanced dose of spice to any cocktail. Creator Jared Hirsch mixes it with lemon juice and bourbon in his award winning cocktail of the same name. It also plays nicely in a spicy margarita, and it has been making appearances on cocktail menus all over town. But don't feel limited to using it in just cocktails — it also plays well with food as a dipping sauce or an alternative to maple syrup on chicken and waffles. Looks like it's time to make room in your handbag for another bottle.
CagedHeatSyrup.com
. (Pilar Reyes)
Best Off-the-Beaten-Path Scoop Shop

Clancy's Ice Cream Parlour
This is the kind of place you discover by accident. At first glance, its hole-in-the-wall exterior next to a rundown 7-Eleven doesn't look like much. But venture inside and you'll find a true gem — complete with aggressively Irish décor (we're talking shamrock wallpaper) and some of the tastiest ice cream. Among the 38 varieties, you'll find all the usual suspects, of course. But be sure to sample some of the more adventurous flavors like purple yam, macapuno, burgundy cherry, and marble black raspberry, too. Order a scoop (after assuring the owner, Johnny Lin — known affectionately as "Mr. Clancy" — that, yes, one is enough) and you'll get so much ice cream packed onto the cone that it seems to defy the laws of physics. Even better, it's also some of the cheapest ice cream around, setting you back just $2.95 for that (giant) single scoop. The perfect treat on the way home from a sunny day at Lake Chabot.
1234 Manor Blvd, San Leandro
. (Laurel Hennen Vigil)
Best Coconut Shrimp in Town

SUP Street Food
SUP Southeast Asian Streetfood is the pop-up of self-proclaimed shrimp pimp Alina Vongsamart, who is usually joined by friend, co-chef, and conversationalist Nic Feliciano. (Editor's note: Feliciano contributed as a writer to this issue). The two take to the streets of Oakland to serve their high-in-demand coconut shrimp — perfectly crispy and seasoned — and Vongsamart rightfully demands her coconut shrimp be enjoyed wrapped in fresh lettuce. SUP's menu changes with the seasons, including offerings of heartwarming ginger rice porridge, in the chillier months, and a variety of fresh rolls and satays with special dipping sauces in the summer. What makes SUP stand out is the rare combination of food with as much personality as the folks cooking and serving it. Inspired by the night markets of Southeast Asia, Vongsamart and Feliciano are the perfect duo to honor the food, chatter, community of after-dark eats.
SUPOaklandStreetFood.com
. (Ruth Gebreyesus)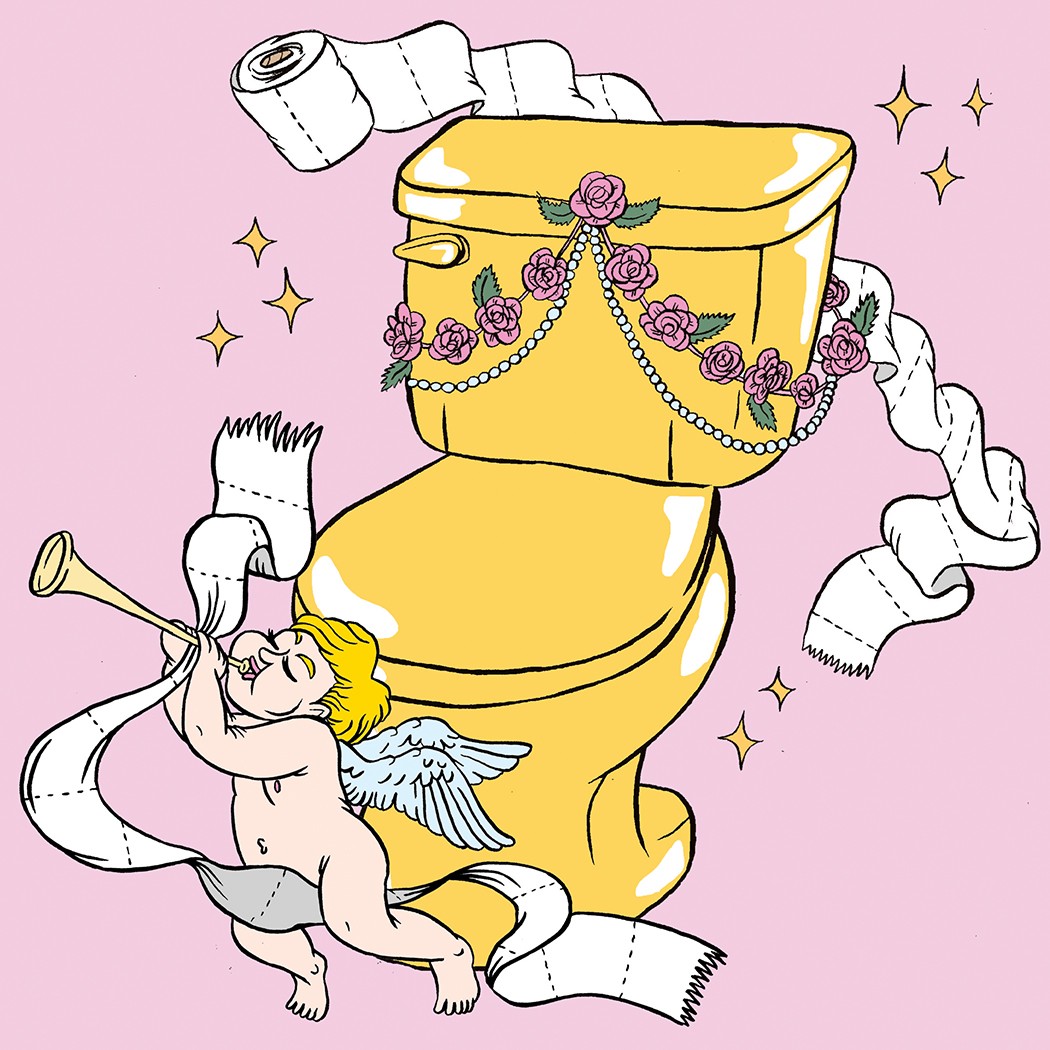 Best Bar Bathroom

Club Mallard
Aside from good reading on the stall-walls, or perhaps the occasional fully stocked toilet-paper dispenser, bar bathrooms don't usually provide much to rave about. Enter Club Mallard: This classic East Bay bar has been serving up cocktails in its cozy lodge-styled main room, offering a smoker's paradise on its tiki-inspired back patio, and providing pool tables for patrons in Albany since 1945. But even with the eccentric ambiance — that somehow seamlessly combines taxidermy animal heads, candle-lit leather booths, outdoor torches, and a second story that offers sweeping views of San Pablo Avenue — the real attraction at the Mallard is their toilet seats. Heated toilet seats. Is there any greater luxury in this life? Make your way to Club Mallard and decide for yourself.
752 San Pablo Ave, Albany, ClubMallard.com
. (Gabrielle Canon)
Best Place to Spin a Prayer Wheel While Dining

Cafe Tibet
This modest, family-run cafe was one of the first Tibetan restaurants to set up in the Bay Area, and it remains one of the best. Chef Samten Chinkarlaprang opened the café in 1999, after working under pastry chef Emily Luchetti at the legendary Stars in San Francisco. Her specialty remains desserts, but Café Tibet offers a delicious variety of traditional Tibetan dishes at reasonable prices. If you're a little bemused by the menu, Chinkarlaprang and her staff will be happy to offer recommendations as they seat you under prayer flags and an oversized portrait of the Dalai Lama. Momos and noodles are made by hand, and there are plenty of flavorful vegetarian and gluten free options. Heads up, they're closed on Tuesdays.
2020 University Ave, Berkeley, CafeTibetBerkeley.com
. (RF)
Best Afternoon Tea

Baby Cafe
Here in the West, afternoon tea time tends to conjure up images of crumpets and dainty finger sandwiches — a kind of in-between meal that's more frilly than filling. There's nothing wrong with that, of course. But if the mid-afternoon rolls around and you find yourself craving a more substantive meal, there is always Baby Café: a Hong Kong-style eatery that has nothing to do with actual babies, unless you count the food baby you might impregnate yourself with by taking full advantage of the restaurant's bargain-priced tea time menu (available 2–6 p.m.). The choices are nearly endless: noodle soup studded with lusciously tender beef stew, thick-cut Hong Kong-style toast, rice rolls, fried pork intestines, and much, much more, with the bulk of the items marked down to between $2 and $5. For a special treat, order a checkerboard-crusted pineapple bun, which the cafe serves in the classic Hong Kong style — warm, with a couple of pats of cold, chewy butter in the middle. That, and a cup of hot milk tea shot through with sweet condensed milk, and you won't be thinking about finger sandwiches anytime soon.
358 11th St, Oakland, BabyCafeUSA.com
. (Luke Tsai)
Best Place to Stock Up Brew and Booze on the Island

CRAFT Beer & Wine
It's no longer the Gilligan life in Alameda. Yet the island still poses moments where you might find yourself lacking some of those basic things in life, such as good booze. You know, in case you want to celebrate something like city council's passing of a just-cause ordinance. Anyway, enter CRAFT Beer & Wine: I stumbled upon this spot east of Park Street after a bike ride, and was floored that it stocked such a vast cornucopia of kick-ass brew, everything from those trendy cans of abundantly fresh, hazy IPA to a modest, easy-drinking Ayinger dunkel, which I occasionally crave. In fact, I'm almost loathe to reveal the glory to be found at this beer destination, lest ye truck-chasers start posting up and swiping the bounty. In addition to the fine brew selection, there's also a variety of wines, and a mix of hard stuff, from mezcal to Japanese whiskey. People like to diss on Alameda, but there's something to be said for a city that doesn't have a BevMo and does boast a wonderful bottle shop like CRAFT. I'll drink to that.
2526 Santa Clara Ave, Alameda, CraftAlameda.com
. (Nick Miller)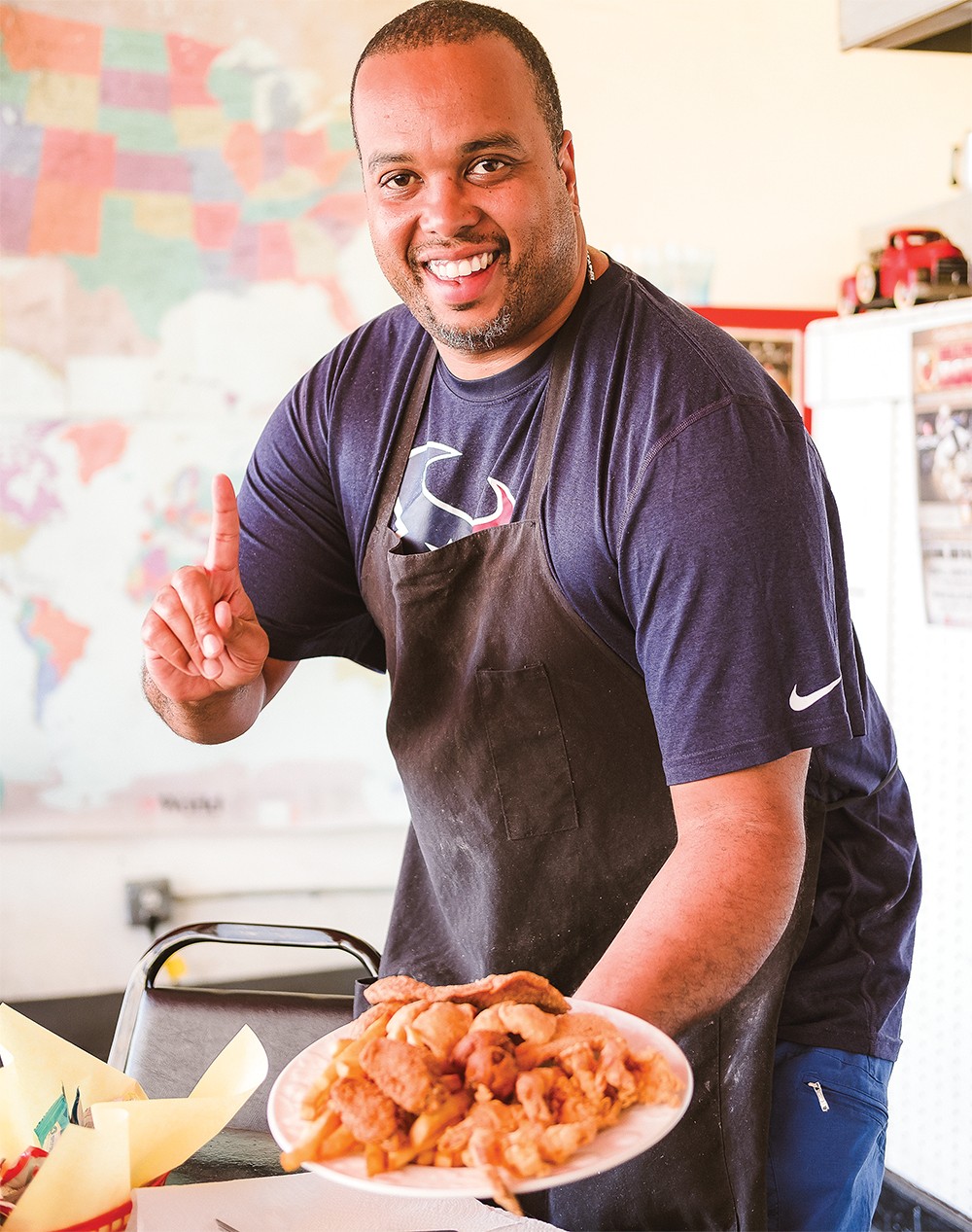 Best Fried Food

Mississippi Catfish

If convenience tops your priority list, you might be forgiven for overlooking Mississippi Catfish, with its slightly obscure location attached to a smog-inspection station, and its limited business hours (Thursday through Saturday only). But if you know the value of a basket of impeccably fried seafood, this is your spot. You'd be hard-pressed to find batter-fried catfish anywhere in the Bay Area that's as airy, greaseless, and well-seasoned. And only a true master could match chef-owner Thomas Wright's deft hand with fried shrimp, which are butterflied and come out both outrageously crunchy and just barely cooked. Most exceptional of all are the hushpuppies, which are a creamy, onion-y, deep-fried delight — and a true taste of Mississippi. To hell with convenience: This is food that's worth traveling a long, long way for.
12440 San Pablo Ave, Richmond
. (LT)
Best Thai Food in a Small House

Vientian Café

Everyone loves mum's home cooking, but finding the right eatery that comes even close is hard, especially if your mom is Laotian. Even if she's not, the Phannavong family will gladly feed you at the Vientian Café. (For a fee, of course.) Located inside a Robin's egg-blue house-turned-restaurant with a red awning at the corner of 38th and Allendale avenues, the Vientian Café serves up sticky rice and spicy larb, marinated ground chicken or beef served on crispy lettuce leaves. The staff has been creating these traditional dishes inside the small restaurant since 2002, when Chanhla Phannavong, a mother of six, took her love of cooking and went pro. Her oldest, Anna, took over in 2014, continuing on her mother's legacy of keeping homemade Laotian cooking accessible in East Oakland.
3801 Allendale Ave, Oakland, VientianCafe.com
. (BK)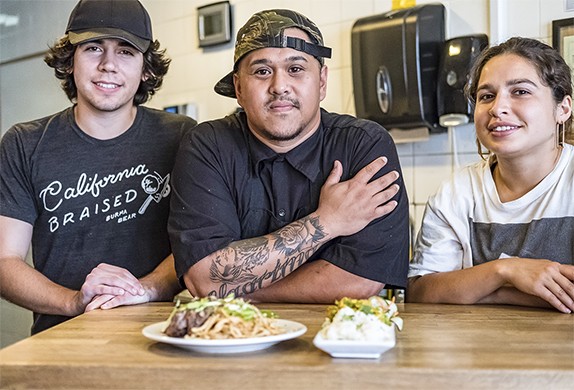 Best Asian-American Comfort Food

Burma Bear

Comfort food comes in all shapes and sizes. Maybe you grew up on matzoh ball soup, or cheese tamales, or your grandma's meat lasagna. But if you came of age in a certain kind of Asian-American family, as an immigrant or a child of immigrants, you probably have fond memories of a certain kind of hybrid cuisine — backyard-barbecue spreads in which hot dogs, soy-sauce-marinated roast chicken, and sesame cold noodles intermingled. If you feel nostalgic for that kind of eating, Burma Bear, a counter-service restaurant that combines American-style barbecue and Burmese comfort dishes, will scratch the itch — or perhaps cultivate a new habit you'll find hard to kick. Where else in the East Bay can you go to get tender, fatty barbecue brisket on a bed of exceedingly addictive Burmese-style garlic noodles, or smoked baby-back ribs with sides of tea leaf salad and fragrant coconut rice? And who knew how perfectly these seemingly disparate, and quintessentially American, foods all go together?
325 19th St, Oakland, BurmaBear.com
. (LT)
Best Vegetarian Chinese

Veggie Lee

Vegetarian Chinese food can have an austere, monkish quality, which makes some sense given the cuisine's roots in Buddhist religious practice. Not so at Veggie Lee, a vegetarian spot whose defining characteristics are big flavors and a skillful hand with a wok. The restaurant is named, charmingly, after its proprietor, Che Heng "Veggie" Lee, a Daimo alum who has taken the skills he developed as a Cantonese banquet chef and is now applying them to the world of mock meats and vegetable-centric stir-fries. Lee subscribes to a health-oriented brand of vegetarianism, but his restaurant also deals in umami-rich sauces; in rich-tasting, perfectly stir-fried eggplant and Chinese greens; and in the crisp edges of the savory "toons" pancake (a Buddhist-friendly alternative to a scallion pancake) and the batter-fried pumpkin. This is no cuisine of denial. It's just solidly executed, flavorful food that might just inspire you to improve your own vegetable cookery.
25036 Hesperian Blvd, Hayward, VeggieLee.com
. (LT)
Best Whiskey for Coffee Drinkers

Espresso Barrel by Mosswood Distillers

Is your breakfast of champions just not cutting it anymore? Don't worry: Mosswood has you covered. Their coffee barrel aged whiskey is an easy sipping libation for any time of day. Both discerning coffee drinkers and whiskey snobs will be delighted. It is aged at their Berkeley facility in barrels that have been seasoned with Four Barrel cold draft coffee, giving a complex and delicate coffee note to the whiskey. It's delicious whether you're drinking it straight out of a coffee cup with your morning cigarette or mixing it into a cocktail after work. We recommend it in a simple Old Fashioned. Mosswood also offers a variety of other whiskies, including a nocino barrel aged whiskey and a sour beer barrel whiskey. They are currently aging a sherry casked Irish whiskey. Doesn't that sound perfect for an Irish coffee?
DrinkMosswood.com
. (PR)
Best Place To Load Up on Carbs After Getting Hammered

Nikko's Cafe

It's nearly 3 a.m., and you are done with bar-hopping. Hunger sets in. What do you do? There's nothing greater than a hearty breakfast meal at an ungodly hour. You gotta find somewhere to eat, and that 24-seven spot is Nikko's, which is right off 23rd Avenue. (Drive too fast and you'll pass it and end up in Alameda.) Nikko's has seen better days, but for some it has been the preferred late-night eats for decades. Don't think too much about the "sketchy" location, or simple décor; this is the place. Want scrambled eggs? Nikko's got it! Craving a BLT and French fries? No problem! In the mood for pancakes? Coming right up! As a regular, the staff will even remember your order. Sure, you can drive all the way to Emeryville to get Denny's. But why not give your money to an establishment that has been an Oakland staple for generations.
340 23rd Ave, Oakland
. (Azucena Rasilla)
Best Place to Learn About Natural Wine

Ordinaire

Natural wine: It's the newest buzzword in the wine community, and if you're interested in finding out what it means, Ordinaire is the place. While many bars and restaurants are starting to add natural wines to their lists, Ordinaire has upped the ante by stocking only natural wine. Natural winemakers go beyond the trend of organic wine by embracing traditional wine-making methods and eschewing chemicals, filtration, and additives. The result is known for being highly expressive and nuanced, and you can try them all at Ordinaire. Their by-the-glass list rotates frequently, varying from crowd-pleaser wines like champagne, for drinkers who are just getting into natural wines, to uncommon and austere wines, such as orange wines from Georgia with notes of high acid, slate, and cheese. Whether you're looking to explore the vast world of natural wine or just looking for a glass to sip on while you're in the neighborhood, Ordinaire is sure to hit the spot.
3354 Grand Ave, Oakland, OrdinaireWine.com
. (PR)
Best Place To Warm Your Bones When It's Drizzly Out

Pho Ao Sen

When the Bay Area weather decides to take a page out of Seattle's playbook and only hot soup will do, head to Pho Ao Sen. Throughout the past few years, my family has worked our way through many of the pho restaurants in the East Bay, and Pho Ao Sen has emerged as an unequivocal favorite, with my pho-natic mother going so far as to declare its broth "the nectar of the gods." The broth is what makes or breaks a bowl of pho, and Pho Ao Sen's silky beef broth delivers an aromatic umami blast. To complement your order, try the fresh Nem Nuong Nha Trang spring rolls. And if soup's not your thing, the broken rice plates never disappoint. To drink, the Vietnamese coffee — a strong dark roast with sweetened condensed milk — packs a jolt. Expect a queue on rainy days, but it's well worth the wait.
1139 E 12th St, Oakland, PhoAoSen.com
. (LHV)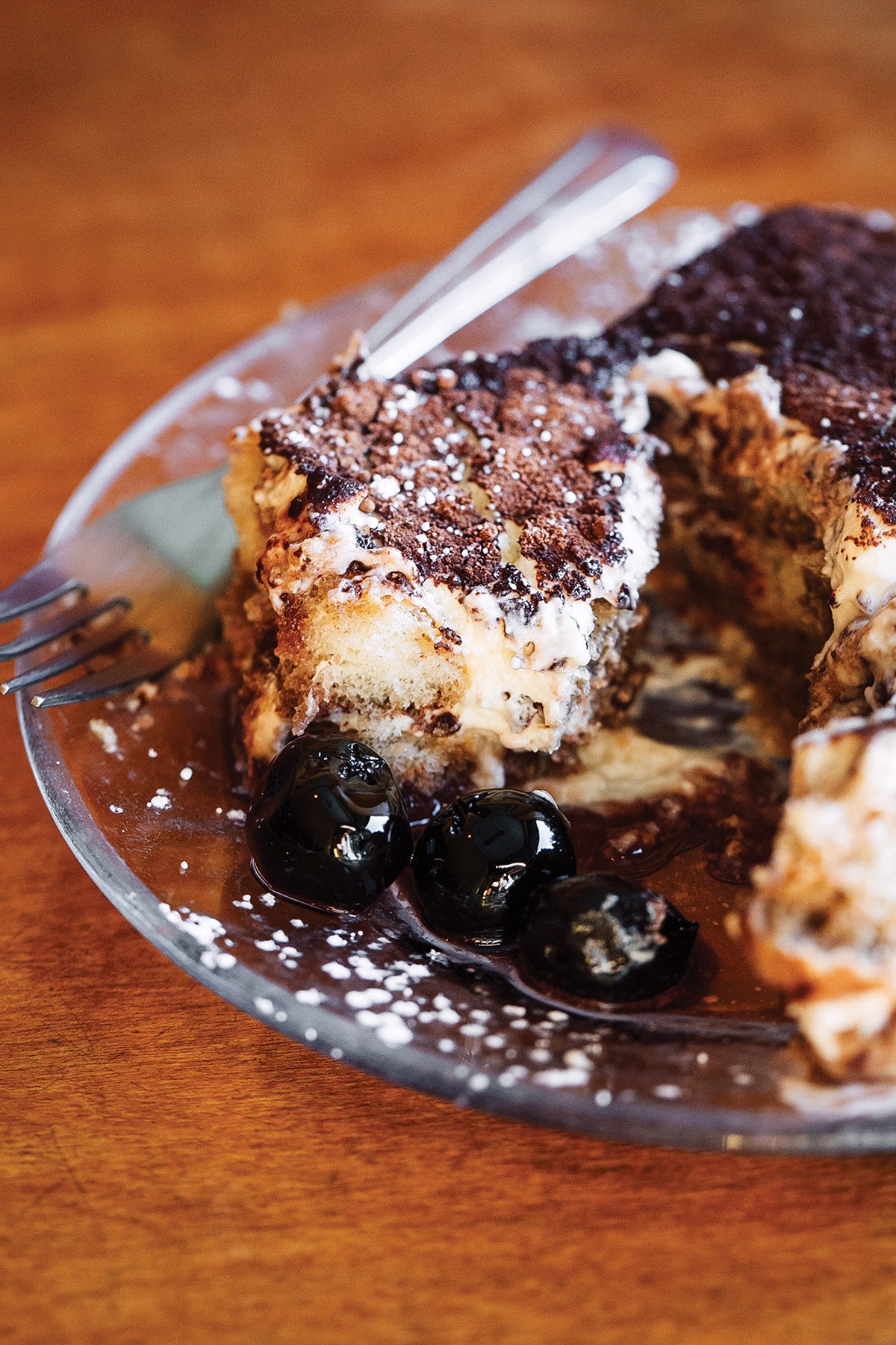 Best Dessert Course on Piedmont Avenue

Tiramisu at LoCoco's

It's creamy, but there's no cream. It's local, but from Northern Italy. It's on the menu, but not always in the kitchen. Only one thing is for sure: The tiramisu at LoCoco's restaurant is the best dessert that can be had on Piedmont Avenue. Even though it's not a Sicilian dish, Maria LoCoco put it on the menu in the late 1990s, after her sister Suzanne brought the recipe back from a study-abroad trip in Florence, Italy, a few years earlier. There's no whip cream, and no alcohol, but it is still sweet. And it's the best ending to a fine meal of spaghetti and meatballs or eggplant parmigiana. The restaurant business is no walk in the park, and Maria can't make the tiramisu every day, but a few times a month, a new batch enters the freezer to cool for a couple hours before it's ready to serve: two layers of lady fingers soaked in espresso, surrounded by whipped mascarpone, and topped with cocoa powder, a traditional yet simple treat. But when it comes to how that's all put together, that bit is going to have to remain a secret.
4270 Piedmont Ave, Oakland, LoCocosPiedmont.com
. (Nate Sheidlower)
Best Way To At Once Affirm Animal-Free Loyalty and Revisit Carnivorous Glory

Level 8 Vegan at The Butcher's Son

When it comes to fake meat, I have several good friends that I would describe as suppressive persons. In other words, they steer clear of the stuff. Which is why I take them to Berkeley, where I proselytize during brunch at The Butcher's Son. My go-to is the Level 8 Vegan: an everything bagel, toasted; topped with a generous layer of chive cream cheese and a huge hunk of fried chicken; and also layered with bacon, lettuce, avocado, tomato; and with a big pickle on the side. The whole thing is carnivorous glory in vegan form, but the main event is the fried chicken, which is essentially a fist-sized piece of gluten that's fried to county-fair perfection. This is the kind of meal that vegans love during those moments when you just have to scratch that departed meat-eating itch — but without the food coma you'd experience after the animal-cruelty version.
1941 University Ave, Berkeley, TheButchersVeganSon.com
. (NM)
Best Bar to Post a Picture of on Instagram and Have All Your Friends Comment 'OMG, Where is This?!?'

Small Wonder

If you're thirsty for both strong drinks and Instagram likes, visit Small Wonder in Oakland. By day, it's a plant-lined cafe serving up small plates and sandwiches. But at night, it is a glittery and eclectic bar, decorated with dangling reflective ornaments, faux Greek columns, and an eye-catching mural. With "happier hour" on tapas and drinks from 2-6 p.m. daily, Small Wonder is the perfect place to start a night out and snap some decent pics of yourself before things take a sloppier turn. For an Instagram-worthy Bay Area-specific treat, try the 510-420: a cocktail that features cannabis vodka and is topped with Lucky Charms cereal.
37 Grand Ave, Oakland
. (RA)
Best Place for an Efficient Study Lunch

Julie's Cafe

Julie's Cafe on Bancroft sits across the street from UC Berkeley campus, and is the perfect place to eat and study. The cafe serves Mediterranean options alongside staples such as pasta and sandwiches, and carries a partial Peet's Coffee & Tea menu. There are ample patio-style tables available, and the windowed roof and wide entryway give the sense of being at once inside and outside. Julie's is one of the best spots to dash between classes, find an empty table, and eat a quick meal. Samosas, pita, shawarma, kebabs, pad Thai, and hummus plates are served alongside Caesar salads, spaghetti, and burgers. Julie's is efficient, spacious, and bound to have an option for everyone.
2562 Bancroft Way, Berkeley, JuliesBerkeley.com
. (Annika Merrilees)
Best Laid-Back, Late-Night Drunchies

OB Chicken Town

Whether you're looking to start off a night of drinking by padding your stomach with carbs and protein, or looking for a late-night drunk meal that you can eat while seated, late-night happy hour at Oriental BBQ Chicken Town in Temescal is the go-to spot. Get a full meal fix at a fraction of the price, everyday from 9 p.m. to midnight. A heaping order of the Gan Jang Chicken — deep fried and tossed in a garlic soy sauce — for just $13.50 (regularly $18.95) is the perfect portion to split with a couple of friends. The restaurant's ample seating makes it ideal for those nights when you desperately need a hearty post-drinking meal, but can't bear to stand in line for street meat or a slice of pizza. And while it's not included in the happy hour discounted menu, do yourself a favor and splurge $7.95 for their sizzling corn and cheese — it's guaranteed to be the one thing you remember somewhat clearly when you wake up the next morning.
6101 Telegraph Ave, Oakland, OBTown.com
. (RA)
Best First Friday Food Truck Alternative

Eating outside of KP Asian Market

Tired of waiting in line for an overpriced plate over at the food-truck hub on First Fridays? Walk a few blocks down to 23rd Street and Telegraph Avenue, to KP Asian Market. This fully stocked Korean market is not only a great place to a value price on produce, but also your best bet for doing First Fridays food on a budget. With heaping portions of jap chae, bulgogi, kimchi fried rice, and additional Korean street food favorites for less than $10 a plate, you'll be getting food truck-level full at a fraction of the price. Take your food on-the-go or sit and eat in the parking lot, which has an ideal view of people watching and checking out First Friday performances and activities.
2370 Telegraph Ave, Oakland, KPInternationalMarket.com
. (RA)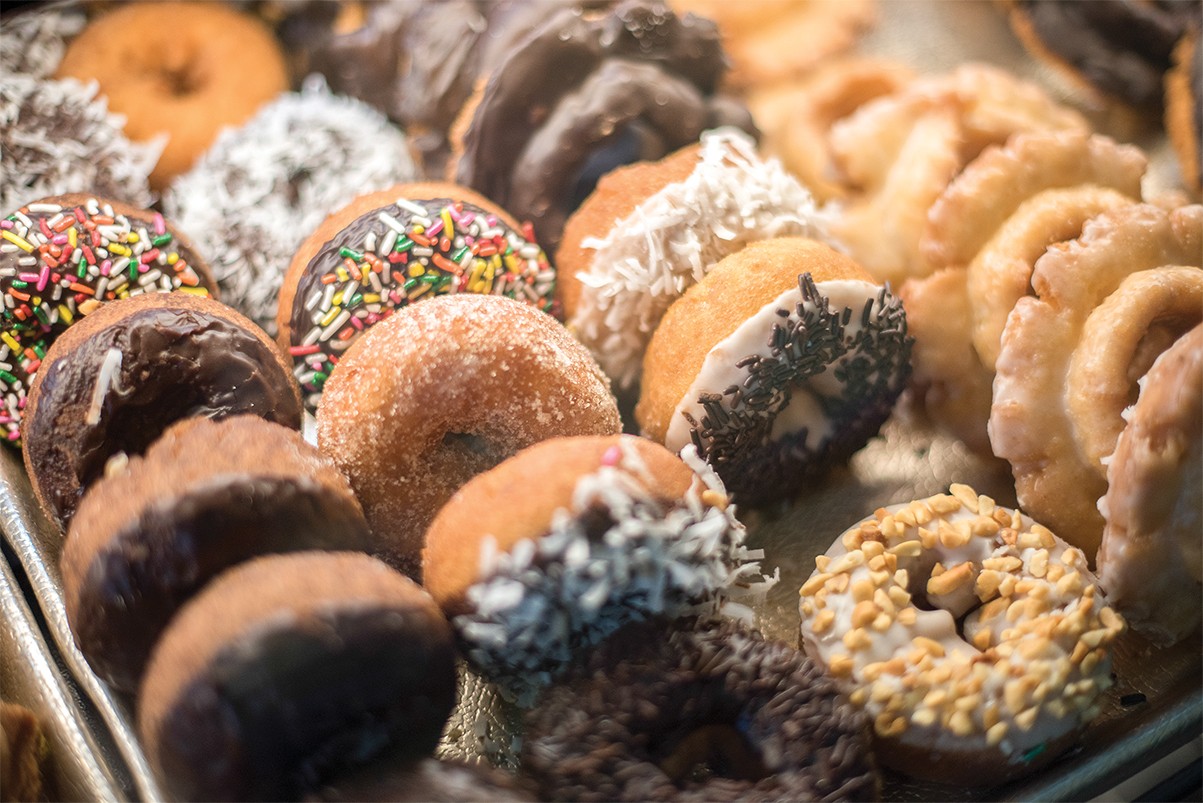 Best Jelly Donut With a Heroic Back Story

Dream Fluff Donuts

Dream Fluff Donuts has sat at the corner of College and Ashby avenues in Berkeley faithfully serving affordable food and coffee for years. Tired UC Berkeley students trudge through, and a set of locals rotates in regularly. Economical meal options vary from veritably fluffy chocolate old-fashioned donuts to sandwiches, coffee, and drinks, eaten at tables inside and outside the cafe. Holding together the efficient business is owner Alex Sieu. A teenage Sieu came to the United States from Cambodia, which had been under control of the Khmer Rouge. He then established and built up Dream Fluff Donuts. The shop is a comfortable, no-fuss establishment, enticing to regulars and fun for visitors to the Elmwood area.
2637 Ashby Ave, Berkeley
. (AM)
Best Local Teriyaki Sauce For Veri Veri Juicy Chicken

Soy Vay

Teriyaki can be so much more than the go-to order at a sushi place. Soy Vay teriyaki sauce, made right here in Oakland, is by far the optimal teriyaki sauce to cook with at home. It's especially good when poured over a pan full of chicken pieces and chopped onions, right before it gets thrown in the oven. There are a few different flavors of Soy Vay: the Island Teriyaki, Asian Honey BBQ, or classic Hoisin. But I always go with the original Veri Veri Teriyaki — and, yes, it is supposed to have all those sesame seeds at the top. The first step is to marinate the chicken in the sauce for at least 12 hours. Then, put the chicken into a glass pan, add some chopped white or sweet onions — either works — and pour the rest of the sauce on top. Cover the pan with tin foil and bake at 400 degrees for about 40 minutes. After, take it out, baste the sauce over the chicken, and put the pan back in uncovered for another 20 minutes. The end result is some seriously delicious, and veri veri juicy teriyaki chicken.
SoyVay.com
. (NS)
Best Pig-Based Hangover Cure

Jalisco Restaurant

You wake up. Your head's pounding. The room's spinning. You still reek of whatever liquid you put down the night before. Get up, brush your teeth, put on your preferred shades — and immediately head over to Jalisco. No, not Jalisco, the state in Mexico; the Oakland spot off International Boulevard and 17th Avenue. The thing about Jalisco is that you have to get there early, otherwise you'll be in line forever. This is the premier spot for scrumptious, get-in-my-belly carnitas. (Sorry non-pork eaters!) Once you actually make it inside, the choices are endless: You can be basic and get a burrito, but why go for that if you can get an actual plate with beans, rice, and an assorted variety of carnitas: buche, maciza, surrapas, and some chicharron, all served with tortillas on the side. If you're feeling greedy, get a side of nopalitos. Oh, and the salsa is out of this world. It is not your typical salsa, either, consisting of tomatillos and chiles en vinagre, picked peppers. Every bite will slowly but surely bring you back to life.
1721 International Blvd, Oakland
. (AR)
Best Chole Bhature

Jotmahal

If you've eaten at enough Indian restaurants, you've probably had chole bhature, or at least seen it, even if you don't know the name: It's the big, outrageously puffy round of fried bread — a kind of bread balloon — whose arrival at the table is a special occasion in its own right. You might find a fluffier bhatura in the East Bay than the one at this North Berkeley newcomer, but you're unlikely to find any that are more flavorful and addictive to eat. Even better is the chole, or accompanying chickpea curry, which is earthy and well spiced — just the thing to scoop up with the bhatura or otherwise shove in your mouth post-haste. If you happen to be in the area, Jotmahal has plenty of other virtues, too, including some of the tastiest dal and vegetable pakora in town. But the chole bhature? That's one dish that's worth arranging your schedule around.
1543 Shattuck Ave, Berkeley, Jotmahal.com
. (LT)
Best Local Beer to Drink Out of a Paper Bag

Drake Brewing Co.'s Denogginizer

If you're looking to snag a single, oversized beer from the corner store to drink in the park, you'll have plenty of choices. You could choose something cheap and familiar, but this is the Bay Area. We like our beer hella strong and hella local. We suggest snagging an ice-cold bottle of Drake's Denogginizer, and wrapping it in the finest brown parchment you can find on this side of the Bay Bridge. With 9.75 percent alcohol by volume, this double IPA does the heavy-lifting. (Because when you're only planning on having one, you want to make it count.) It earned its name because, during its first brewing process, it allegedly almost took a brewer's head off. But just as a heads-up: It's illegal to drink in public in California. While the paper bag might help police officers look the other way, it's not an actual shield against the law. You could always go to either their San Leandro or Oakland locations to enjoy the beer, though. We'll let you be the captain of your own destiny.
DrinkDrakes.com
. (BK)
Best Diner to Bring Your Vegetarian Friend

Saturn Cafe

At first glance, Saturn Cafe might seem like a simple nostalgia hub. But, in fact, it has far more to offer. Located just west of UC Berkeley campus, Saturn has one of the most well-rounded menus of vegetarian options around. In addition, wheat- and gluten-free plates are scattered across the menu, along with soy free options, and many of the dishes are or can be made vegan. Between the onion rings, nachos, milkshakes, and hearty burgers and sandwiches, no one will feel deprived. Saturn Cafe may be the most enjoyable place to take your diet-restricted friends, and leave without feeling like anyone had to compromise. Go for a weekend brunch to sample the bottomless mimosas, "Saturn fizzes," or Bloody Mary's.
2175 Allston Way, Berkeley, SaturnCafe.com
. (AM)
Best Unpretentious Fried-Chicken

Aburaya

The Japanese fried chicken spot Aburaya opened in 2014 as an experimental pop-up at Garden House on 15th Street. Recently, in a sign of its growing popularity, it laid down permanent roots at 362 17th Street. A visit during dinner hours, especially on the weekends, will necessitate a brief wait in line. It serves excellent food at reasonable prices: $10 will get you four generous chunks of chicken, with your choice of sweet sauces or dry-spice blends, including teriyaki, orange honey aioli, or Umami salt; along with miso dressing, to boot. Throw in $2 more and you'll get a few scoops of sticky rice to eat the chicken with, and some mixed greens as a cleanser. Venture from the main menu and you'll find deviled avocado and fried vegan drumsticks among the sides. Despite its generally high quality, Aburaya is completely unpretentious. Rock 'n' roll booms over the loudspeakers, and a bowl of buttons sits on the register counter, each with an Aburaya logo modeled after the Ramones' famed emblem. It's the kind of place that could be your next go-to spot without breaking your wallet.
362 17th St, Oakland, AburayaOakland.com
. (Mosi Reeves)