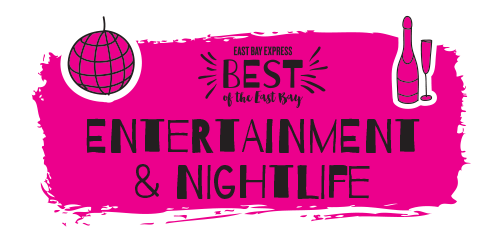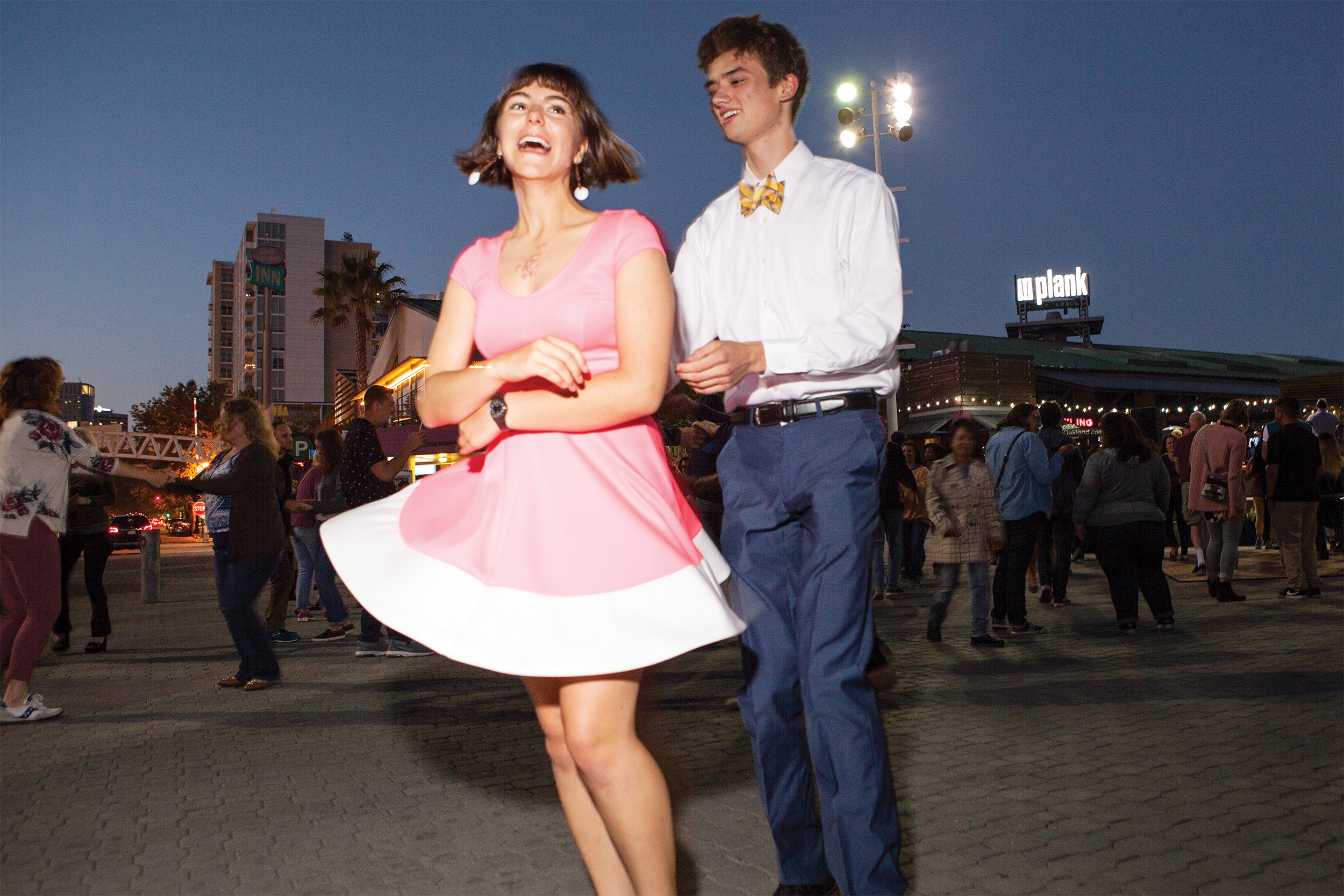 Best Date Night Even If You Have Two Left Feet

Dancing Under the Stars at Jack London Square

Movies, drinks, eats, doing stuff on water — Jack London Square boasts entertainment for pretty much everyone. And add dancing to that mix: During the summer, the Square hosts Dancing Under the Stars every Friday night. The party begins at 8:30 p.m., with a quick lesson before open dancing, and every week is a different genre. On July 21, for instance, you might learn line dance. Or on July 28, Bachata Latin sounds will take over. Don't worry if you're not a pro; dancers from all walks of life attend this event. After the lesson is when the real party begins. My advice: Make it a different kind of date night, complete with dinner and cocktails at one of the many restaurants on the waterfront, followed up with some dancing. Best of all, it's free!
Every Friday through August 25, 8:30 p.m., Broadway at Embarcadero West, Oakland
. (Azucena Rasilla)
Best Safe Space for Queer Skateboarders

Unity Mart in Oakland

Jeff Chung is a well-known artist and skater in the Bay Area. He launched "Unity Skateboarding" — a skate company for queer skaters — as a way to create room for radical new voices and form a community. This year Unity Mart opened, which is the store connected to Unity Skateboarding, and it now serves as a home for queer skaters and artists in the Bay Area. They offer open events and skate sessions for queer youth. On multiple Saturdays, they have had free Risograph printing for Black and brown artists in the bay. Their new location opened in March and is the best place to grab a new skateboard or a screen-printed T-shirt. It's a safe space for skaters who don't otherwise have a place that feels non-judgmental and open. The spot is also home to Lower Grand Radio, a small radio station that plays sick tunes every week. With art up on all the walls and a huge printer to make sick zines, the 'mart' is an awesome place to visit and meet some skaters cut from their own cloth.
644 40th St. #208 Oakland, Instagram.com/UnityMart and Instagram.com
/UnitySkateboarding
. (Siya Bahal)
Best Place To Get Your High Out Of A Coconut

MeloMelo Kava Bar

Opened in 2015, MeloMelo is the only place in the Bay Area serving up kava. The roots of this South Pacific plant are ground and commonly served as tea, produce a Valium-like calming effect without that pesky addiction. Studies suggest that kava may help relieve anxiety, sleeplessness, and other stress-related symptoms. Guests at this particular bar are offered a variety of different kava concoctions, including the Kava Colada, served with pineapple, or even kava chocolates. All their kava drinks are served out of smooth, sleek coconut shells, called "bilos." Not in the mood to space out? MeloMelo also offers a variety of teas, "elixirs" — cleansing juices such as their Tumeric Tonic — and drinking chocolate. Try the Fire Walker sipping chocolate, which gets its kick from a dash of habanero pepper. The white-walled, minimalistic shop is lined with couches to relax and sit back, or you can take a seat at the wooden bar and chat with the owners. Don't worry if your tongue starts to feel a little numb after a few sips — that means the tea is working.
1701 University Ave, Berkeley, MeloMeloKavaBar.com
. (Ashley Wong)
Best Place to Run Into Batman

Cape and Cowl Comics

Fans lined up out the door at Cape and Cowl Comics for the annual "Free Comic Book Day" this past May, but there was plenty to keep them occupied while they waited: a taco truck was parked outside, people dropped bags of food off for an Alameda County Community Food Bank drive (food donations were rewarded with extra free comics), and Batman and Catwoman were even on-hand to greet patrons. When Wonder Woman Day rolled around in June, they were at it again, handing out free tiaras and bracelets to the first 100 customers, as well as holding a sale on any comics featuring strong women, not just Princess Diana. Since 2015, Cape and Cowl has been catering to Oakland comic book fans, emphasizing diversity in selection and clientele. The store's most popular titles aren't the typical comic book fare: topping its June bestseller list was the dystopian feminist prison story "Bitch Planet." Owner Eitan Manhoff promises no matter what your tastes, Cape and Cowl has something for you or he'll find it personally.
1601 Clay St, Oakland, CapeAndCowlComics.com
. (Scott Morris)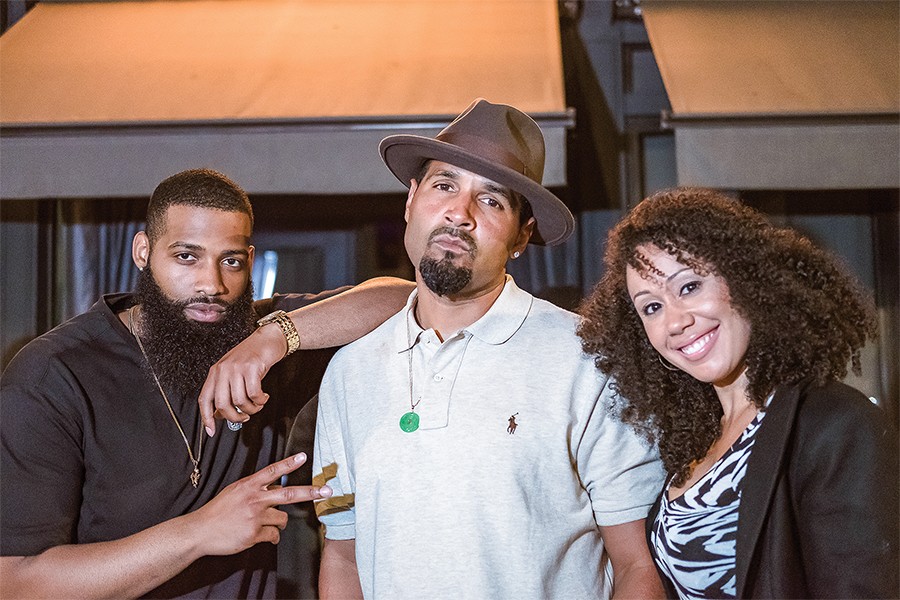 Best Thursday Night Party

TRAPSoul

For those of you who like to start your weekend social activities early, there's TRAPSoul, the premier event that takes place almost every Thursday at Parliament in Old Oakland. For every TrapSoul, a different DJ gets behind the decks. One week, it might be DJ D-Sharp, Prince Aries, Lexx Jonez, DC is Chillin, and, if you're lucky, even Shabazz, the official DJ for Draymond Green. At TrapSoul, you are guaranteed to find an abundance of grown and sexy people. If you're single, this is the party to get your flirting on. As if that is not enough, the curators behind the party are three Black entrepreneurs: Olive Oyl, SlapDadi (John Mahannah), and Melvontei Sosa. Since business ventures that involve people of color deserve support, TrapSoul easily earns its seal of approval.
811 Washington St, Oakland, TRAPSoul.Eventbrite.com
. (AR)
Best Decade Time-Travel on a Thursday

Berkeley Funk Night at The Starry Plough

If your dance moves aren't quite suited for the average 1 a.m. club outing, then make your way down to Berkeley Funk Night at the Starry Plough on a Thursday evening to experience all that the oldies have to offer. At Funk Night, music spans decades and genres, including soul, hip- hop, jazz, Latin, and, of course, funk. The Starry Plough itself is steeped in history, a pub that has been located in Berkeley since the 1970s. A wooden stage adorned in bright string lights overlooks the dance floor, where attendees mingle underneath posters of famed revolutionaries such as Che Guevara. For your drinking needs, the Starry Plough features a menu of imported, microbrew, and domestic beer as well as wine, teas, and wine-liquors. The live show begins at 9 p.m., with all ages welcome before 10 p.m. and 21+ afterwards.
3101 Shattuck Ave, Berkeley, TheStarryPlough.com
. (Cassandra Vogel)
Best Place to Go Out and Watch a Movie When You'd Rather Stay Home and Watch a Movie

The New Parkway

It's Friday night. It's been a long week. You had plans but, honestly, the couch is looking pretty good right now — and you've just remembered the cold beer in the fridge. But wait! What if you could enjoy all your creature comforts and avoid Friday night FOMO? If that's your predicament, the New Parkway Theater offers the perfect home away from home for a worn-out movie-goer. The theater has some great showings this summer, from classics like Labyrinth and Grease to feminism-boosting new classics like Wonder Woman and Beyoncé's Lemonade. Locally sourced beer and wine is on tap, along with sodas, smoothies, and ice cream sundaes. There's also a selection of freshly made starters, entrees, sandwiches, and pizzas, and you can even enjoy your dinner in front of the big screen. Tickets for most movies are $10, and there's a $1 discount for students, seniors, and cyclists (just bring your helmet). Kids under three go free. And on Wednesdays, films are pay-what-you-can as part of Karma Cinema, with 20 percent going to a local nonprofit. It'll make you feel good about getting out of the house.
474 24th St, Oakland,
TheNewParkway.com
. (Rosa Furneaux)
Best All-in-One Dinner and a Movie

Alameda Theater and Cinema Grill

When you're single, a giant bag of popcorn totally makes for a decent dinner with a movie. When you're in a relationship, you should try a little harder. But not too hard. So, if you want to get the most while doing the bare minimum, the historic-yet-updated Alameda Theater and the adjacent Cinema Grill handle the dinner and a movie all under one roof. You can, of course, eat in the restaurant and then see the movie. But if you're running late to the show and don't want to miss the previews, you can order your food and have it served to you at your seat. And, yes, that includes beer, wine, and stronger stuff. You can also order right from your seat via your phone, but that means illuminating your stupid face with a glowing screen, thus annoying everyone in the theater. It's another example of things you can do but shouldn't.
2317 Central Ave, Alameda, AlamedaTheatres.com
. (Brian Krans)
Best Movie Rental Store That's Not a Redbox

Video Room

Yes, people still rent movies on plastic discs, but Redbox doesn't have to be the final destination. Video Room has been around in the East Bay for 34 years, continually providing people with the nostalgic feeling of picking out a movie and then waiting until you get home to watch it. If you're craving that or can't find the movie or show you want online, head up Piedmont Avenue to Video Room. It's worth it. Their "Director's Alley" features greats like Francis Ford Coppola, Stanley Kubrick, and Roman Polanski. Their shelves are adorned with binge-worthy TV shows, from Game of Thrones to South Park; a collection of foreign language and international films; the latest Oscar winners and nominees; as well as anime and cult-classic sections in the back (and a ton of Miyazaki on Blu-Ray). There's even a small shelf dedicated to fallen stars like Marilyn Monroe and Robin Williams. So, if you're going to rent, go check out Video Room before settling for whatever is in the Redbox.
4364 Piedmont Ave, Oakland, VideoRoomOakland.com
. (Nate Sheidlower)
Best Place to Spend $5

Sunday Movies at 'Jack London Theater'

Going to the movies is great and all, but spending more than $12 for a ticket is absolute highway robbery. In order to satisfy your new-release fix without losing grip of all your hard-earned money, check out the deals at the Jack London Theater (as we Oaklanders like to call it). Otherwise known as Regal Cinemas Jack London 9, this location features a budget-conscious deal every Tuesday and Sunday: any screening, even in 3-D, are only $5 if you have the Regal Club card, and $6 if you don't. If you go on a Tuesday, there's rarely a crowd. But on Sundays, the lines are super long, so make sure to buy your tickets ahead of time and show up at least 45 minutes before the movie starts. With this deal, you can go ahead and splurge at the concession stand.
100 Washington St, Oakland, RegMovies.com
. (AR)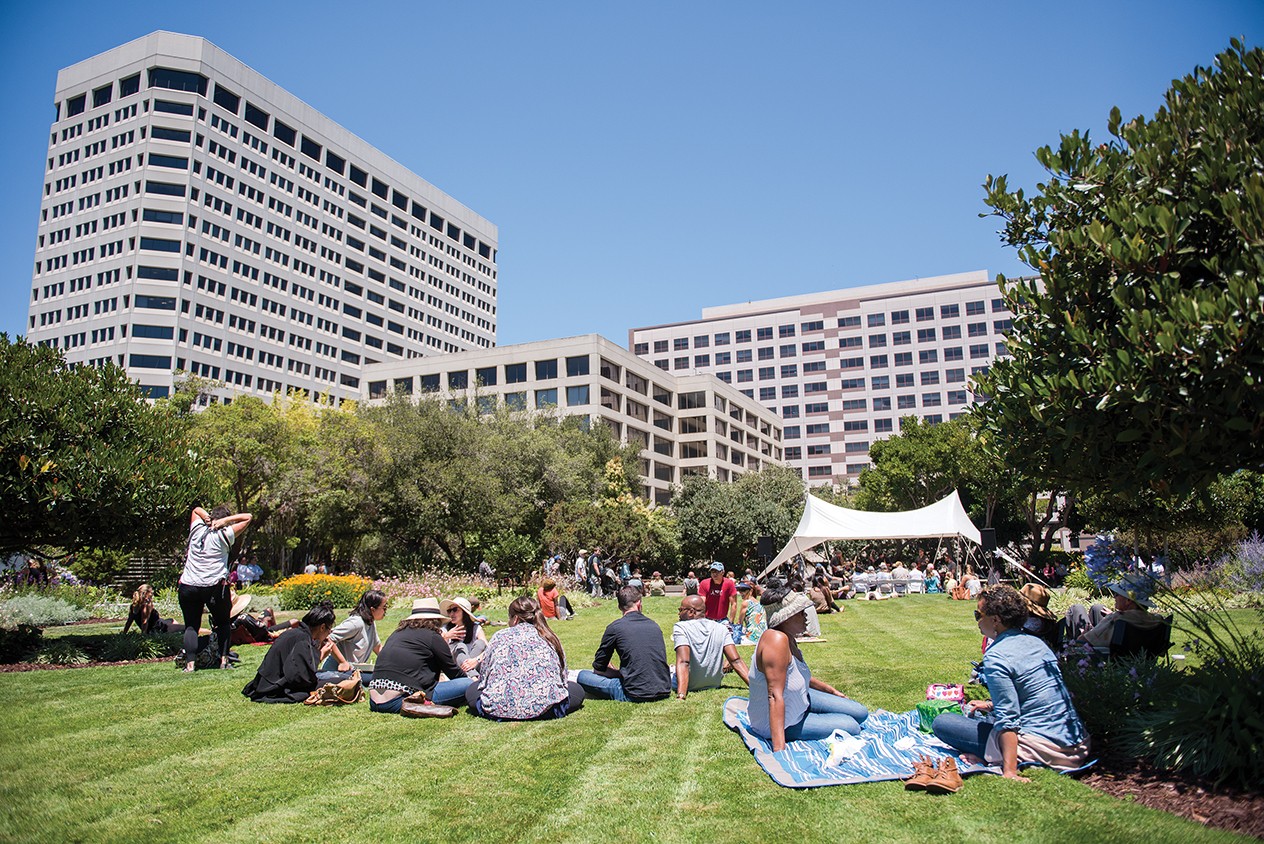 Best Hidden Rooftop

Kaiser Center Rooftop Garden

Although he was the king of aluminum and steel, known for building smokestack factories and shipyards, Henry Kaiser and his son, Edgar, bequeathed Oakland one of its most tranquil gardens. Perched atop the fifteen-story parking garage behind the Kaiser Center office building adjacent to Lake Merritt, the Kaiser Roof Garden was built in 1960. A technological wonder, the 3.5 acres includes a 200-foot reflecting pond and dozens of different species of trees, flowering shrubs, and crawling vines, all growing like lush curtains around lawns connected by circular walkways. This botanical island in the city's skyline is drained by a complex substratum of rocks, and it's held up by carefully placed columns built of tons of good-old Kaiser steel and concrete. The best thing about the garden is that it's free and open to the public during the week. And on Fridays, from 12 to 1 p.m. Swigco, the company that currently owns the building, hosts free concerts.
300 Lakeside Dr, Oakland, KaiserCenterRoofGarden.com
. (Darwin BondGraham)
Best Place to See Shows Before They Hit Broadway

Berkeley Repertory Theatre

The Berkeley Rep first began putting on shows in the late 1960s. Since, it's grown into a home for revolutionary performances, often staging works surrounding controversial topics. In the last year they presented Roe, spotlighting the historic Roe v. Wade court case that changed the lives of American women by legalizing abortion. Their shows attempt to create an important dialogue around the role of theatre and art in alternating narratives and realities. The Rep's commitment to spotlighting new projects and mentoring young actors proves they are a stalwart part of the theatre scene of the East Bay. Currently showing at the Berkeley Rep is the world premiere of Monsoon Wedding, an adaptation of the 2001 film that challenged stereotypes about arranged marriages and cultural differences. The show is based around an Indian family wedding and it considers the implications of love, tradition, expectation, and generational disagreements. Catch it this July before it's on Broadway.
2025 Addison St, Berkeley, BerkeleyRep.org
. (SB)
Best Cafe to Enjoy Coffee Over Connect Four

Victory Point Cafe

Think board games are best left in the pre-internet dark ages? Think again. Victory Point Cafe offers the perfect antidote to social media saturation, bringing folks together IRL to bond over long bouts of Monopoly. The cafe's concept is simple: find a friend, pay five bucks, choose your favorite game, and stay as long as you like. Victory Point's extensive library caters to players of all ages and persuasions. With more than 800 games to choose from, you might feel a little overwhelmed — but the cafe Game Gurus are on-hand to offer their wisdom and settle those heated disputes. Newly refurbished, the cafe now boasts double the space with new couches and plenty of tables. Try a locally roasted coffee or craft beer, or choose from their selection of pizzas, sandwiches and snacks. Victory Point is open until 11 p.m. on weekdays and midnight at weekends. Oh, and if you're worried about showing up solitaire? Check tables for a "Looking for Players" sign and join the fun.
1797 Shattuck Ave, Berkeley, VictoryPointCafe.com
. (RF)
Best Party Collective

New World Dysorder

The aptly named New World Dysorder is a self-proclaimed cultural revolution dressed up as a dance party — which is exactly what the world needs right now. A self-supporting system of increased visibility, New World Dysorder was founded by a loose collective of trans and gender-nonconforming DJs and artists, including members and associates such as Jasmine Infiniti, London Jade, Cali Rose, and Demon Gay. Their parties welcome people who would otherwise be ostracized because of their gender identity and lifestyle choices. And they throw damn good parties, packed full of beautiful people united right now in the common cause of subversion. In times of need, New World Dysorder's network helps members gain financial support for medical costs incurred due to being victims of transphobia. But they're fighting against that transphobia, one party at a time. Join the beautiful people in a party against status quo at various locations across the Bay Area.
Facebook.com/NewWorldDysorder
. (Pilar Reyes)
Best Place to Drown in Well-Priced Drinks and a Red Hue

Ruby Room

Ruby Room in Oakland has been a popular spot among locals in Oakland for decades. It's sort of like going into the abyss of a movie theatre, where you forget what time of day it is, as Ruby Room is infamous for its dark, red hue. Enjoy dancing on their tiny dance floor on Friday nights, or spend some time in their smoky side room for a game of pool. Close to the lake and right on 14th Street, in the past it's been home to groups of bikers after a ride and post-gig musicians. As a staple in Oakland, the Ruby Room is a great place to ask a bartender for advice, take a third date, or get drunk and challenge strangers to a game of pool. Beers and mixed drinks come cheap, as they always have, served by bartenders — not mixologists. So while it's not the destination for a craft cocktail, it remains a consistently great place for a shot and a beer. 132 14th St, Oakland, No Website (Because good bars don't need them). (SB)