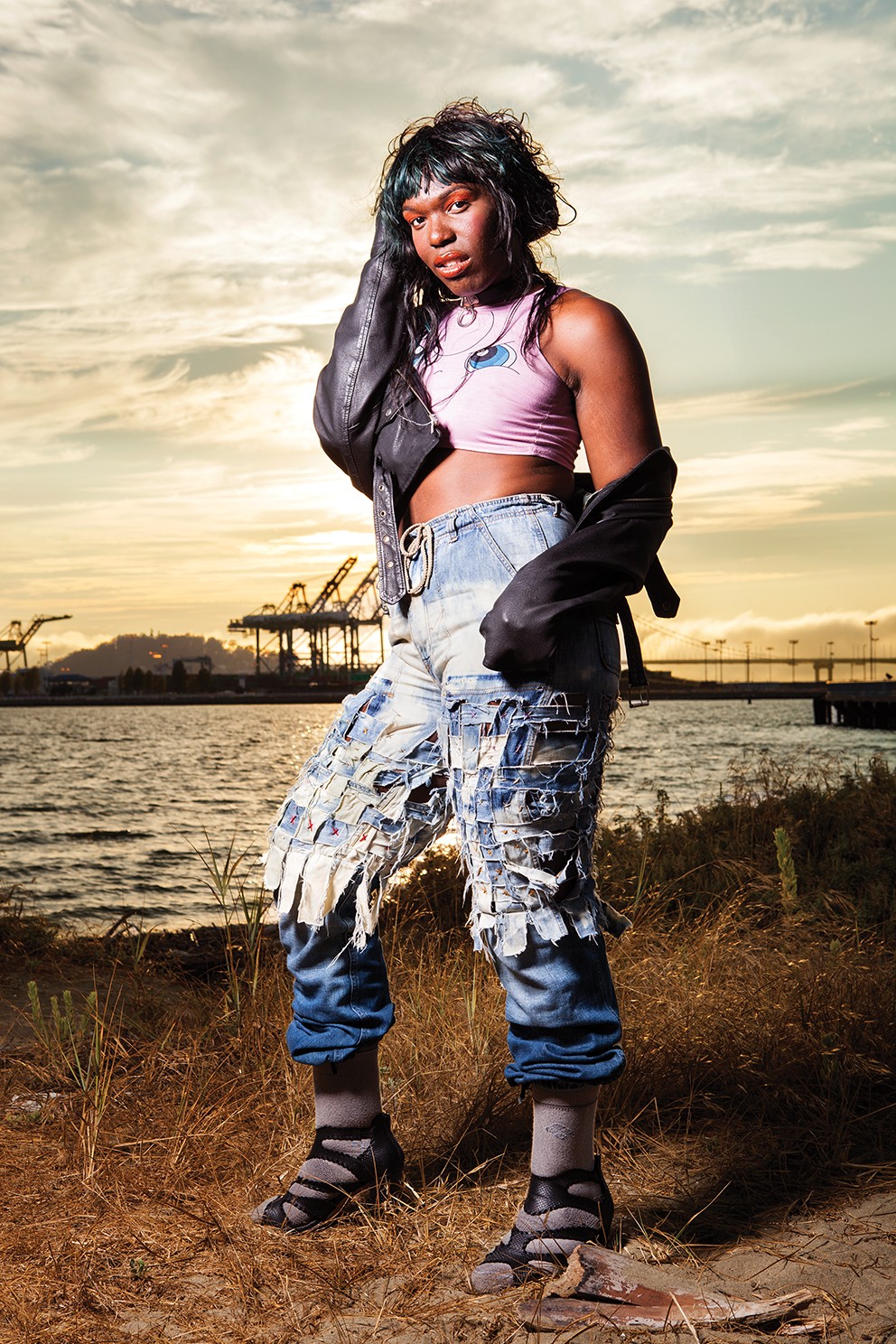 "
Run, run, hide, hide, don't make me decide.
"
In the hook to Star Amerasu's mesmerizing song "Klonopin," Star touches on an insidious feeling of helplessness that has become pervasive in the creative community — and the appeal of escapism in the rising tide of tragedy.
Star is no stranger to tragedy, and neither is Oakland. But despite the desire to run and hide that she expresses in her music, Star is doing quite the opposite. Instead, she says that "the [Ghost Ship] fire put this impetus on me to make my art while I'm here. After the fire, I went off the wall. I got panicked. I had to record my music. I made sure it was released. I had to let people see this." She released her EP
Rebecca
in the end of February earlier this year.
Listening to Star's music offers a sense of relief, especially for people in the creative community who have felt the pain of loss and marginalization. As a trans woman, Star is a vocal advocate of transgender rights, and it's a philosophy that is tangible in her music. "Specifically, trans people don't get the space to breathe. We're super stressed, and we have to keep pushing. The idea of my music is based on the idea that I'm going to keep on pushing through."
Star pushes hard. She has been performing in the Bay Area for years and has cemented her presence in the underground queer community. She has performed at Ships in the Night, a monthly queer even at The New Parish, and has participated in the Black Misfits, an event put on by Maya Songbird at The Night Light for queer Black artists and performers who are bucking society's limiting expectations of black creators.
Star's talent transcends the local scene, and she is setting her sights beyond Oakland. "I wanted to create art that was beautiful and that would make people feel beautiful," she said – and that's exactly what her music accomplishes.
Her music has a wide appeal — she just returned from recording in Los Angeles with Vice Cooler, who has also worked with Peaches, Mastodon and Lee Ranaldo from Sonic Youth.
The delicacy and nuance of emotion are what set Star's music apart, and her dedication to her craft and her people make her a beacon in the local community. Her music and her success in the face of tragedy set an example of perseverance that many in Oakland desperately need today.
When speaking on her role in the music scene and in the Bay Area, Star said that "we can experience pain. It's OK to be sad and struggle with our mental health. But we're still going to make a difference in the world. I'm still here and I'm gonna keep doing what I'm doing."
Listen to Star Amerasu at SoundCloud.com/StarAmerasu or follow at @StarAmerasu on Instagram.