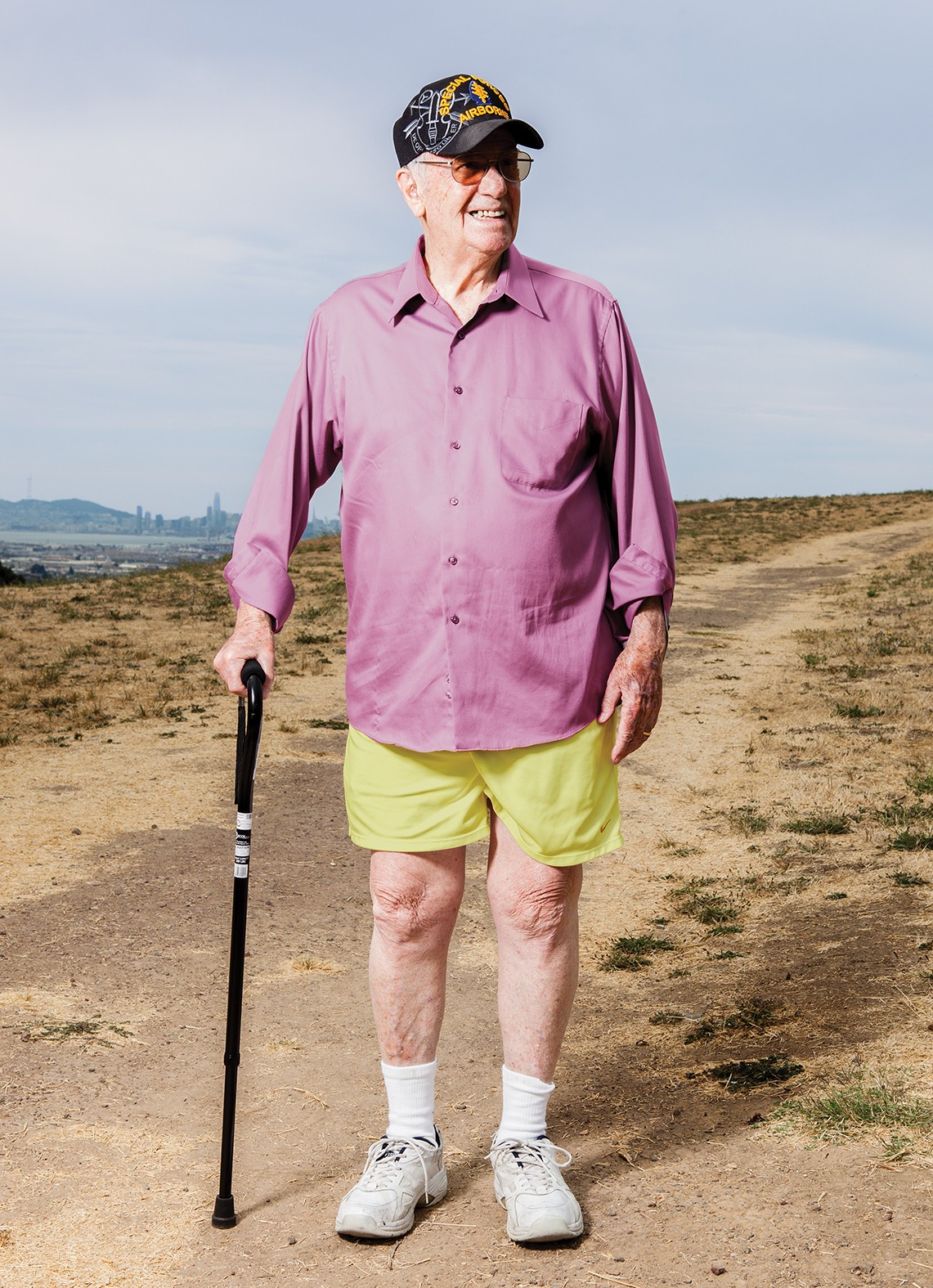 "Ah, it's good to see that there are lemons on the tree!" ninety-two-year-old Andrew Mousalimas shouted as he slowly made his way up the stoop. The owner of the house I rent had stopped to admire the tree, which drapes over the side fence, its branches heavy with fruit.
I'd met Mousalimas once before when he came by to pick up old mail as I was moving. He charmed me with jokes and a quick anecdote about the area, and, when he asked about my work, effusive encouragement and appreciation for journalism. Just before he left, he placed one hand on my cheek and with a smile said, "take care of my house."
Mousalimas drives by occasionally, usually on his way home after visiting his late-wife, Mary, at the Mountain View Cemetery. But he hadn't ever come inside. This time, I invited him over, hopeful to learn more about the man who owned my house, and his Oakland stories, which I knew by reputation.
Wearing a Special Forces Airborne hat over a fresh haircut, Mousalimas adjusted his tinted glasses and continued up the long staircase to the front door. He explained how the lemon tree was planted when he was a younger man, starting a new life with Mary in this big beautiful house in Oakland's Grand Lake area. The tree had always been generous but went barren for a time after Mary lost her battle with Alzheimer's.
When she died, he left the home they had shared for most of their 67-year marriage, heeding the influence of concerned family members, who were worried about the steep stairway and his solitude.
It was hard to lose the love of his life, and to be without her now, he said. But he's settled into independence with amiable grit. With a wry smile, he rebuffed his family's well-intended concerns that he shouldn't live alone. "I am 93 almost," he said. "I can drive. I have great reflexes. I do my shopping. I do my cooking — the only thing I can't do is hear.
"But then, what the hell is the difference?"
The one thing he regrets is that his apartment is outside Oakland's city limits, the town he has always called home. "I will always be an Oakland guy," he said, nestled into my couch in what used to be his living room. "It wasn't all peaches and cream, but I had a happy life."
Born in West Oakland to Greek parents, Mousalimas remembers the city before BART tore through its downtown when immigrants from across Europe took the railroad across the country from Ellis Island and settled on the Pacific shore.
"Oakland was really the best-kept secret until World War II," he said with a smile. He recalled the old ballrooms, where big bands coming through the Bay would stop to perform. "San Francisco didn't have a ballroom," he said, "so kids would come across to Oakland."
The department stores and businesses thrived along Washington Street, which he said rivaled Beverly Hills' Rodeo Drive. "We had Neptune Beach, which was like Coney Island at the foot of Webster Street," he added. "It was just beautiful — you had these high-dive swimmers come in from all over the country and the carnivals and the picnic grounds. It was really the best-kept secret in the world."
He fondly remembers the diversity of West Oakland, where African-Americans and the children of European immigrants shared neighborhoods and schools. But, although they were his friends, his social life was rooted in the Greek Orthodox Church, alongside other first-generation Greek Americans.
"Before grammar school, we didn't speak a word of English," he said, then laughed. "I go to my first grade and the bell rings and I didn't know what was going on. One kid was talkin' to me and then he hit me in the stomach! Just because I wouldn't answer him."
That's why, he said, when the United States entered World War II, and it came time to enlist in the war effort, he joined the Army's Greek Battalion, and eventually the Office of Strategic Services Greek-American Operational Group, a predecessor of the CIA.
The OSS was a covert unit of Greek Americans, who parachuted behind enemy lines into Nazi-occupied Greece. The group operated in such secrecy that they were relatively unknown until the late 1980s when the CIA released records of their service. This year, the unit is set to be honored with the Congressional Gold Medal, and Mousalimas is traveling to Washington, D.C., with his family to receive it.
After the war, he returned to Oakland — and the town began to change. "White Flight," when affluent Anglos left the city for the suburbs, hit the downtown scene hard, and the development of BART changed the cityscape, as well. "They all took a hike," he recalled, noting how it devastated the city. "And now all these people want to come back to Oakland and they can't afford it."
He is proud that he and Mary hustled to stay and thrive in the town, even when hard times hit. After losing it all when a restaurant-venture went awry, he worked nights managing bar at a spot called the Lamp Post. It was there that Mousalimas unknowingly etched his way into history — meeting the guys who would help him establish the first-ever game of fantasy football.
The first league was called the Greater Oakland Professional Pigskin Prognosticators League, but the idea wouldn't really take off for a few years when Mousalimas opened his own bar — Oakland's once-iconic Kings X — and spearheaded new divisions with a set of new rules.
It was the mid-Sixties when Mousalimas acquired the bar, "an oasis, and the only place on Piedmont at the time," he remembered. One year later, it became the birthplace of fantasy football as we know it today.
"Back then," he told
ESPN
in 2012, "if you wanted to make lineup changes, you had to come into the bar in person by 9 o'clock Friday night. I'll tell you, that bar was jam-packed Friday night, and people told us that was the most fun time. The guys in first place would be jive-assing and razzing the guys in last all night long." He's been honored as one of the founders of fantasy football, given his own bust in the hall of fame.
He also helped the town develop its deep affection for the Raiders, who landed in Oakland in 1960, with a breakfast, bus ticket, and entry to the games leaving from the Kings X.
Over the next three decades, he built the bar into a community favorite, but by the 1990s he knew it was time for the next chapter in his life. He sold the spot, which eventually became the Kona Club, so he and Mary could the travel the world together.
"We went everywhere," he said. "We went to reunions, Greece, Europe, spent time with our son in England, we even went all the way to Saudi Arabia."
Throughout the years, though, no matter where life took them, Oakland would always be home.
He watched the city change and said he is hopeful it will continue to blossom. He is still a staunch defender of The Town, despite its issues, and toward the end of his stay the conversation turned to Gertrude Stein's famed phrase: "There's no there, there." Now, largely used as a slight against Oakland, Mousalimas is quick to reframe the 1937 quote.
Much like Stein, when he returned to West Oakland after years of being away, his childhood home had been demolished. "I sat there and cried," he recalled. "And I am thinking about Gloria Stein and I said, 'There is no there there.'
"She had a home here in East Oakland. She comes back and her home is gone. It's not there. So, she said there's no there, there, anymore — it wasn't about Oakland itself. She meant her home."
As he started back down the stoop, after sharing stories both sad and inspiring, we stopped again by the lemon tree. I insisted he take a few with him, and that he come back again to visit. It was then that it struck me: For Mousalimas, there will always be a there there. His there is here. Oakland has changed through the decades, and he has rolled with the punches. He has shaped the city and it has shaped him. And even though he no longer lives in the town, or in this house, his home is here with the lemon tree, that still proudly stands in the front, waiting for when he passes through again.