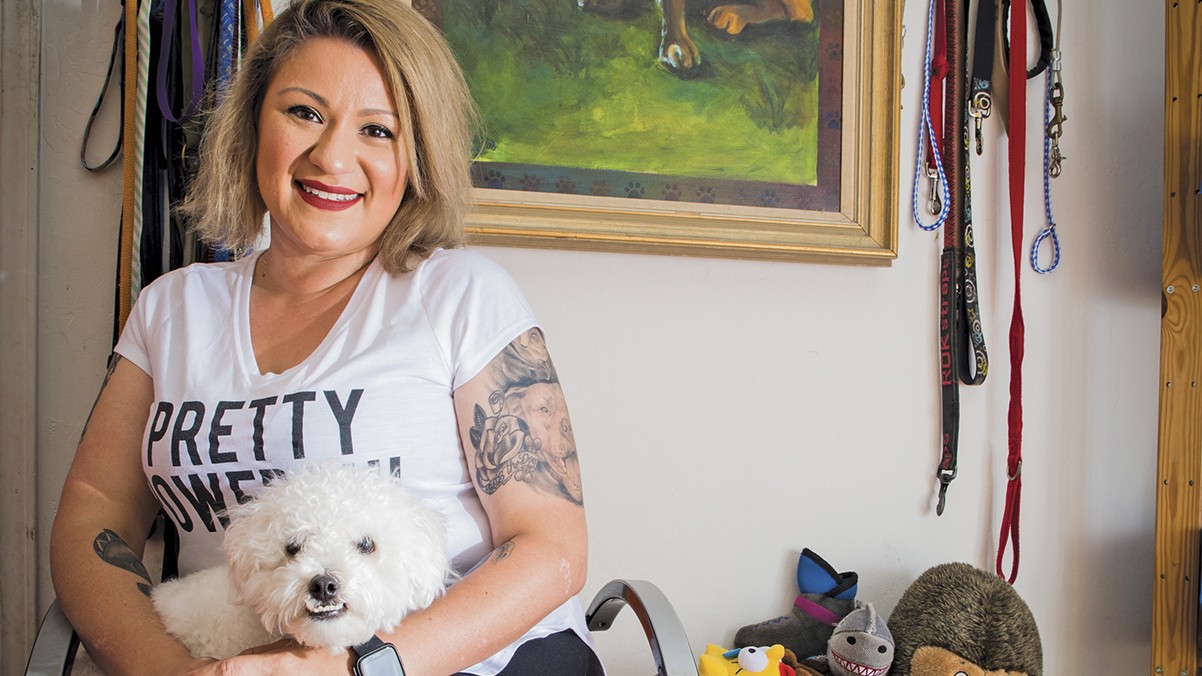 Alex Sanchez's profound and selfless love for animals is palpable the second you get to her house. The walls that lead up the staircase to her apartment are adorned by pictures of her "furry babies," as Sanchez fondly calls her eight pets: three bunnies, two dwarf hamsters, two dogs, and one bird. They're all rescue animals except for Ziggy, a grouchy 18-year-old cockatiel that Sanchez has had since the bird was six months old — a gift from her mom.
"I grew up having animals in my home. My dad and I were the animal lovers in the home," Sanchez said. "My dad used to bring home animals that were dumped on the street, and we would end up with several cats, dogs, rats, you name it."
Now, Sanchez is the dog program manager at Oakland's Hopalong Animal Rescue. On any given day, Sanchez might be driving to remote locations with carriers in hand to pick up animals that need to be moved from a local shelter into Hopalong. Alternatively, she could be submerged in emails — contacting potential foster families, setting up animals for adoption, or, in rare cases, meeting someone who wants to surrender their pet.
With climate change causing ferocious fire seasons, she's played an increasingly pivotal role in helping rescue animals in need. In recent weeks, Sanchez brought 15 cats and six dogs from the Tehama County Department of Animal Services in Red Bluff to Oakland — these animals needed to be moved to make room for pets displaced by the Carr Fire. When a tragedy strikes, shelters rely on the work done by animal rescue centers like Hopalong. After last year's fire in Santa Rosa, Hopalong took in 20 dogs.
While Sanchez's childhood was full of rescuing animals alongside her dad, that became a thing of the past when her parents separated. It wasn't until her early 20s that she reconnected with this past love, prompted by the desire to help a friend who was going through a divorce. Sanchez decided a cat would bring joy into her friend's life, so she headed to the Oakland Animal Shelter. This casual experience led her on a 10-year journey as part of the Oakland Animal Shelter. She went from being a volunteer to a dog mentor to a dog trainer. For four years, Sanchez ran a free class for the community, specifically to help those who had adopted a dog in Oakland and ran into behavioral and training issues. "Because of these classes, I helped so many animals from being returned," Sanchez said.
Now that she's at Hopalong, her efforts are solely devoted to the animals that she brings to the rescue center. "I pull all kinds of animals, [but] believe it or not, Chihuahuas, pit bulls, and terriers are the three breeds that I pull the most," she said.
This stressful yet rewarding line of work has given Sanchez an added appreciation for foster families. In one day alone, she could go from having as little as 30 animals in her office to up to 90. "The most rewarding thing, to be honest, is seeing these animals that are shut down, terrified, shaking to blossoming and becoming these happy animals and going into forever homes," Sanchez said.
While her distant dream is to have her own sanctuary ranch of farm animals, Sanchez's immediate goal is to also bring more awareness to the world of shelters and rescue centers. "When you go to a shelter, you see all these animals; you don't know their history or what they've gone through," Sanchez said. "Giving these animals the opportunity to go into a home is a huge deal. A lot of these animals that have experienced something bad can become your best friend."