Streaming revenue doesn't turn much of a profit for most musicians, so in recent years, many enterprising rappers have expanded into other ventures to make a living, particularly in the realm of mind-altering substances.
E-40 has his wine company, Earl Stevens Selections, among various other alcohol brands; Nef the Pharaoh is lending his name to pre-rolled joints called Pharaohs. Berner is the proprietor of Cookies — a clothing brand with a stoner-centric ethos and nebulous ties to the San Francisco cannabis club and weed strain of the same name — and Hemp2o, a hemp seed-infused take on Vitamin Water.
Between Cookies and his music, Berner has built a veritable cannabis-centric lifestyle brand empire — a Hempire, if you will, which is also the title of his latest album. And with California's cannabis culture becoming increasingly mainstream, Berner's entertainment ventures are gaining an ever-expanding audience.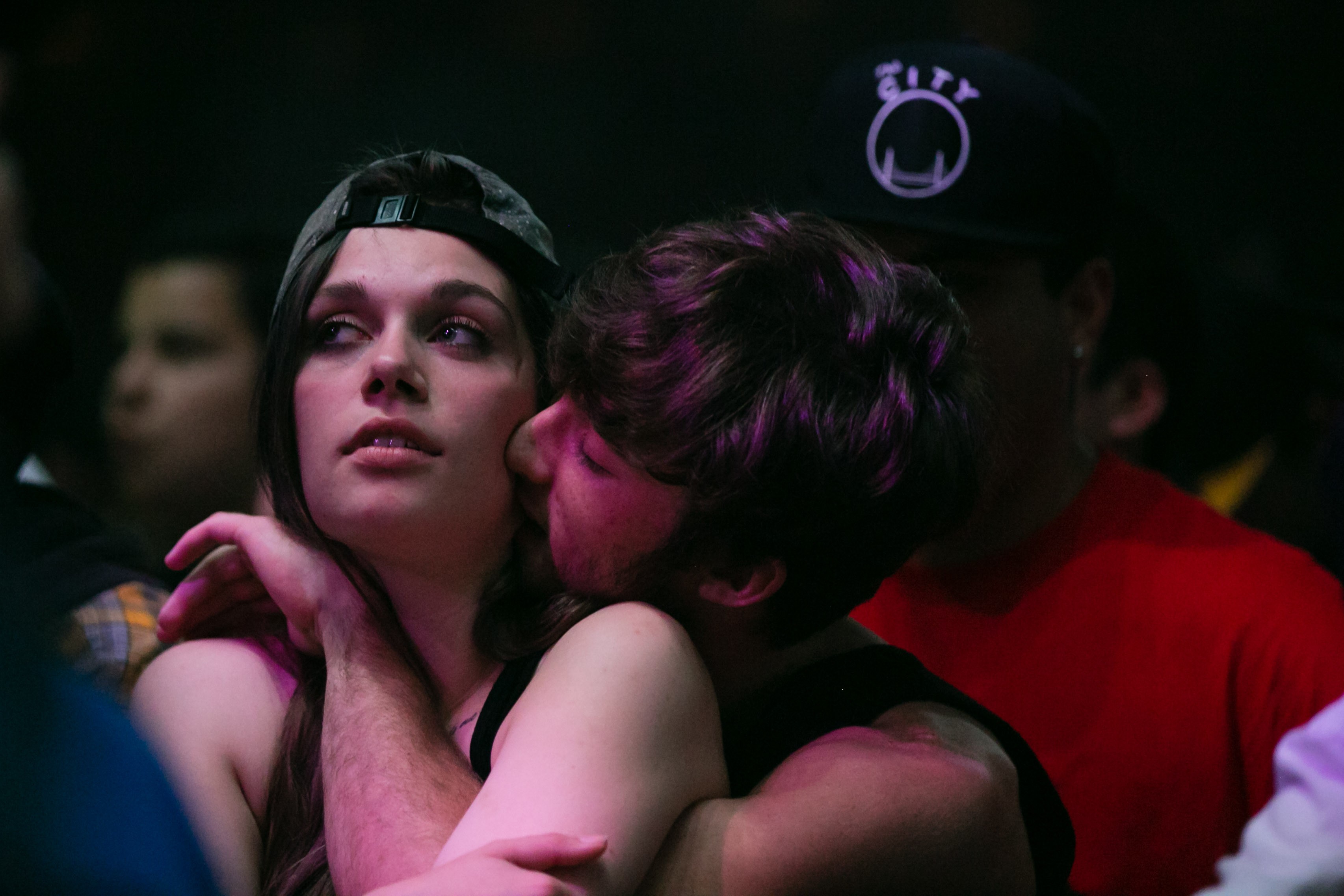 Berner Presents Hippie Hill, a 4/20 concert that was actually more like a mini music festival, was Berner's latest endeavor at the intersection of hip-hop and weed. When I arrived at Bill Graham Civic Auditorium at 5 p.m. for the show, though the afternoon sun wasn't close to setting yet, the venue was dark inside and already filled with dense clouds of smoke.
Though it was 4/20, the concert surprisingly started on time, with HBK Gang's Kool John opening the show. The "Blue Hunnids" rapper had an inopportune time slot, but he and his special guests, such as Ezale and Dave Steezy, energized the crowd, charismatically bouncing across the stage in tie-dye and happy face-emblazoned Shmoplife gear.
The audience wasn't ready to get hyphy that early, but the HBK guys delivered an admirably energetic show. As he had been tweeting about all week, Kool John puffed on one of those burrito-sized joints — no exaggeration — the first of many unconventional smoking apparatuses displayed throughout the concert. (Later on, Berner and B-Real of Cypress Hill would take the stage smoking a forearm-length joint fashioned in the shape of a sword.)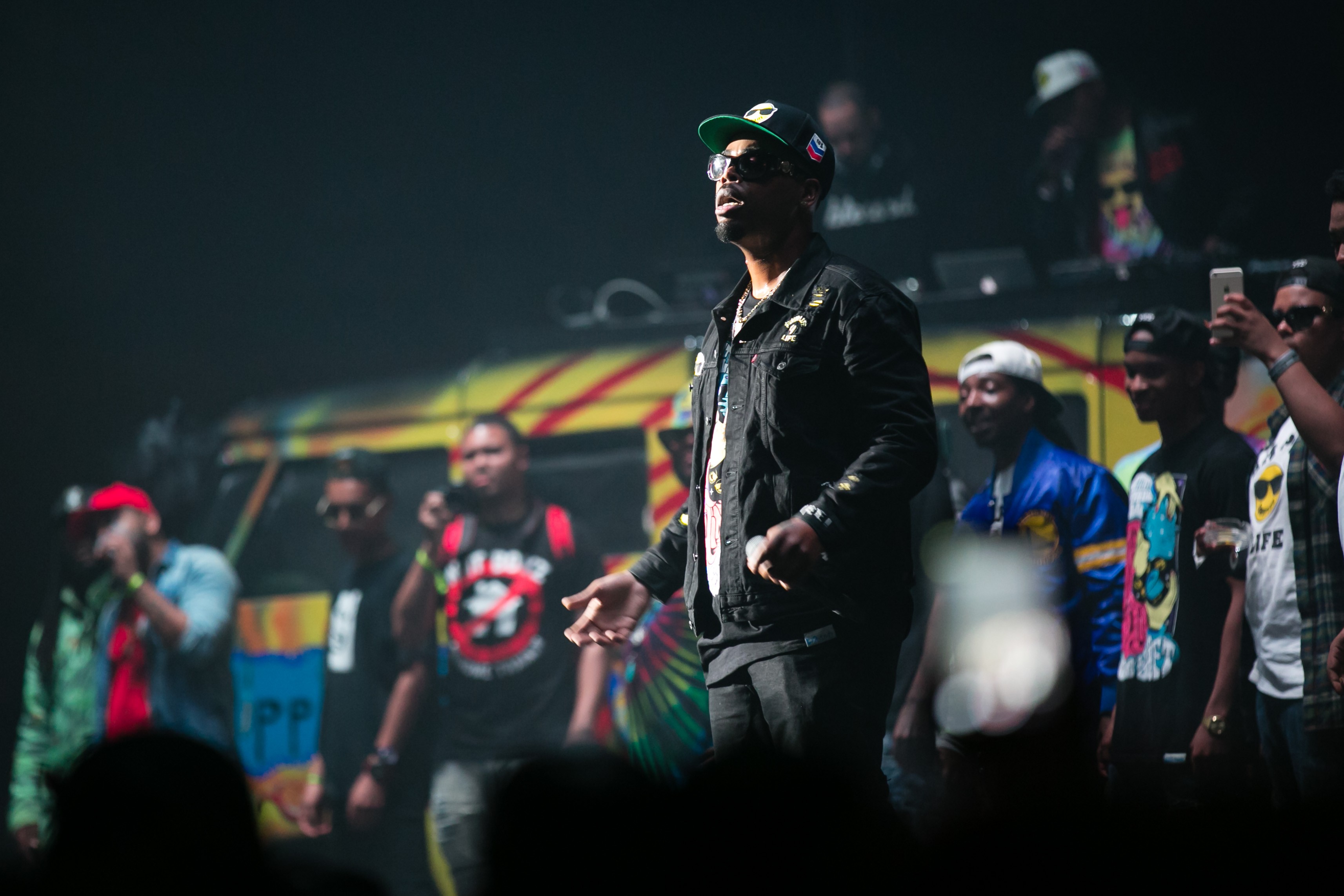 Though the crowd was diverse in terms of age and ethnicity, the emphasis on weed and streetwear brought out a strong contingent of twenty and thirtysomething-year-old sneakerhead dudes. Unfortunately, the lack of female artists in the lineup attracted a similarly male-dominated crowd, and there were few women in the audience who weren't with their boyfriends — which is a shame, because women like weed and rap, too. More gender-diverse booking would have helped mitigate that issue, and as a woman, it was slightly awkward to listen to Kool John's songs about girls twerking while surrounded by mostly men. Refreshingly, though, there were few-to-no visible yuppies — a rarity for a San Francisco concert in 2016.
Dizzy Wright, a young Las Vegas rapper with conscious rhymes and Nineties-influenced, boom-bap production, took the stage after Kool John and delivered an excellent set with a live drummer and DJ who scratched vinyl. With mixtape titles like The Gold Age, it's clear that Dizzy Wright adulates hip-hop's old school. He demonstrated his commitment to the craft with his acrobatic, speedy spitting.
Despite his disarming stage presence, Dizzy Wright's efforts failed to inspire the blunted crowd to move. People were bobbing their heads and having a good time, but were too stoned to be bothered to dance, especially because it was still early. "Y'all look high," he observed at one point. The immobilized audience giggled in response. "I don't wanna take you out of your comfort zone."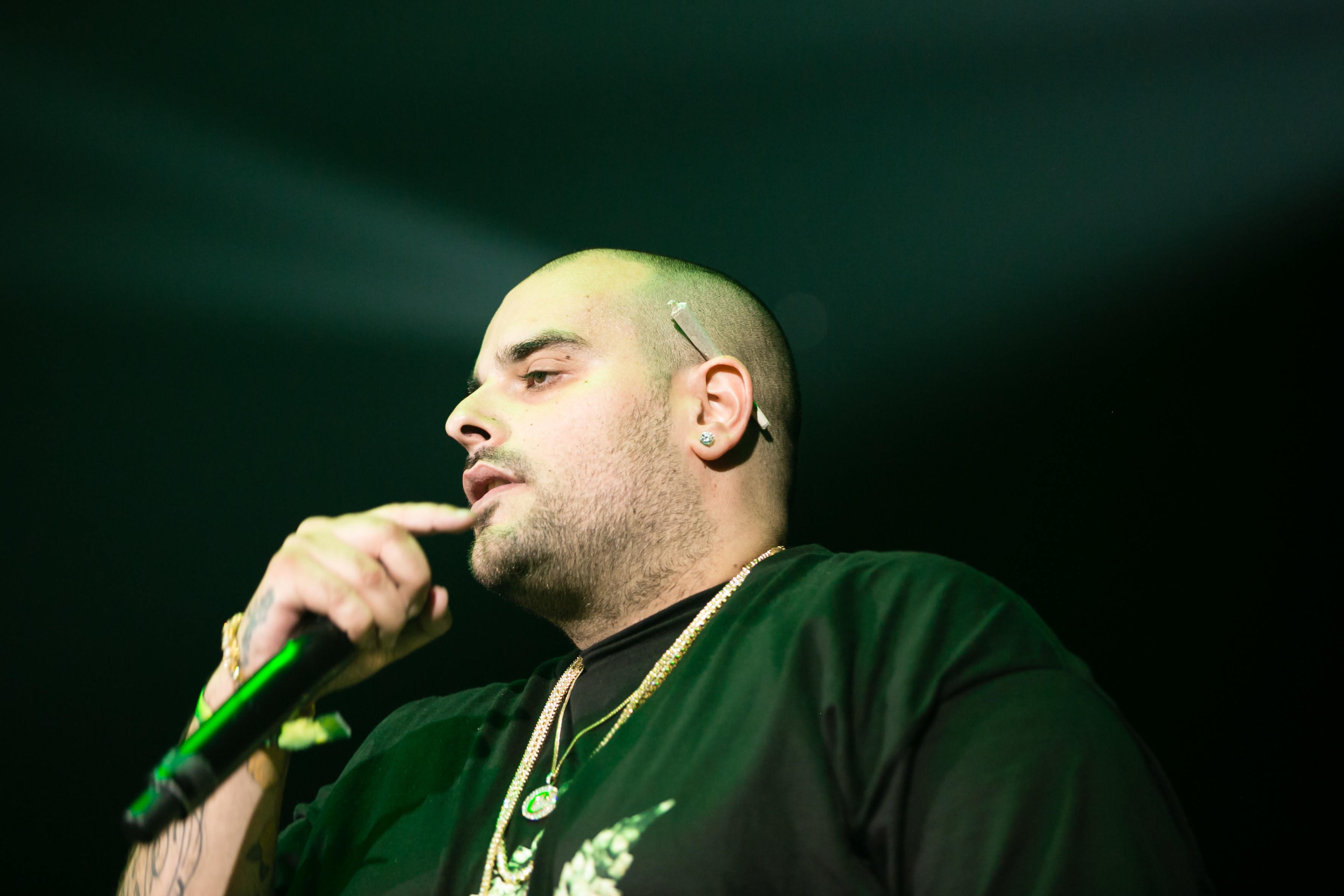 Three 6 Mafia legend Juicy J delivered one of the evening's most captivating performances. With hits like "Bands a Make Her Dance" and "Get Higher," Juicy J continued his career into the 2010s writing songs that blatantly celebrate drug use — not weed, which is totally tame in today's day and age, but lean, molly, Xanax, and the like. But in contrast to his druggy persona (which undoubtedly helps him capitalize on his youthful fan base), Juicy J was completely lucid and delivered an impeccable performance that showcased his skills on the mic. At this point, the crowd was more turnt up — though still very stoned — and people rapped along gleefully.
The most gratifying parts of Juicy J's set were when he performed some of Three 6 Mafia's early hits. The dark sound of Three 6 Mafia and other Nineties and 2000s Memphis horrorcore was a precursor to the ominous, high hat-driven trap production popular today. Seeing him play older songs like 2005's "Stay Fly" reminded the audience of his far-reaching influence.
Berner took the stage flexing his status as a weed mogul and self-made artist. "I was born and raised in San Francisco," he said as smoke clouds billowed up from the crowd. "I didn't think I would ever sell out this venue." Berner's contemplative, lyrical hip-hop — with plenty of gorgeous jazz and soul samples sprinkled throughout — resonated with the mellow audience. Throughout his set, he celebrated cannabis culture, taunted the police ("They see the smoke leaking out of the venue.") to approving cheers, and touted his Mexican roots.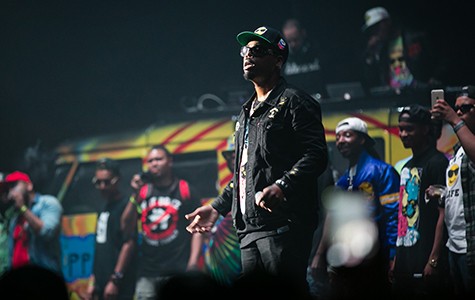 B-Real of Cypress Hill joined Berner on stage, segueing his set into Cypress Hill's via a seamless transition. At this point, the concert had been going on for nearly six hours. Smoke visibly floated throughout the cavernous concert hall. Audience members were beginning to doze off in the seated area of the venue — not because Cypress Hill didn't put on an entertaining show, which they did, but because of the sheer lack of oxygen.
Berner mentioned during his set that Berner Presents Hippie Hill was going to become an annual thing. An outdoor, daytime festival would have probably made for a better setting for this type of event — something I hope he'll consider next year.
Regardless, though, the concert was a success — a testament to the more progressive cultural shifts in regards to cannabis, as well as a sort of coronation for Berner as the king of his Hempire.