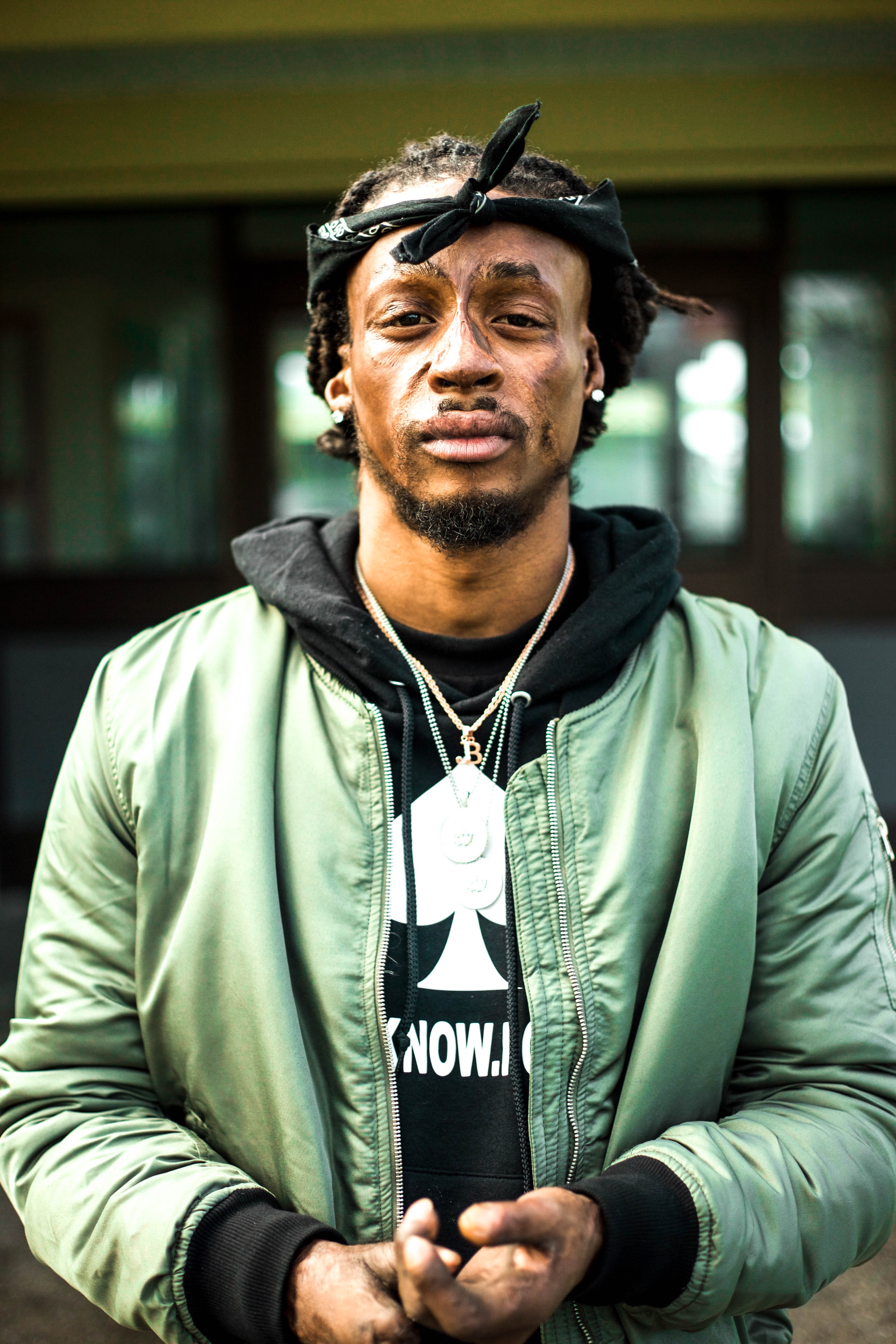 On a recent sunny afternoon, Koran Streets led me down Sacramento Street in South Berkeley. "This right here, this is where I get all my stories from," he said, gesturing toward a brown duplex at the intersection of Sacramento and Stuart. He stretched out both arms to show his twin bicep tattoos of the number of the block, 2800.
Streets is a familiar face in the East Bay's cultural landscape. He's a rapper and actor, best known for his roles in the acclaimed indie flicks
Licks
and
Kicks
, two coming-of-age stories that take place in some of Oakland and Richmond's toughest neighborhoods. And although he's better known for acting than music, his album
YOU.KNOW.I.GOT.IT
made waves nationally after placing 28th on Rolling Stone's 2016 year-end album list for its dark sound and raw, realist lyricism.
It's almost as if Streets has no choice but to be honest about his struggles in his work: They're written on his face, in the form of scars. "If I have an image, my image is being me. I'm a regular dude," he said, then paused and added: "But I've probably been through more than most if you sit down and talk to me."
Streets got his scars when he was thirteen years old, in a freak accident where his dreads caught fire. His mom had attempted to rid him of lice using kerosene — a home remedy his doctor recommended. He suffered severe burns and was in a coma for six months. More than twenty skin graft surgeries and six finger amputations later, he was finally able to feel like his old self again despite his changed appearance. "I'm a soldier. Fuck it, we gon' roll with it. It's all good," he said, imitating the reaction of his younger self.
[pullquote-1]Streets recalled that, when he was a child, his family struggled with homelessness but eventually settled in Berkeley when he was seven years old. His mom, Ayodele Nzinga, whom he describes as his biggest inspiration, is also a force in the East Bay arts scene: Her theater company, Lower Bottom Playaz, has been a cornerstone of local, independent theater since 1999.
Streets and his six brothers and sisters grew up acting in his mom's plays, and Lower Bottom Playaz is a family affair to this day. ("I'm one of two actors to do all of August Wilson's plays in chronological order," he declared proudly.) Streets' mom actually "made him" rap for the first time when he was eight years old, when her friend needed a "young spitter" on a song for his conscious rap group, Mind Altering Consciousness.
Thanks to their mother's encouragement, several of Streets' siblings have grown up to be locally renowned artists themselves: His older brother is Stunnaman from The Pack, the rap group that gave rise to Lil B. And his younger brother, Stanley Doe Hunt, starred in
Licks
. In fact, Hunt and Streets crossed over from on-stage to film acting because Jonathan Singer-Vine, the director of
Licks
, saw them in a Lower Bottom Playaz production and cast them for the film.
Streets said that, as a teenager, he involved himself in some illegal street activities, to provide for himself and his family, and did several stints behind bars. "I used to be just out here head-first, not really respecting my freedom and not really respecting my life and taking it for granted."
But at nineteen years old, he changed his ways when his mom faced him with the ultimatum that she would no longer support him if he went to jail again. "I had a second chance, I was really born twice," he said. "It forces me to take life serious, especially where I'm at with my crafts."
[embed-1]
Streets said that he's never felt like he had to choose between acting and rapping, that both feel like second nature. He's in the process of releasing a music video for each song of
YOU.KNOW.I.GOT.IT
, and he's getting started on his next album and a new acting project, about which he couldn't share the details.
As we walk through Berkeley, Streets suggested we head to nearby San Pablo Park. On the way, we stopped by a liquor store. He told me a story from when he was a teenager, about how a man attempted to carjack him and ended up shooting and injuring his younger brother Doe, the one who starred in
Licks
. Streets unabashedly gets into actor mode, walking me around the store, and giving me a play-by-play.
After relating the traumatic episode, he lets out a big sigh: "This is my city, man. I done been through so much in this city and on this block."