A Berkeley High School teacher who says that administrators punished him for raising concerns about the history curriculum has won an initial victory in his retaliation case. Brian Crowell, a Berkeley High history teacher since 2007, argued in a complaint to the state that his supervisors unfairly disciplined him after he criticized the school's history curriculum for failing students of color. In 2012, he asked his then-principal, Pasquale Scuderi, why ninth-grade history lacked an ethnic studies component and questioned whether this constituted a violation of school board policy. Administrators subsequently gave him an unsatisfactory performance evaluation and directed him to participate in a program for poorly rated teachers. 
Crowell's case was the subject of an April 2014 
Express
cover story, "
Berkeley's Unequal Punishment of Teachers
," which investigated claims that the Berkeley Unified School District (BUSD) has unfair teacher evaluation and disciplinary procedures that administrators have used to punish outspoken instructors. Now, the California Public Employment Relations Board (PERB) — the state agency that reviews labor complaints involving public school teachers and other government employees — has issued a preliminary decision in Crowell's favor. That means the state will be issuing a formal complaint against the school district over its treatment of Crowell. 
See More:
The Battle Over Teachers' Seniority Rights
Berkeley's Anti-Union Shift
[jump] While not a final ruling, the decision signifies that the state believes Crowell has enough evidence to move forward with his retaliation case against Berkeley Unified. As part of the decision and associated complaint that PERB will soon file against the district, the state has directed the two sides to settle the dispute. If BUSD and Crowell cannot informally settle the conflict, then the case will move forward with a hearing in front of a judge. 
While Crowell's case is fairly complex — you can read a detailed version of his allegations in
last year's feature
— the crux of his argument is that the district punished him specifically because he had been a vocal advocate for policy changes. Extensive email records and transcripts of meetings filed in his case showed that Crowell, who was also a union site representative at the time, had on numerous occasions pushed for reforms aimed at closing the district's wide achievement gap. The records show that administrators subsequently took a number of punitive actions against him. For example, in early 2013, after he informed Scuderi that he intended to file a formal complaint related to the history curriculum, the principal ordered an attendance audit of his classes and questioned the validity of the grades from the prior semester, Crowell alleged. Soon after, his supervisors informed him that he would have to participate in Berkeley Peer Assistance and Review (BPAR), which is a program for struggling teachers and can be a first step toward dismissal.  
Crowell argued that the district's official reasons for forcing him to participate in BPAR weren't legitimate and that his administrators were clearly using the program to punish him for his activism. He had, in fact, previously raised concerns about BPAR after he obtained public records showing that the district disproportionately used the program to punish African-American teachers and older teachers. That data raised questions about possible race and age discrimination. Here's a chart from my previous reporting outlining the concerns: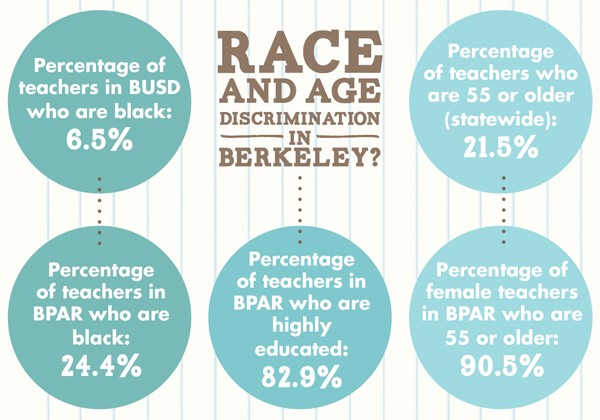 PERB's February 19 decision, which Crowell received yesterday, said that the timing of some of the district's actions is suspect. In its decision, the PERB board specifically questioned the timing of a letter the principal wrote to Crowell raising concerns about potential errors in the teacher's attendance forms, saying, "[W]e agree with Crowell that the circumstances surrounding his receipt of the Letter and his referral to BPAR support an inference of unlawful motive." (The letter  in question said Crowell had made a number of clerical mistakes in his attendance-taking, which the district then used as a basis for his unsatisfactory rating; Crowell has said that the mistakes were minor and related to a policy that the school did not generally enforce in a punitive way). 
In reference to Vernon Walton, a vice principal who evaluated Crowell, PERB further wrote:
Adding to the inference of unlawful motivation, initially Walton informed Crowell that he would not be referred to BPAR. Six days later, Crowell was then informed that he could be referred to BPAR. Then, eight days later, Crowell was informed that he was referred to BPAR. Wavering and taking inconsistent positions on a decision as critical to a teacher's professional standing as this supports an inference of unlawful motivation…
PERB also said that Scuderi's response to Crowell's curriculum complaint was questionable. The state noted that in response to Crowell's curriculum concerns, the principal raised questions about the instructor's grading policies and warned of a possible unsatisfactory evaluation. While the principal had every right to raise those concerns, PERB said it was concerning that he had raised those issues "in immediate response" to Crowell's unrelated curriculum complaints. Crowell, the state repeatedly noted in its decision, had a protected right to raise curriculum concerns and file a complaint.  
The decision reverses an earlier PERB ruling dismissing Crowell's charge — a decision which Crowell appealed. Crowell's success in this case so far is noteworthy given that he has not had the support of the teachers'  union, Berkeley Federation of Teachers, in this process. On the contrary, Crowell has also filed a complaint against the union, arguing that it has been complicit in the discrimination associated with BPAR. That case is ongoing. The retaliation decision is also significant because Scuderi has since earned a promotion to assistant superintendent in BUSD.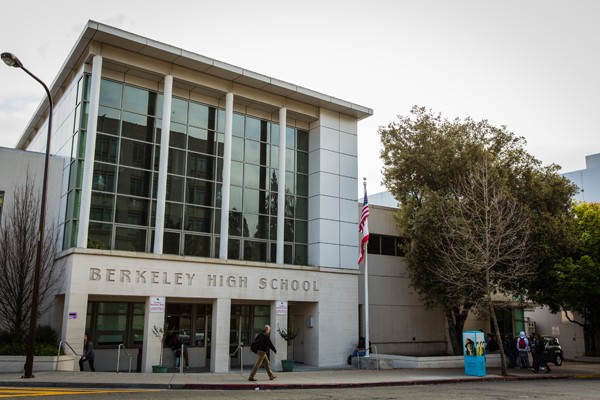 "PERB felt that the timing of the adverse actions against me were caused by my activism," Crowell told me by phone yesterday. "They clearly believed that." 
He added: "The district has anti-retaliation policies, which they didn't follow." Crowell, who is currently on leave from Berkeley High and is getting his masters in special education, said he hopes his case and PERB's decision will help him raise awareness about the flaws of BPAR. "Teachers deserve to be respected and treated fairly. … I want the retaliation and the bullying of teachers to stop." 
Mark Coplan, BUSD spokesperson, told me by email this morning that he did not have any immediate comment. You can
read the full PERB decision here
.