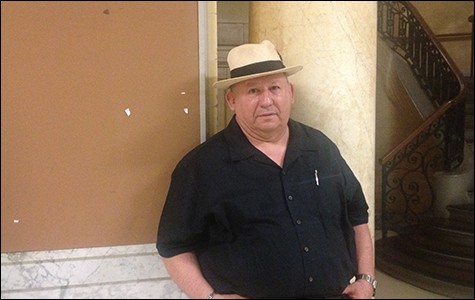 LAZ Parking, a private contractor with the City of Berkeley, unlawfully fired one of its workers after he raised concerns about owed wages and denied rest breaks, according to a new decision from the California Labor Commissioner. The ruling in favor of the worker, Julio Castro, is the latest development in a
long fight
that has shed light on what labor activists say is the city's
ongoing failure to enforce its living wage law
. 
LAZ Parking, the private company that manages three city-owned garages in Berkeley, retaliated against Castro, a former garage cashier, when it fired him in 2012 after he had complained internally — and with city officials — about a number of alleged labor violations, according to the decision. The ruling marks the second time that the state has ruled in Castro's favor — in direct contradiction with the city's public statements and determinations that LAZ had done nothing wrong. 
[jump] "The important thing to me is that I was vindicated. I always felt that what they had done was retaliation," said Castro, who was awarded $1,517.94 in the new ruling, to cover lost wages after his termination. "The money, in all sincerity, is secondary." 
Castro, as I covered in the April 23 story, "
The Failure of Berkeley's Living Wage Law
," first raised concerns in 2011 that LAZ was paying him below the living wage requirement and also denying him rest breaks. The city's 
wage ordinance
, enacted in 2000, says that, at current rates, contractors with the city must pay an hourly wage of $13.71 plus a medical benefit equivalent to at least $2.28 per hour. If the employer doesn't provide the medical benefit, then it must pay the additional $2.28, meaning an hourly wage of $15.99. Castro, who lives in Concord, got his own health insurance, which he said was significantly cheaper than LAZ's offer.
The basis of Castro's living wage complaint was that he should have received the higher pay since he wasn't getting health benefits from LAZ. In 2013, a judge agreed and awarded Castro $3,456.43 in back wages, which also covered missed rest breaks. Castro's allegations of retaliation — that his employer terminated him specifically because he had voiced concerns — were not, however, addressed in this first decision.
Now, more than two years after he was fired, the state has ruled that the termination was, in fact, unlawful. LAZ, the state hearing officer wrote, failed to provide evidence that it had a legitimate reason to terminate Castro. On the contrary, Castro and his attorneys from the Legal Aid Society-Employment Law Center proved that "his discharge was motivated by retaliation for his complaints about his working conditions to LAZ management," the ruling stated. The evidence further makes it "clear that one of the grounds for his termination was that LAZ believed Castro might initiate legal action against it," according to the decision.
The owed wages only cover a short period, because two weeks after Castro was terminated, LAZ laid off other employees due to its transition to an automated system. 
The significance of Castro's case extends beyond an employee-employer dispute. As I reported in my latest story on Castro's fight, "
Berkeley Sides With Living Wage Violators
," labor advocates argue that the city not only failed to investigate Castro's original complaints and work to enforce the living wage law, officials also ultimately sided with LAZ Parking, despite the ruling from the state in the employee's favor. The city went so far as to publish a new interpretation of the law, in response to Castro's case and his ongoing complaints, arguing that employers are allowed to pay the lower wage rate ($13.71 per hour) as long as they simply
offer
benefits. 
What's more, city officials have also repeatedly brushed aside Castro's allegations of retaliation, which is specifically prohibited in the city's living wage law. (As is standard with these types of wage ordinances, employers are banned from retaliating or discriminating against an employee for reporting a violation of the law). In a September 2 report on Castro's case and the living wage ordinance, Berkeley City Manager Christine Daniel wrote: "City staff concluded that termination of Mr. Castro's position … was done as a consequence of the City's contract to automate the garages and not based on other factors."
In other words, the city believes LAZ did nothing wrong when it terminated Castro — a determination that the state now says was incorrect. 
"Now that the state has found that there was retaliation, what is the responsibility of the city?" Castro said. "It's difficult now for the city to just sweep this to the side." Castro further argued that the living wage ordinance is pointless if the city does nothing to enforce it: "These laws exist … but are they protecting employees? Who is responsible for applying that law?" 
At the state level, Castro's decision is also notable due to the fact that it is one of the first issued under a new retaliation pilot program of the California Labor Commissioner, which is now working to conduct more hearings for retaliation cases, said Gina Gemello, an Employment Law Center attorney who represented Castro. In 2013, about 3,500 workers filed retaliation complaints with the state, but the labor commissioner's office only held two investigative hearings on retaliation claims, according to the Law Center. 
"It shows that these hearings are really important," she said. "It's a chance for these workers to tell their story to an impartial judge … and achieve justice." 
A spokesperson for the City of Berkeley and representatives for LAZ did not immediately respond to my requests for comment today.