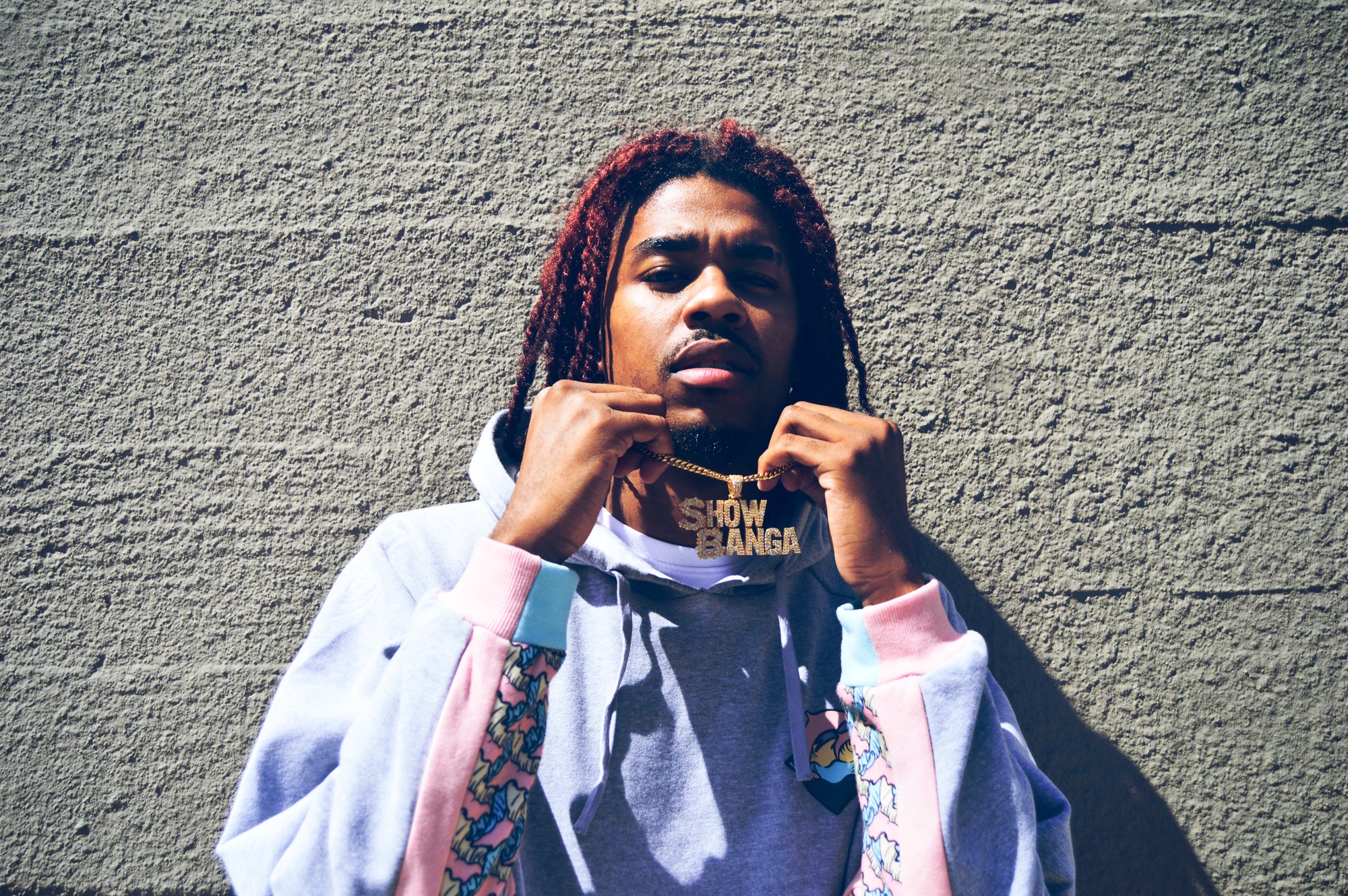 Twenty-seven-year-old William Lassiter, otherwise known as Show Banga, or Showy for short, says he wants to share a positive message through his music.
Born and raised in San Francisco's Fillmore district, the artist began writing songs early in his life. "I wrote poetry as a kid and in high school. I was always influenced by it," he said. His father, ShowTime, was a well-known rapper and owner of numerous record stores, and his mother also listened to hip-hop. They motivated him to follow his dreams.
But his childhood wasn't easy. "I was raised in the streets. Know people that's doin' maximum time in jail. Know people that got shot. My best friend got killed when I was 15," he said.
Lassiter had a fallout with his mother when she found a gun in their home. So he went to live with his father in Vallejo, where he ended up meeting Iamsu! and P-Lo, two of the original founders of a group called the Heartbreak Gang.
During Lassiter's junior year at Pinole High School, the trio established a creative collective called Go Gettaz, which launched his music career. Undeterred by the violence around him, Lassiter decided to use hip-hop to promote a more optimistic outlook. "I wanna change the youth killing each other. I wanna be the person that could stop that and really bring the Bay Area and music together," he said.
His music is heavily influenced by Bay Area culture. "We represent the Bay," he said. "I don't wanna have to move to L.A. to put the Bay on. I wanna put the Bay on from the Bay."
"How We Rock," a track off his last album,
Show Time 2
, gained more than 1.5 million listens on SoundCloud. Show Banga has been featured in hits such as "Panoramic" by D-Mac, "I Can Tell" by Sage the Gemini, and "Tbt" by Kool John.
To show his love for the community, Lassiter coined the phrase "$quad $quad." According to the rapper, $quad $quad is something everyone can be a part of. "[It's] the people that keep me goin,' the people that stay in tune with what I represent," he said. The first "$quad" symbolizes his inner circle of close friends and family and the second "$quad" are his fans.
Between every high hat and clap is an ode to being young and reckless — within reason. "HBK, Shmoplife, $quad $quad — what we represent is having fun, turnin' up, on some positive [stuff]," he said. "Being able to go to a concert and nobody gets murdered. Being able to throw events and nobody gets shot. That's what we tryna represent. That's what we tryna bring to the table. Plus being able to still talk about what we want."
Show Banga will unveil a new sound in his forthcoming album,
Da Glo Up
. "It's a new wave," he said with a grin. "It's the energy. It's growth in the industry. That's what it is. Growth and just growin' up."
Aspiring to become the best version of himself, the rapper said he wants to venture into more entrepreneurial aspects of his brand, including clothes, accessories, and maybe even an app. "Starting from nothing… it's all a dream," he said. "It's what we all want. It's part of this glowin'. Wanting to keep growin'. Keep expandin'. You know what I mean? Comin' up."
Show Banga will perform at the Santa Clara Fairgrounds tomorrow as part of Baystock SJ, a fashion, art, and music event. He plans to release his album,
Da Glo Up
, in October.