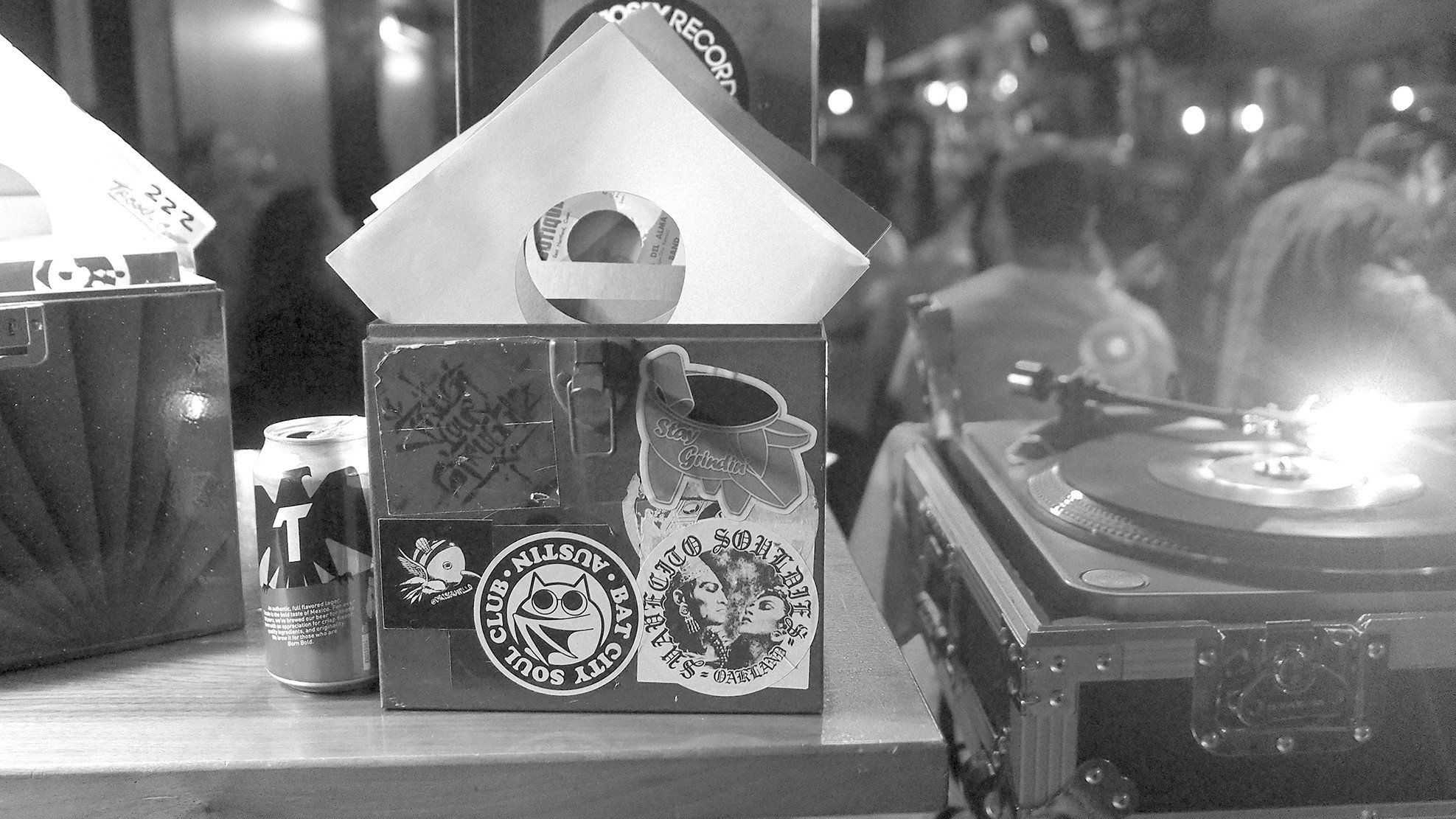 The common refrain, "You know it when you hear it," is the easiest way to define soul music. Whether or not you've been to any of the Bay Area's soul nights, know that the Bay's own contributions to the form — funk, R&B, Latin, and beyond — are significant.
That's why two of the Bay Area's premier soul vinyl crews are curating an all-weekend, all-inclusive soul festival. The first annual Break It Loose! Bay Area Soul Weekender will showcase some of the best local and international DJs specializing in soul, funk, Latin, boogie, and more from the '60s through the '80s — all on original vinyl — for a non-stop, four-day dance party on both sides of the bay.
The organizers are Oakland's Suavecito Souldies (Rene Lopez and Cameron Thompson) and San Francisco's Alcatraz Soul Club (Michael Saretsky and Miles Ake). The DJs have all made guest appearances at Seattle's Emerald City Soul Weekender in recent years, a weekend-long extension of a monthly soul party of the same name. "We're doing this because of how good of a time we had over there," Lopez said.
But they're bringing a Bay twist, curating their weekender around "a collaborative effort between different established parties," Saretsky said, highlighting "the sophistication and depth of the DJ community that exists in the Bay Area."
Five different popular Bay Area parties and DJ groups — Alcatraz Soul Club, Suavecito Souldies, the B-Side Brujas, Silver & Black Soul Club, and Sweater Funk — are joining forces to present all-ages, daytime events that will glue the soul weekend together. These local favorites will be joined by an array of internationally renowned selectors, including the Emerald City Soul Club (Seattle), Dave Thorley (Gloucester), Keith McCafferty (Vancouver), Joe Cristando (New York City), Karen Hartman (Phoenix), and Elisse Locomotion and Carlos René (Mexico City).
Break It Loose! kicks off at Alcatraz Soul Club's popular Thursday night residency at the Make-Out Room in San Francisco's Mission District before heading to First Fridays in Oakland for the four-year anniversary of Suavecito Souldies' residency at The Golden Bull. A daylong record swap at Eli's Mile High Club goes down Saturday before a massive lineup takes over Oakland's new Elbo Room Saturday night. Stay Gold Deli in West Oakland will host a party on Sunday during the day and then the Sweater Funk crew will host the night party at San Francisco's Knockout.
"That's what's special about the Bay," Lopez said. "We all live together and we all come out together — all these different people just mixing."
"Soul may be the platform through which we're hanging out but it's kind of a microcosm of wider society," Saretsky added. "I think the common conception is the kind of Motown '60s sound but it's a very broad thing — it can span a lot of different styles and speeds and emotions."
And the entry points to soul are many. From punks and mods, to lowrider aficionados and hip-hop sample diggers — several shades of soul culture will be represented.
"We invited people who are going to bring their own tastes and sensibilities to the table so that we can make it a very diverse bill," Saretsky said.
Not just sonically diverse, though. "We're really being cognizant and thoughtful of who we're involving and why we're involving [them]," Thompson said. "In the culture of American hostility and racism and nonsense, we're really keeping true to our roots of what community and culture is."
This curatorial approach is part of a larger emphasis across the local soul parties of creating diverse inclusive safe spaces reflective of the local communities both on the dance floor and behind the turntables.
"You look at the DJ community and more often than not it's really focused on men trying to outdo each other in terms of whatever records they have," Saretsky said. "I think what's important about this weekender is that we're making a very conscientious effort to be inclusive of everybody and it's not just boys' fun — it's everybody who loves the music."
Thompson notes that the soul nights themselves are part of a larger emphasis on maintaining and preserving DJ history that was passed on to them from the likes of late Bay Area greats Pam the Funkstress, DJ Steph, and Matthew Africa, in addition to Joe Quixx, DJ Platurn, DJ E da Boss, Invisibl Skratch Piklz, and DJ Qbert.
For Thompson, this weekender is "reaffirming that the Bay is here, that we're a stronghold for music." And for those who may still be finding their first entry point to soul, that's kind of the point.
"We are preserving what's passed on to us," Thompson continued. "If we don't pass it on to the next generation, then we're not doing our due diligence as DJs and purveyors of music."
May 31-June 3, various locations in Oakland and San Francisco, BayAreaSoul.com