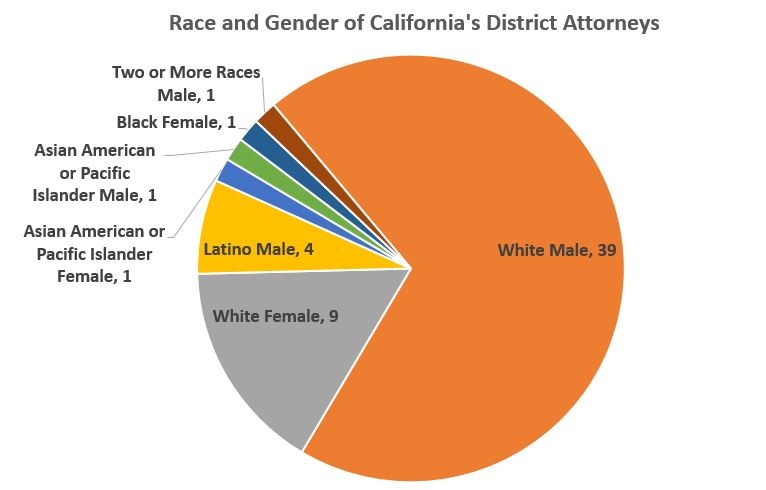 All nine of the District Attorneys for the Bay Area's counties are white, and six of them are white men, numbers that don't reflect the diversity of the region's population, according to data released as part of a national analysis on race and gender diversity of America's top state law enforcement officials.
[jump] The analysis, by
the Women Donors Network's Reflective Democracy Campaign
, shows that 95 percent of elected prosecutors nationwide are white, and 79 percent are men. According to the group's analysis, three-fifths of US states are without any Black elected prosecutors, and while Latinos are 17 percent of the total US population, they occupy only 1.7 percent of elected prosecutor offices.
In California and the Bay Area, a state and region more diverse than most of the country, the numbers aren't any better. California has only one Black elected district attorney,
Jackie Lacey
of Los Angeles County. Only two Asian Americans and four Latinos hold the office of district attorney, none of them in the Bay Area. Whites occupy 48 of California's 56 elected district attorney offices.
Alameda County District Attorney Nancy O'Malley is one of only eleven female elected prosecutors in California. She is the first woman to hold the office in Alameda County's history.
All previous Alameda County DAs were white men.
Non-white residents of Alameda County account for two-thirds of the population, however.
By contrast the Bay Area's jails and prisons are disproportionately crowded with Black and Latino inmates. In San Francisco, where there has been only one non-white male in history who held the office of District Attorney (Kamala Harris, a Black and Indian-American woman),
the jail population is more than 50 percent Black
. In Alameda County, where white men held the DA's office consecutively for 156 years (from 1853 to 2009), the jail population
has been estimated
to be 55 percent Black and 20 percent Latino.