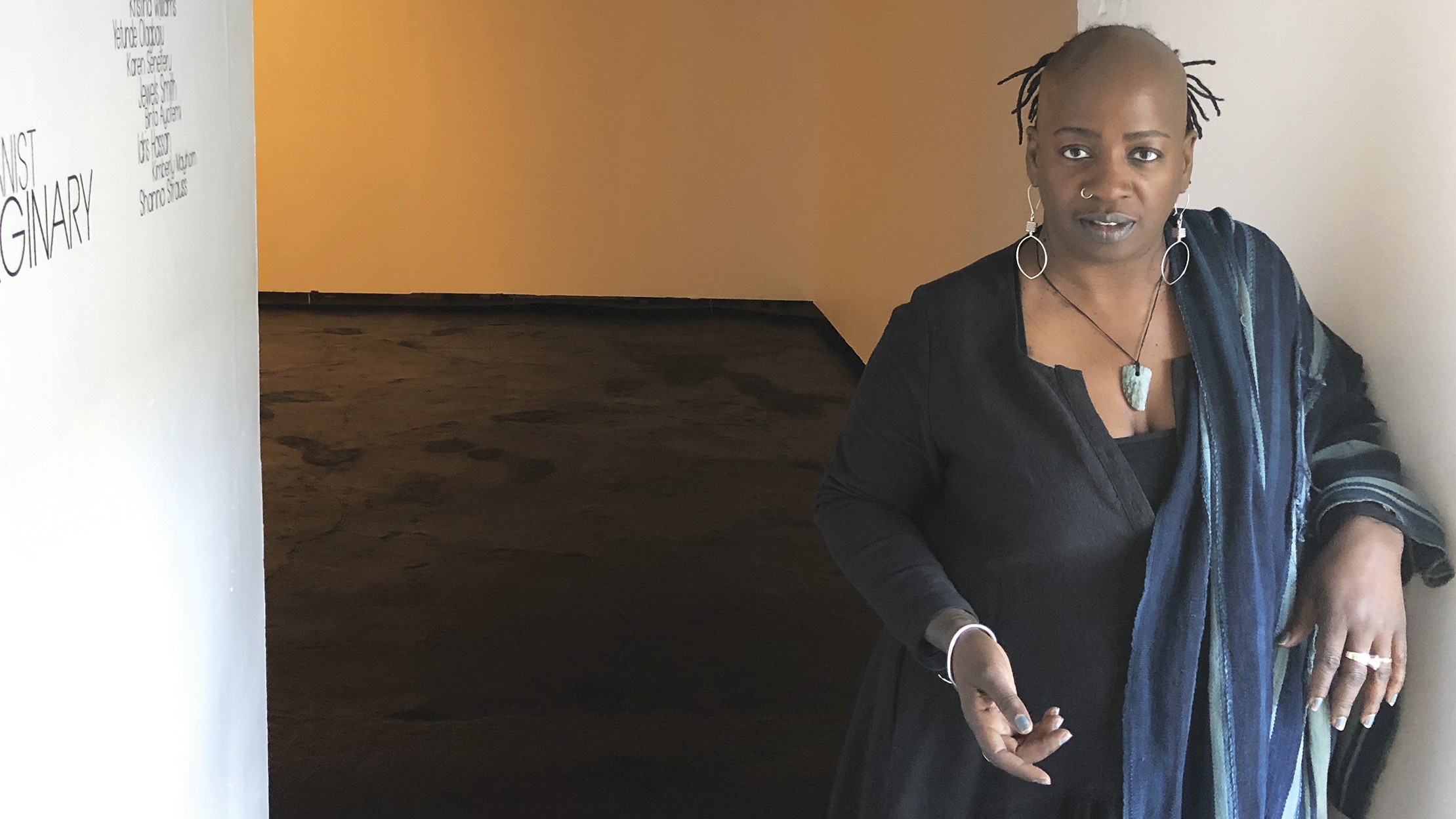 After co-founding Impact Hub Oakland, spearheading Omi Gallery, and recently turning 50, Ashara Ekundayo decided it was time for a change.
Specifically, it was time to pursue her dream of opening an art gallery that exclusively showed work by women of the African diaspora. That includes Black women — and trans and non-binary folks — from all over the world. Ashara Ekundayo Gallery (480 23rd St., Oakland) will open Thursday with Obvious Magic | This Womanist Imaginary, an exhibit featuring eight artists primarily from the Bay Area.
In the months leading up to the debut, Ekundayo has been looking inward, tracing her progress over the years, and examining her own self-doubt. Naming a gallery after herself was a big step.
"I knew at a young age that I wanted to be someone who got to shape culture, define culture, because I saw that was very powerful," she said.
She recalls determining her future profession as a curator at age 7, while walking through a gallery with her father, a visual artist. She was raised in Detroit, Mich., and spent 29 years in Denver, Colo. before landing in Oakland eight years ago.  
"There's been this interesting inquiry around, 'Who am I?' What does it mean to be growing up as a Black girl in a majority Black city on the edge of the civil rights uprising in the United States?" she said. "I was born in 1968 — 1968 was a seminal year in the history of the United States, and I absolutely grew up with the words 'Black is beautiful' falling from my mother's lips."
Amplifying the voices of Black women has long been part of her life, as has investigating the intersections of Blackness, joy, and struggle. But that wasn't quite her work at Impact Hub, the co-working space in Uptown, which is all about social entrepreneurship and innovation.
"That's a really wide lens, and in this transition, I want to narrow it," she said, returning to the role of Black women in society. "There have to be places and spaces for us to convene, for ritual and ceremony, for display and exhibition, for conjure."
Over four years at Omi, Ekundayo showed more than 250 Bay Area artists — mainly artists of color — and provided opportunities to new artists who had never been part of an exhibition before. She emphasized her love for the project but also that it's time to move on. Last week marked Omi Gallery's finale as a full-on art gallery. Now, it exists as Omi Arts, a fiscally sponsored pop-up project. Ekundayo will continue to oversee its intermittent events and installations both within Impact Hub and throughout the region.
"Omi was a beautiful pilot. I got to meet people. I got to see how difficult it is to open a gallery," she said. "But this is my dream. This is what I've always wanted."
(Meanwhile, Impact Hub will continue under new staff.)
Ashara Ekundayo Gallery sits behind Chandra Cerrito Contemporary on 23rd Street in a smaller space you access through the parking lot on the right-hand side. It's cozy at 1,100 square feet, with two main rooms and warm brick walls in the center of the Art Murmur action. While calling out the greatness of existing Black woman-owned spaces such as Thelma Harris Gallery, Joyce Gordon Gallery, and Betti Ono, Ekundayo said her gallery will feel distinct. Her vision is more experimental and modern, with the sort of high-end art installations you're more likely to see in San Francisco. "You might show up with a pile of rocks in one room and a video in one room and that's what it is," she said.
She's particularly interested in new media, such as film, video, virtual reality, and augmented reality. She wants to explore truths in a format that a younger generation will be interested in, with full, 360-degree experiences.
"I want young people to put on a headset and have the experience of understanding the life of someone who is an immigrant, the life of someone who is trying to cross a border, the life of someone who is being catcalled," she said.

[embed-1]
That won't necessarily be part of this first exhibit, though. Obvious Magic will feature the work of Yetunde Olagbaju, Karen Seneferu, Juliana "Jewels" Smith, Kimberly Mayhorn, Kristina Williams, Shanna Strauss, Idris Hassan, and Binta Ayofemi. With the exception of Seneferu, they're all artists Ekundayo has admired but hasn't had the opportunity to show at another gallery. For the opening on Thursday and Friday, there will be performative aspects that might change from night to night.
Of course, it's challenging for an art gallery to last in Oakland — particularly at a time when so many artists can't even afford to live here. Ekundayo acknowledges this while remaining undeterred.
"It's important that those of us who have the privilege of holding space for love and respect do that for as long as we can," she said, smiling. "This is a one-year lease, so let's see what happens."
Opens Thursday, Mar. 1, 6-9 p.m., and Friday, Mar. 2, 7-10 p.m., Ashara Ekundayo Gallery, 480 23rd St., Oakland, Ashara.io/ashara-ekundayo-gallery