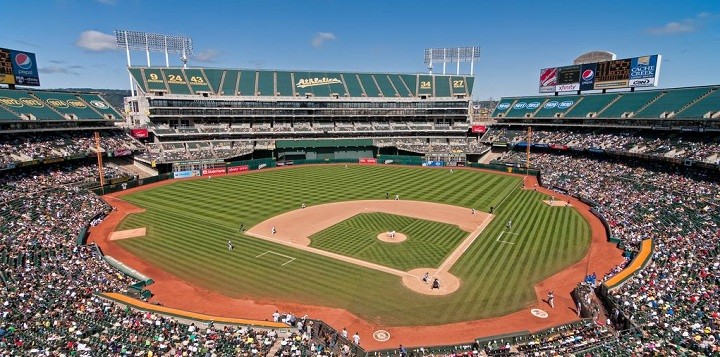 This was going to be a warm-and-fuzzy column that relived all the fun, victorious, amazing, and just plain strange moments in the history of the Oakland A's, a franchise that has packed a couple centuries' worth of colorful memories into just five decades.
Unfortunately, some of the club's nagging issues crashed my party, forcing me to postpone it and confront the gloomier side of Bay Area sports.
A's fans can relate — they faced the same problem last Tuesday as they geared up to enjoy a free home game in honor of the team's 50th anniversary in Oakland. The A's offer so much folklore; it should have been a no-brainer for everyone to bathe in nostalgia and enjoy the moment for a franchise blessed with such a rich history. C'mon, few franchises can boast of winning four World Series titles and a cast of larger-than-life characters ranging from Charlie Finley to Reggie Jackson to Rickey Henderson to Billy Beane to MC Hammer. (Yes, a teenage Hammer once held the position of A's vice president. Hey, man, it was the 1970s.)
But instead of being showered with praise over past glory, A's fans woke up last Tuesday to a stream of negative headlines. Inexplicably, some local scribes focused on low attendance at a few of the A's' first nine home games this year. Others considered unsubstantiated rumors that the A's might move to Portland. And one report even hinted the team might trade star third baseman Matt Chapman sooner rather than later because his agent said he's not presently considering a contract extension.
Man, some people really know how to rain on a parade.
The silver lining? East Bay fans are well-practiced at shrugging off bad news — real or imagined. The next Grinch sequel could be filmed in the Oakland Coliseum parking lot, because A's fanatics are the closest thing you'll ever find to Whoville, that town of irrepressible optimists who didn't let the Grinch's theft of gifts steal their Christmas joy. Yes, Whoville is corny fiction. But the edgy, loyal spirit of Oakland A's fans is very, very real. And, against all odds, they've kept it alive — as revealed by the 46,000-strong who joyously tailgated Tuesday night before streaming past the Coliseum turnstiles and dancing in the proud old yard's aisles, laughing their way to a 10-2 rout over the Chicago White Sox.
Who knew that great night was just the warm-up act? A few days later, those same fans roared over Sean Manaea's masterful no-hitter, followed the next day by a dramatic win that pushed the A's back to .500.
Just like that, the A's had eclipsed all those negative stories. By Sunday, the team had taken two of three against Boston, the best team in baseball, giving delirious A's fans license to dream big as they poured out of the Coliseum on a postcard-perfect Oakland afternoon.
The Oakland fandom's revelry in the face of swirling bad vibes reminded me of the unforgettable end of the 2012 season. That's when Oakland fans gave another A's playoff series exit an unusual, inspired response. The heartbreaking October loss was greeted with an emotional, four-minute standing ovation from Oakland fans who seemed to believe if they kept screaming "Let's go, Oakland!" long enough, MLB just might let them play a 10th inning. They couldn't steal the win, of course, but the zeal of A's fans that night created a lasting memory, even amid another painful defeat. And they left the unmistakable impression that this Oakland baseball thing isn't all about the wins and losses but, rather, the community and its collective passion for its team.
That yin-yang tension is one of the Oakland baseball's grandest traditions.
It's never easy. It's never boring. And, on the field or off, it always makes for compelling, dramatic theater.
Even the team's first-ever MLB game a half-century ago, after being rechristened the Oakland A's, was fraught with tragedy and tension. That inaugural game, scheduled in Baltimore on April 8, 1968, was postponed for two days as the nation reeled from the April 4 assassination of the Rev. Martin Luther King Jr. Another example: The last time the A's won the World Series — a four-game sweep over the San Francisco Giants in 1989 — the team canceled its victory parade in downtown Oakland because it seemed inappropriate after the Loma Prieta earthquake days earlier had killed dozens of Bay Area residents.
Even when the Mustache Gang dynasty of the early 1970s won three consecutive World Series titles, A's players often brawled with each other in the clubhouse before taking the field and beating the hell out of their opponents. A's teams have earned 18 postseason berths in their 50 Oakland seasons. That includes 8 playoff teams in the past 18 years, a fruitful period that future baseball writers will call the Billy Beane Era. On the other hand, those Beane clubs that thrived from April to September have always broken fans' hearts come October.
It's no accident the A's have been the focus of two excellent movies. First, HBO's
The Rebels of Oakland
, a 2004 documentary that captured the city's turbulent but title-winning sports scene during the counterculture 1970s. Next came
Moneyball
, the 2011 box-office hit that starred Brad Pitt and was based on Berkeley author Michael Lewis' 2003 best-seller.
When it comes to pure drama, the Oakland A's are perennial contenders.
The A's in Oakland have won enough World Series titles to occasionally invite comparisons to the New York Yankees; suffered through bouts of dysfunction that short-circuited promising seasons, much like the pre-2004 Boston Red Sox; and, yes, had long stretches of futility that might compare to the lovable-loser heyday of the old Chicago Cubs.
But, truth be told, trying to liken the Oakland A's to other franchises is a fool's errand because the history of the Green and Gold is incomparable. It's high time to stop the comparisons, in fact, and recognize the Oakland A's as one of the league's true marquee franchises.
Later in the season, I'll finally get to that lighthearted A's anniversary column. But it wouldn't surprise me if some new issue arose and pushed my celebration once again to the backburner. That delicate dance between glory and worry seems to be the never-ending fate of A's baseball in Oakland.
Here's to 50 more seasons of it.
Chris De Benedetti, a co-founding member of Baseball Oakland, writes a regular sports column for the
Express.