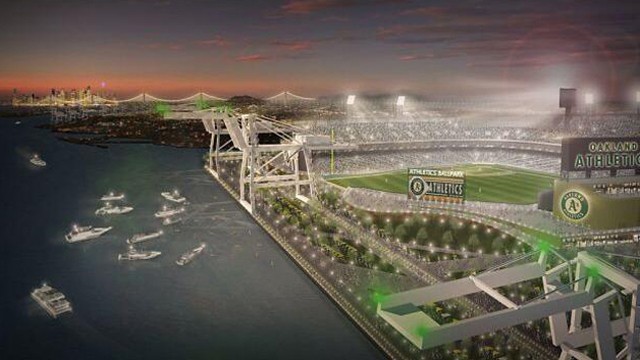 When strangers stop in the street to offer you their condolences, you know the night has taken a rough turn.
That was my cold reality after I left Yankee Stadium last Wednesday night, and later strolled through Harlem while contemplating New York's 7-2 dismantling of the A's.
An hour after the Wild Card Game, a grizzled, middle-age man wearing a Chicago White Sox hat saw your faithful correspondent — unprofessionally but enthusiastically wearing green and gold — and lowered his eyes in sympathy.
"What are ya' gonna do?" he said softly, shrugging.
He repeated in a slower cadence to no one in particular on Frederick Douglass Boulevard: "What. Are. You. Gonna. Do?"
Ah, human kindness. After navigating a sea of boozy, mouthy Pinstripe fans for hours in the Bronx, I appreciated it. And, unwittingly, my kindly condoler and temporary street philosopher had cut to the core of the A's' post-October dilemma. Now that the Yankees had turned yesterday's miracle season into today's silly dream, the A's front office now must focus on tomorrow.
The Wild Card Game drubbing left them with no other choice. That's the worst part of the crushing finality of a playoff loss — it forces you to face nothing but a long winter of hard questions. Such as:
Hey, John Fisher, are you finally going to open your checkbook like a real owner? Billy Beane and David Forst (the A's execs in charge of player personnel), where and how will you add the few missing pieces this talented roster needs without blowing up the whole thing? And, Dave Kaval, how will the Oakland ballpark hunt continue?
In short, fellas, when it comes to the thorny issues most affecting the future of the franchise, what are you gonna do?
Kaval, for his part, has wasted no time in continuing public outreach for the A's' new home. Four days after the playoff loss, the team hosted a community meeting in West Oakland, where residents shared their thoughts about the Howard Terminal waterfront site. Future meetings reportedly are planned at other Oakland locations. Holding a number of gatherings like this is the smart and right thing to do, showing that the franchise has learned from its failure at the Laney College site.
Also, the Howard Terminal site got a boost last week when Gov. Jerry Brown signed AB 734, a state bill that will speed up the review process for lawsuits that might be filed over construction on the waterfront. Meanwhile, the A's continue to offer $137 million to buy the 110-acre Coliseum property, either to build a new stadium there or to develop the East Oakland land to help pay for a waterfront ballpark.
As Kaval and his team make progress on the pair of Oakland sites, equal attention will be paid to offseason roster decisions made by Beane and Forst. The 2019 opening day ages of nearly all A's position players currently under team control will range from 23 to 28. (The exceptions are Khris Davis and Mark Canha.). In other words, a slew of quality players will spend their prime years in Oakland, which is music to A's fans' ears. To their credit, Beane and Forst again have built a young team poised to contend for a title over the next half-decade. Oakland baseball's future looks bright.
But don't forget, this is the Oakland A's. Nothing comes easy.
Winter is coming — which means major, franchise-altering roster decisions loom. Second baseman Jed Lowrie, who turns 35 next April, and catcher Jonathan Lucroy, 32, are free agents this offseason. Davis, meanwhile, is eligible for arbitration and has another season before he hits free agency in 2020. But I include him here with Lowrie and Lucroy because each player is on the wrong side of 30 and will be pricey to re-sign.
I'd like to see the A's keep at least two of the trio. It would hurt to lose Lowrie, but I could understand if they let him walk. He's at the age where athletes start to decline. And even though he just completed a very good season, he's a risk because he's been injury-prone throughout his career. Also, the A's have young infielder Franklin Barreto — as well as utility man Chad Pinder — ready to take Lowrie's spot.
Lucroy and Davis, for whom the A's lack immediate replacements, are another story. In the Beane era, the A's have often told players like them to pack their bags. But the team cannot and must not do that this offseason — not if they want a skeptical media and weary fan base to take their ballpark efforts seriously.
Lucroy has always been a solid, durable player and he did a great job providing defense and stability for a pitching staff wracked by injuries this season. He's earned a good contract.
Davis, meanwhile, has emerged as one of MLB's best sluggers. Among all A's players, he has been the most vocal about his love for Oakland — not the "Bay Area" or "Northern California" but, specifically, Oakland. For a franchise that smartly made "Rooted in Oakland" its slogan, the front office should reciprocate Davis' loyalty to The Town with a long-term deal. Oh, and his 133 homers and 335 RBIs over the past three seasons in Oakland make a pretty good case for re-signing him, too.
Sure, the team also could use a No. 1 starting pitcher but, a) almost every other team needs one, too, and b) one crisis at a time, please. Let's just start with keeping Davis and Lucroy in The Town.
Kaval has put on a clinic on how to market a team to a community. If that's the "talk the talk" part of rebuilding the A's fan base, then Fisher and Beane must "walk the walk" by re-signing some star free agents.
As for the fans, we all know the script for gut-wrenching playoff exits. We're well-practiced in saying things like:
– "Tough ending, but just appreciate what a great season it was!"
– "They're young, so this is just the beginning of a great era!"
– "We're just one [pick a position] away — wait until next year!"
– "We were the underdogs, we weren't even supposed to be here!"
Yes, I see the logic in each of these takes. This time, however, all of those same old platitudes left me feeling cold. And totally unconvinced.
Let's not so easily accept the false narrative that the A's are mere guests at MLB's playoff party, to which we're supposed to feel grateful for just being invited.
Yeah, no.
Instead, let's show some self-esteem and aim higher. Oakland is a city steeped in baseball history and the A's are one of MLB's most storied franchises. The A's play in a Top 6 media market whose residents rank among the nation's wealthiest. So, it's time for Fisher, one of MLB's richest owners, to stop pretending otherwise.
There are many, many reasons for A's fans to feel optimistic about 2019. Yet this offseason finds the franchise at a major crossroads. The future of the Oakland A's hangs precariously on one question. And, to be specific, we'll pose it once again to Fisher and Beane, pertaining to their willingness this winter to spend money when necessary on players' salaries:
What are you gonna do?
Chris De Benedetti, a co-founding member of Baseball Oakland, writes a regular sports column for the Express.