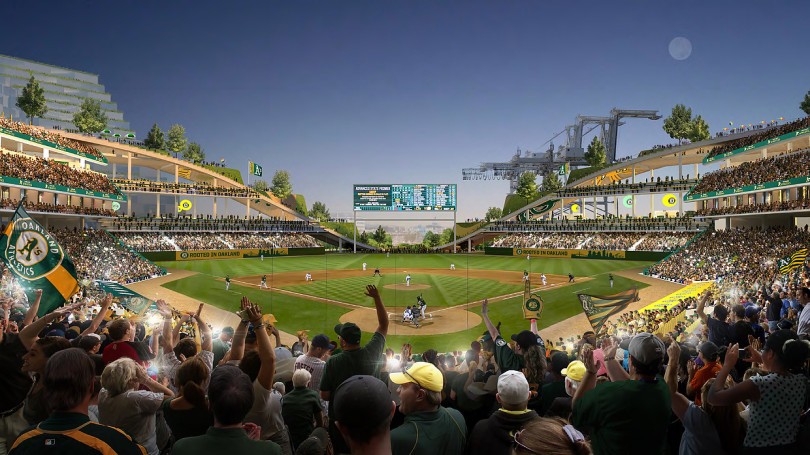 The men and women who run the A's are thinking big — for the franchise and for their eternally disrespected East Bay city — and moving forward with urgency to build a privately financed ballpark as part of a set of plans that could transform two Oakland neighborhoods.
I love the audacity of the team's proposals — because only all-star levels of chutzpah, creativity, and persistence will make this ambitious ballpark vision a reality.
Team President Dave Kaval and the A's appear to be way ahead of all of us on that front, judging by their modern, boldly designed ballpark at Howard Terminal and the ambitious proposal to redevelop the Coliseum area to pay for their 34,000-seat waterfront palace.
In addition to the ballpark, the team proposes that the 55-acre Howard Terminal site will include housing, offices, retail, restaurants, hotels, and public parks. Plans for the redeveloped Coliseum site call for a scaled down stadium as part of a community park, along with housing and a tech hub. Oracle Arena would be preserved for concerts and other events, though it might be refurbished as a smaller venue.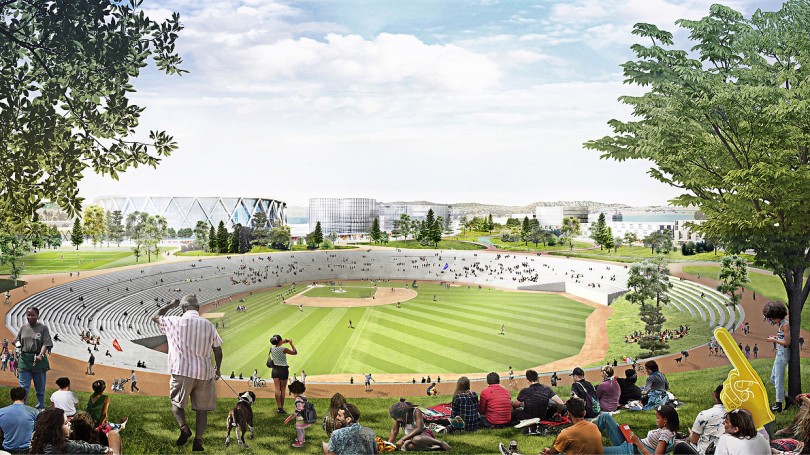 Working to corral the project's many moving parts is going to take guts and savvy, and it certainly won't be easy.
For one, Kaval and his team of front office execs are still being asked to clean up the mess left behind by Lew Wolff's 13-year odyssey of frequent and failed attempts to move the A's out of Oakland. Proposals for Fremont and the South Bay are now in the franchise's dustbin, as are the concepts that, perhaps, were never intended to succeed. (Wolff's High Street plan in East Oakland in 2006, comes to mind.)
That burden of history leaves the A's in a situation where they now must rally supporters in spite of the community's exhaustion over the team's 24-year-long ballpark search, essentially forcing Kaval and front office lieutenants Chris Giles and Taj Tashombe to fill a credibility gap and pay the bad-faith bill racked up by their predecessors.
Also, the team's announcement on Wednesday was never billed as a final contract agreement or groundbreaking. Yet some critics expressed disappointment that the gathering was not more than the mere announcement that it was advertised to be. Which is a lot like whining at a Fourth of July picnic that you didn't get the Christmas present you wanted. It's both petulant and stupid.
I was disappointed but not surprised to see many negative online responses from some baseball pundits. Knee-jerk naysayers may be fueled by ballpark-plan fatigue, but the new front office team assembled by Kaval is just getting warmed up.
In spite of the negativity from some quarters, many a die-hard A's fans went online to express excitement and hope that, at long last, this will be the plan that keeps the A's in The Town.
Meanwhile, Kaval and several East Bay leaders this week have displayed unprecedented optimism about the project's chances for success, starting with Wednesday's press conference in the A's headquarters at Jack London Square. Kaval was joined there by Oakland Mayor Libby Schaaf, Councilmember Larry Reid, Alameda County Supervisor Nate Miley, and Port of Oakland Boar
d President Ces Butner to announce that Howard Terminal is officially the team's preferred ballpark site.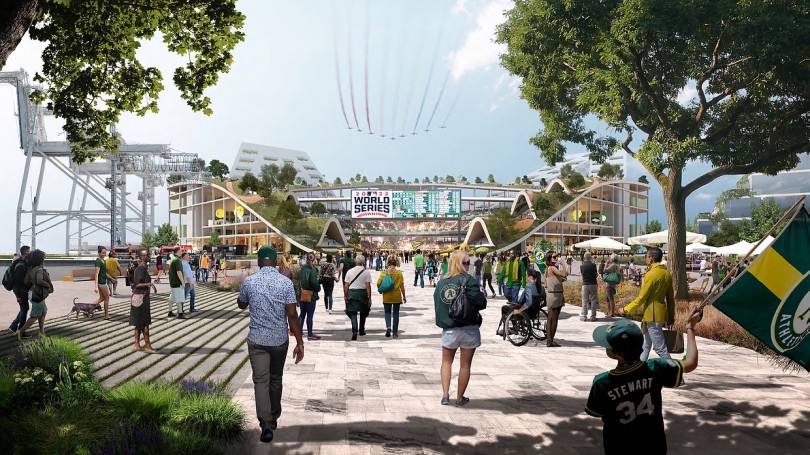 The team also confirmed that it aims to buy and redevelop the 111-acre Coliseum complex to help privately finance the ballpark park six miles up the road, next to Jack London Square. They unveiled preliminary renderings by Denmark-based Bjarke Ingels Group, which the A's have hired to design the ballpark and serve as master planner for developments at both Howard Terminal and the Coliseum.
The show of unity Wednesday by East Bay politicians — who've often been known for dysfunction and division — was a major source of optimism for A's fans.
"I just want to point out this is the first time you have seen all of us up here together," Schaaf said.
Another good sign was the presence of Reid, whose East Oakland district surrounds the Coliseum complex. A year ago, the council president was a vocal critic of the A's' stated desire to leave the Coliseum site. But he sang a more positive tune Wednesday, voicing support for developments at both sites and praising the A's for an extensive community-outreach effort that has included hundreds of residents at dozens of recent neighborhood meetings.
"I wholeheartedly support the vision that [Kaval] has articulated," Reid said. "And I can't wait until the shovel goes in the ground and you actually begin to see that new baseball-only stadium going up at Howard Terminal; and, at the same time, see the transformation of 100-some-odd acres out in what I call Deep East Oakland. I think it will instill an incredible sense of pride for the residents not just in Oakland, but particularly in the area I represent."
Next, the A's will begin a year-long environmental review of the Howard Terminal site. The team also will continue negotiating with the city and county to buy 111 acres at the Coliseum complex, as well as with the Port of Oakland to acquire the waterfront land on which they aim to build the stadium. The A's and local government leaders also must figure out the cost and other details for infrastructure projects required to serve the ballpark and its ancillary development.
It's true that building at Howard Terminal and redeveloping the Coliseum won't be easy. Then again, real estate projects that radically improve and transform two areas within a big city never are. But the A's and local leaders made it clear during their joint announcement that they're committed to working together as never before to meet those challenges.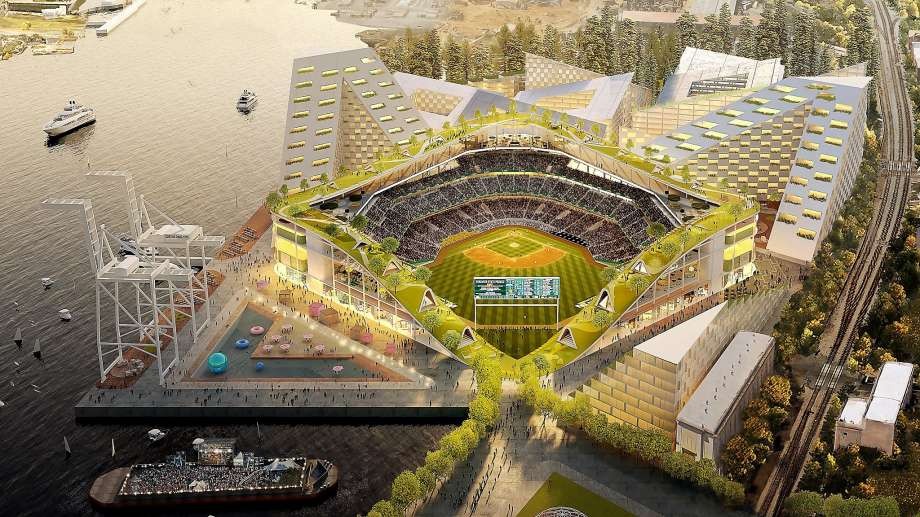 Indeed, this week's announcement felt different. In a city that has unfairly suffered so often from the low, inaccurate expectations of outsiders, it was gratifying to see a ballpark plan that revealed that A's execs are thinking big — for Oakland and the franchise.
Now comes the more difficult work, in which the A's must find answers to the project's most vexing questions. Kaval and the A's this week displayed a can-do attitude that seemed to say: Bring it on.
"This is great day for the A's and for Oakland," Kaval told The Express on Wednesday. "We're excited about the feedback we're getting, but we also know it's just the beginning, and there's lots of work to be done."
Chris De Benedetti, a co-founding member of Baseball Oakland, writes a regular sports column for the Express.