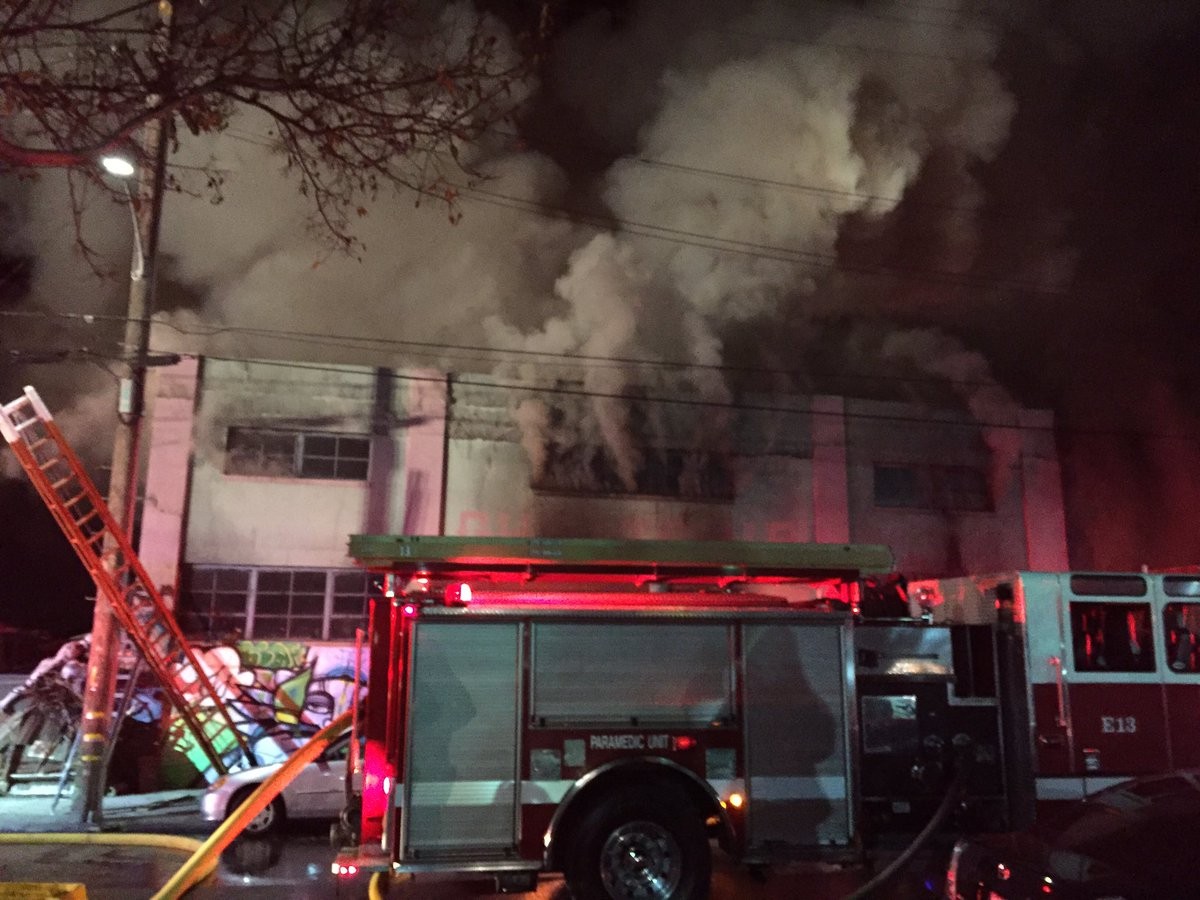 Bay Area party promoter and record label owner Nihar Bhatt says he arrived at Ghost Ship last night at 11:15 p.m. He stopped out front of the building to chat with musician Russell Butler and Joey Casio (a.k.a. Joseph Matlock). Then Casio entered the building. Approximately ten minutes later, Bhatt says someone shouted, "Fire!"
Attendees started spilling out of the Fruitvale neighborhood warehouse, billowing smoke in their wake. Bhatt recalled people out front yelling their friends' names. He could also hear wood buckling inside. "It was surreal, hard to believe the horror unfolding," Bhatt said.
"The overwhelming feeling was of complete powerlessness."
[pullquote-1] Bhatt has attended several events at Ghost Ship in the past year. But this one, he said, was expected to draw the biggest crowd yet.
His friend Butler, a local electronic music who also performs as Black Jeans, said that performers had yet to begin when the fire started. Johnny Igaz — who's unaccounted for after the fire — was playing records in a booth at the back of the room.
According to Butler, approximately sixty people were present for the gig (not including residents who may have also been in the building). "I'm sure it would've swelled to double or triple that number later on," Bhatt said.
"A lot of my friends were on their way."
Some of those who remain unaccounted for after the tragic fire are integral members of the East Bay arts and music community.
Bhatt, who co-runs prominent local party series Surface Tension and record label Left Hand Path, described Chelsea Faith (Chelsea Dolan), who is still missing, as a "key link between the Nineties rave scene and a new generation of producers, including myself, who consider her a mentor."
And his friend Casio is well known in the Bay Area and the Pacific Northwest for his industrial-techno sets as Obsidian Blade. He remains missing after entering the building, as well.
Bhatt said that "a lot of us owe their politics and their musicianship to [Casio]. … He emboldens people to break rules."
Micah Danemeyer, who is also missing, "is just a tireless promoter of the underground scene, even when it was a completely unrewarding role," Bhatt said.
At least nine people died and dozens remain unaccounted for after the
three-alarm fire at the Fruitvale live-work space
. Officials say they are preparing for nearly 40 casualties at the scene.
Bhatt and Butler wanted to emphasize in their interviews with the
Express
that the local underground music scene isn't to blame. The counterculture scene gravitates toward these potentially unsafe and "illegal" venues because of the mercenary local housing-market and the premium on space.
They also said that these non-permitted residences that host underground shows are often the only safe place for marginalized people, those who find above-the-board and sanctioned venues unsafe or inhospitable.
Sadly, some of the dozens of attendees who remain unaccounted for are transgender people and people-of-color.
"We need spaces that are open to folks who are beaten down and oppressed by living daily under patriarchy and white supremacy," Butler said.
"Last night, had the potential to be incredible."
That said, Bhatt admitted that "several people told [him] before this that they were thinking of calling out [Ghost Ship] for being unsafe, for being a fire hazard."
"I think they bit their tongues because we desperately need places to gather," he said.
He also argued that the city cracking down on underground scenes won't be a solution. "If people think by punishing spaces it will make potentially unsafe underground venues go away, they're wrong," he said. "The trouble is the lack of spaces to begin with. Places that are safe and also somewhat unscripted are necessary.
"Otherwise this will happen again."
Nihar and Butler were scheduled to perform tonight at The Legionnaire Saloon, but they've turned the event into a quieter gathering for the affected community. The bar is contributing a portion of the night's proceeds toward fire relief. Gray Area Foundation for the Arts, a registered nonprofit in San Francisco, created a crowd-funding page for the victims at YouCaring.com.