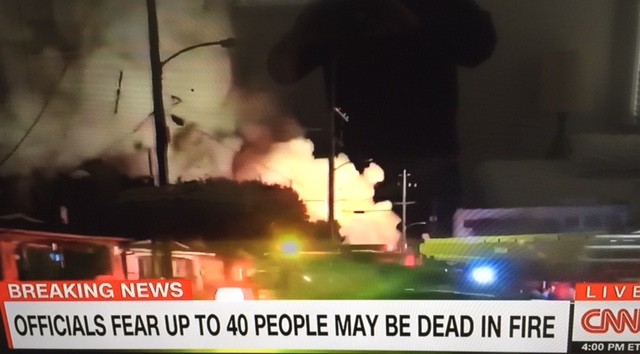 It's worth sharing
this terrifying account by a Reddit user of their escape from last night's Oakland warehouse fire
.
The user also reports that there was a brave individual who remained in the building, yelling into the blinding smoke, so that people could find the exit.
The user describes learning of the fire while on the second floor, then descending the lone, narrow, ramshackle staircase as smoke engulfed the warehouse:
Once I was down there it was awful. I couldn't see or breathe. It was hot smoky and hard to focus. Thankfully at this point it wasn't so hot that I was burning just being there. There were other people crawling around on the floor too.

The layout of Ghost Ship is,
as others have told the Express, like "a labyrinth,"
which made it nearly impossible for people crawling on the ground and blinded by smoke to figure out how to exit. There also apparently were dead-end passageways, making it even more difficult to find an exit.
So I was down there and I was having trouble finding the exit. At this point I genuinely thought I was going to die choking on smoke in these horrid conditions. Part of this was definitely because the lower level is like a fucking maze. The stair room had three different exits and only one would have been the way to outside.

Horrifying.
The user wrote that a hero posted up at the warehouse's exit, yelling into the smoke for people to come toward him:
Some dude who had already gotten out stood right by the exit with all the billowing smoke and was repeatedly yelling "this is the exit" "exit." I can say without a doubt that that dude saved my life. If he wasn't there yelling I would have never found the exit and I probably would have died.

The user also noted in his post that there is a crowd-funding page raising money for victims. You can donate
here
.