The Bay Area is home to dozens of self-described Asian-fusion restaurants, where you never know what kind of filling a dumpling might be hiding, and where kimchi might find its way onto a taco. But only one restaurant purports to serve what chef Mohamed Aboghanem calls "Arabic fusion" cuisine.
That honor goes to Saha, Aboghanem's 12-year-old Middle Eastern restaurant, which he recently moved from its old digs behind the lobby of the Hotel Carlton in San Francisco's Tenderloin District to where it sits now, in an Art Deco-style building in downtown Berkeley, the former Herbivore spot.
Aboghanem, a native of Yemen, explained that the fusion label, to a certain extent, functions as a way to give himself the freedom to cook the kind of food he likes — food that is, in many cases, a little bit playful and surprising. On a technical level, though, what Aboghanem has been doing for the past dozen years is applying the classical French techniques of his culinary-school training to the flavors and ingredients of the Middle East. Of course, you see this approach all the time at Asian-fusion restaurants and other assorted fusion restaurants. But for Middle Eastern restaurants, at least in the Bay Area, it's still a relative rarity. What "fusion" you do see tends to be more along the lines of typical Cal-Mediterranean cooking — California cuisine filtered through the lens of kebabs and flatbreads. (
Angela's Kitchen
, a French-influenced Afghan restaurant in Alameda, is probably the closest East Bay analog, with its menu heavy on rich wine reductions.)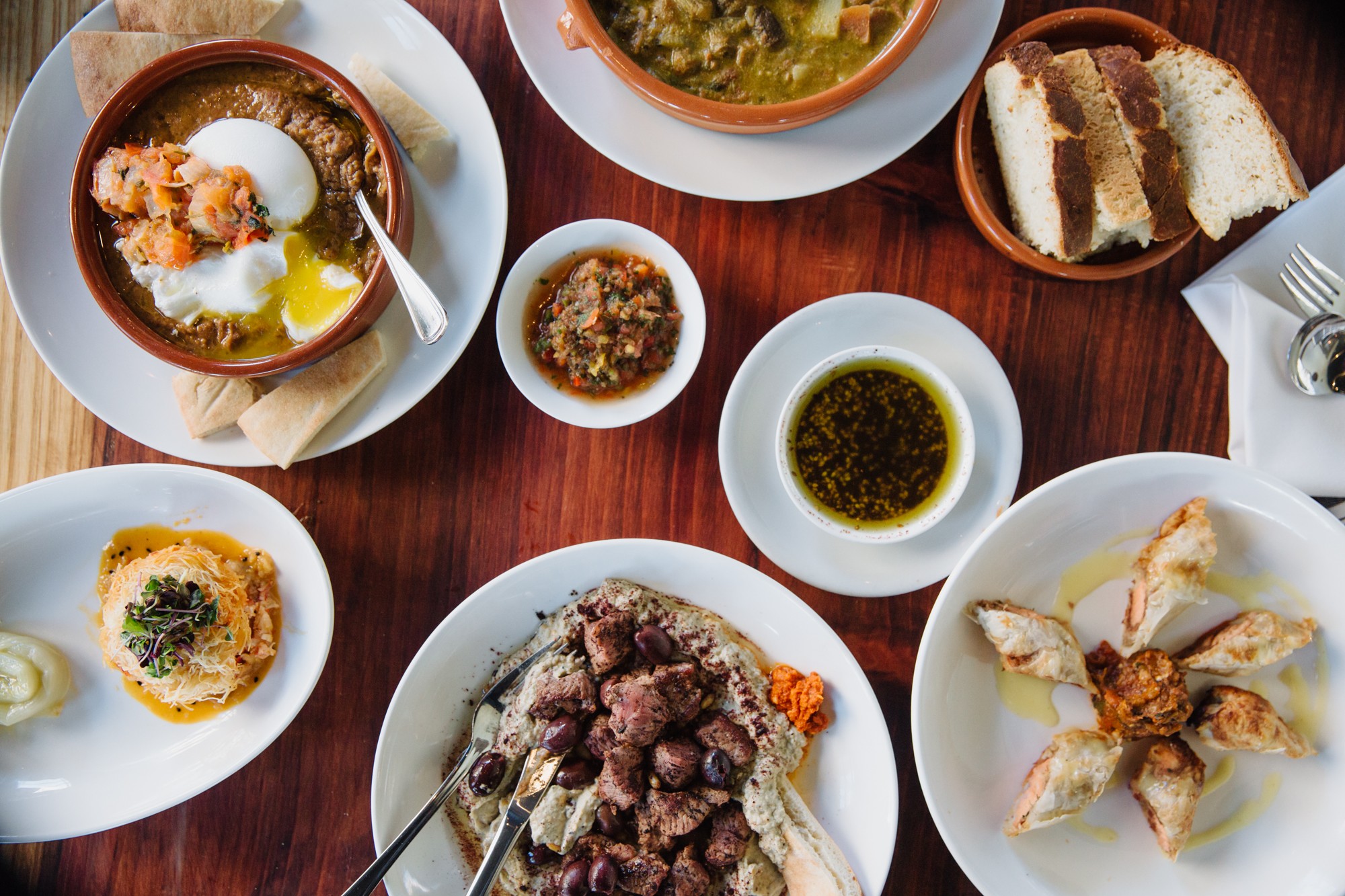 One of Aboghanem's favorite tricks is to re-engineer traditional Middle Eastern pastries, turning sweets into unexpectedly delectable savories. Take, for instance, the salmon
baklava
, which is one of Saha's signature dishes. Aboghanem uses layers of phyllo dough and the same mix of chopped almonds, honey, and rose water that you might use to fill traditional
baklava
, wraps the whole thing around a piece of wild salmon — "like a burrito," as he put it — and then bakes it to order. You read "salmon
baklava
" on the menu and start bracing yourself for sugar overload, but instead, each bite was wonderfully balanced. A dollop of olive tapenade made for the ideal dipping sauce, shifting the balance back toward savory. Best of all, the salmon wasn't overcooked. If someone passed around a tray of these as hors d'oeuvres at a cocktail party, I'd be tempted to commandeer the whole lot.
The lobster
knaffe
was a similarly liberal reworking of a pastry that's normally stuffed with soft cheese and drenched in a sugary syrup. Aboghanem serves chunks of lobster meat in a pool of savory saffron-lobster sauce, topping it off with a round of sweet Yemeni
bisbusa
(a sponge cake-like farina cake) and, almost as an afterthought, a scattering of the crispy, finely shredded phyllo dough that is the hallmark of this Arabic pastry.
Dishes like these capture the spirit of Aboghanem's cooking and helped propel Saha's original location in San Francisco to a reputation as one of the city's better Middle Eastern restaurants. And yet, perhaps because Middle Eastern immigrant communities haven't widely embraced idea of "fusion" cuisine, at least as it applies to the modern American restaurant scene, Aboghanem estimated that Middle Eastern diners only account for something like 5 percent of his customers. Indeed, even with the Bay Area's sizeable Yemeni population, he could only recall two Yemenis who ever dined at his restaurant in twelve years of business.
Aboghanem speculated that this is partly due to the suspicion with which some immigrants view "modernized" versions of the foods they associate with their mothers and grandmothers. But the truth is that, while Saha is known for its fusion approach, about a third of the menu consists of classic Yemeni dishes. For these, Aboghanem plays it straight.
For instance, the
marag ganame
— a clear lamb broth — could scarcely be simpler: lamb shoulder and leg, the traditional Yemeni ground-spice mix known as
hawaij
(which includes black pepper, turmeric, cardamom, and saffron), and lots of water. Everything simmers slowly for three hours, and what you wind up with is a rich, deeply flavorful bowl of soup that any grandma would be proud to serve.
Meanwhile, the "Helba & Pita" is listed on the menu as Yemen's national dish. This was a soupy rice dish reminiscent in texture to a Creole gumbo — a thick, peppery stew studded with chunks of potato, lamb, and clumps of well-seasoned ground beef that were akin to rustic meatballs. The dish came with wedges of dense pita, ideal for sopping up every last drop. "A dish like that, you cannot play with it," Aboghanem said. And for good reason: It was delicious.
For East Bay weekend brunchers engaged in the endless search for a spot where you won't be stuck in line for an hour should know that Saha was nearly empty during a recent Sunday late-morning visit — a result of word just not having gotten out yet, I presume, since this was better and more interesting brunch fare than you'll find at three-quarters of the most popular spots around town.
Again, you have your pick between the fusion-y (crab benedict over
bisbusa
) and the down-home and traditional, which largely consisted of dip-like dishes that you scoop up with pita: an eggplant-and-ground-beef
shakshuka
topped with salsa-like Yemeni
zahawag
, or the classic Yemeni breakfast of stewed fava beans. The latter was a tomato-y version of the dish known as
ful
, a breakfast staple throughout much of North Africa and the Middle East, and came topped with two runny-yolked poached eggs. Both dips were particularly good spiked with
harissa
, which was available by request.
The brunch menu is also where you can most clearly see the legacy of the restaurant's predecessor, Herbivore — though Saha has always been a vegetarian-friendly business. More than half the dishes are marked with a "V," with tofu offered as an egg substitute for vegans, and Aboghanem said Saha was actually one of the first restaurants in San Francisco to start  offering gluten-free options, well before it became trendy to do so.
What is perhaps most impressive about Saha is how solid the food is up and down the menu, considering how unusual some of the flavor combinations are, and how many of the dishes are original creations you won't find at any other restaurant. That extends to the desserts, which Aboghanem makes himself. Because one of my dining companions was a child with fairly fixed sweets preferences, we scoured the dessert menu for the safest, most boring-sounding option. (It took all my self-restraint to hold back from ordering something called the "Ya Mama," which promised marzipan, roasted fruit, and dark chocolate.) The pear tart we finally settled on turned out not to be so boring after all: a pillowy square of puff-pastry, sugar-dusted and spread with
baklava
-like ground-almond paste. On top, instead of the usual fanning-out of pear slices, Aboghanem had placed a luxurious half-pear, still intact, roasted until the flesh had softened into a lush, spoonable consistency.
Served warm, fresh out of the oven, the dessert would have been the envy of many fine French pastry shops. At the end of a meal of salmon
baklava
and Yemeni lamb stew? Somehow, it was just the thing.