In the United States, much of our social status is defined not by who we are, but by what we own. The more stuff we accumulate and the more space we occupy, the greater we believe our social capital to be. However, in today's shaky economic climate — not to mention the affordable housing crisis that is setting off alarm bells throughout the Bay Area — the concept of "living large" is increasingly being called into question. According to a recent report by San Francisco-based real estate website Trulia, rents in Oakland have increased 12.1 percent in the last year, topping even San Francisco's price spikes, which jumped 11.6 percent. San Francisco still has the highest rents in the nation overall, with a median one-bedroom price of $3,400, but Oakland is not that far behind, with a one-bedroom average of $2,000 a month and rising. Unsurprisingly, some East Bay residents have grown weary of devoting a majority of their incomes to rent, and have decided to find or build housing that is simpler, more affordable, and good for the planet. I'm talking about tiny houses.
See Also:
Get Creative About Conserving Water
A Surprising and Effective Way to Reduce Waste
The tiny house movement is a social and architectural undertaking that advocates for living in houses that are smaller than 1,000 square feet — with some structures as small as 80 square feet. The East Bay, with its radical and creative tendencies, has been a hotbed of tiny house activity in recent years.
"This is like urban survival," said Bobby Stone, who built his "tiny shack" for about $3,000 and has been living in it for the past year in the backyard of a co-op in Oakland. Stone's shack (or creative habitation unit, as he calls it) is mobile, collapsible, and made of detachable, recycled denim-cotton insulation held together with homemade brackets. As such, it is easy to disassemble and move somewhere else if Stone were forced to do so (by a building inspector or a complaining neighbor, for instance). It took Stone about three months to build the structure (he also builds greenhouses, chicken coops, and rat-proof compost bins), and as far as Stone knows, his tiny shack is the first structure that relies on collapsible mobility. He said the decision to build it was mostly economical. "I was trying to figure out a way to have really cheap rent, so I wouldn't have to work so much, and so that I could quit my job and travel," he said. Stone did just that, and though he now has another full-time job, living in the tiny shack allows him to retain part of his bohemian spirit. "I get tired of conforming to living in certain ways. … It just felt good to feel like I could be a nomad or something," he said. As of now, Stone's tiny shack is on the more basic side, with a bed that is cranked down from the ceiling, and lights connected to the main co-op via extension cord, but he said he has plans to install solar panels and a shower in the future.
Perhaps the biggest obstacle to tiny home living is figuring out where to put them — because living in a tiny house often falls into a legal gray area, due to zoning regulations, permits, and building codes that require a minimum square footage. Even parking a tiny house on one's own land can be against the rules, because it is sometimes considered "camping," and hence not a long-term living solution. Despite these obstacles, tiny house builders like Heather Stewart and Luke Iseman, who convert shipping containers into livable spaces and help others do the same, continue to forge ahead.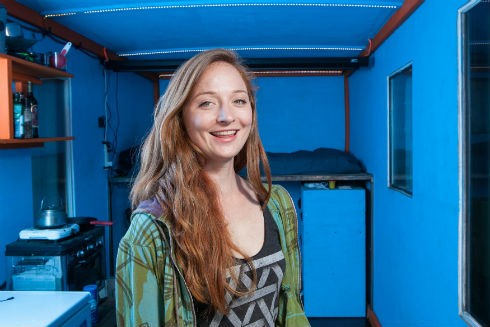 Inside Heather Stewart's boxouse — BERT JOHNSON
Stewart and Iseman have been living in converted twenty-foot shipping containers for more than two years. The couple left their expensive apartment in San Francisco's Mission district and, until recently, were living in a rented lot in West Oakland, along with a few other shipping container converts. Last month, however, the couple got a notice from the city saying they were in violation for not having filed a site plan or applied for permits, and were forced to take their container homes elsewhere. "There are currently a lot of issues surrounding tiny houses which makes them virtually impossible to get permits for," said Stewart. "According to the City of Oakland, any 'RV' has to be parked inside a fully enclosed space, and containers are under the legal minimum square footage for inhabitation, but also over the square footage for a shed."
For both Stewart and Iseman, the perks of tiny living far outweigh the challenges. "It takes me fifteen minutes to clean my house," said Stewart. "Everything I own has a purpose and a function, which allows me to spend the rest of my life focusing on being productive and creative and not bogged down by clutter." Iseman added, "There's also the pride of making something: I love my boxouse because I made it myself."
In addition to converting their own containers (which include posh amenities such as bamboo floors, a shower with portable water heater, a kitchen with running water, and electricity through solar panels), they also created Boxouse.com, with a blog, videos, information on buying containers, and kits for converting them.
Why a shipping container? "Containers are inexpensive, — $2,300 delivered — durable, stackable, transportable, and beautiful, in a Blade Runner kind of way," said Iseman. "Especially when you consider labor cost, they're way more compelling than traditional stick-frame houses."
Stewart and Iseman work full-time to create, customize, and sell off-grid housing. "When we started Boxouse, the idea was to be public about it. We wanted to force the conversation of tiny houses and their role in the fight for affordable housing," said Stewart. For their second location, Stewart noted that going through the formal permitting process, they are at looking paying a minimum of $37,000 in fees, which they calculated through the City of Oakland's online permit calculator.
Many cities around the country are now starting to grapple with the legality of tiny homes — how such a structure should be zoned, where it can be placed, how small is too small, etc. — but one thing is for sure: Tiny homes considerably reduce our carbon footprint. A 2010 study on tiny houses conducted by the Oregon Department of Environmental Equality found that, among thirty different eco-friendly practices, constructing smaller homes was the "most beneficial" and "achieved the largest greenhouse gas reductions." According to the study, reducing house size by 50 percent led to a 36 percent reduction in lifecycle greenhouse gas emissions.
Plans for tiny houses and villages are increasingly cropping up all over the Bay Area — in San Francisco, Richmond, Sonoma, etc. — and tiny house enthusiast groups online, such as Meetup.com, number in the thousands. Tiny homes may be small in size, but their impact has the potential to be huge.