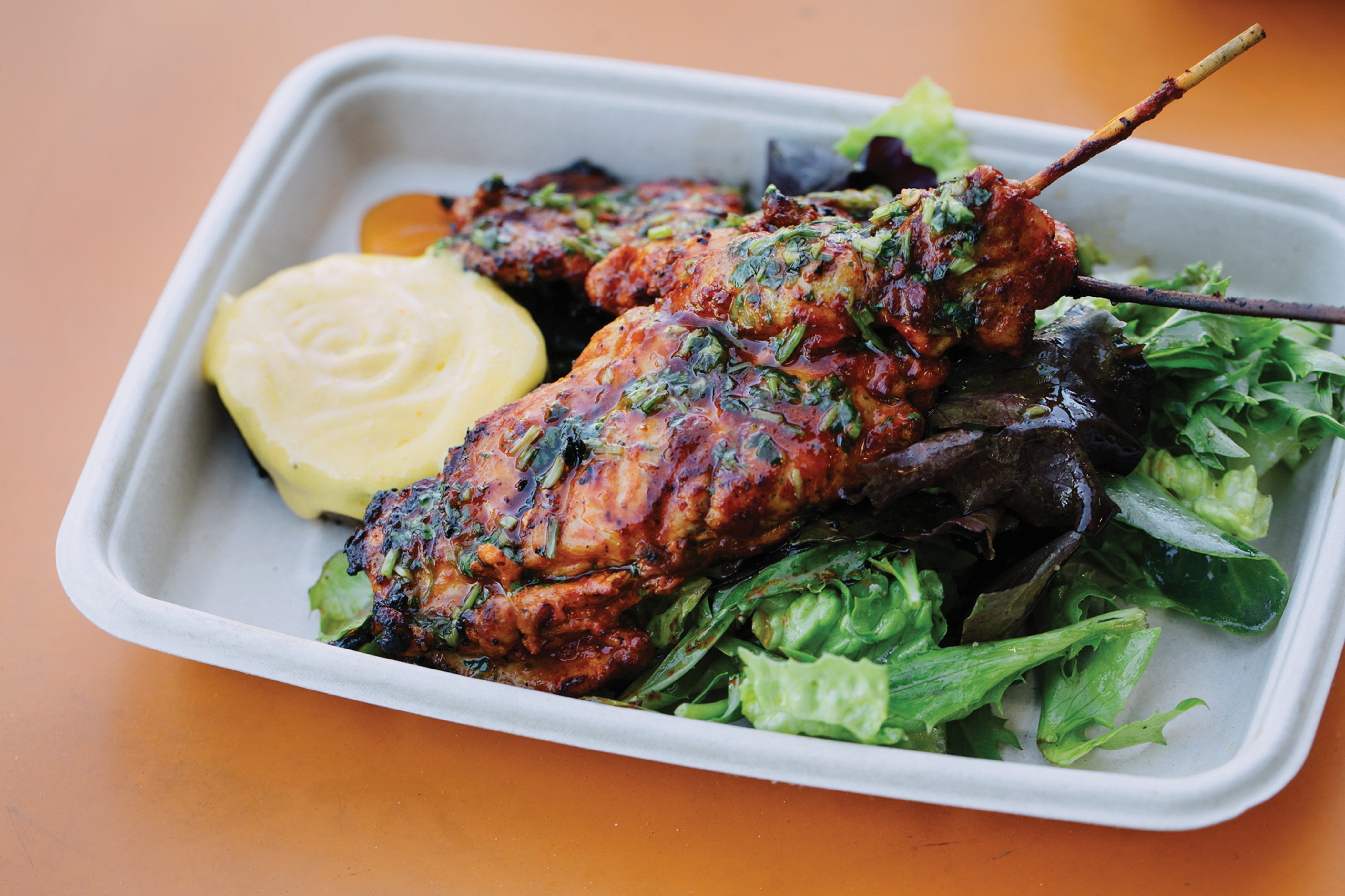 The small city of Emeryville, home to Ikea and Pixar, now has one of the East Bay's most interesting food courts. One of the renovated Emeryville Public Market's newest additions is Paradita Eatery — "little market" in Spanish — which serves modern Peruvian cuisine.
For many years, the public market was a food court with stalls hawking Jamaican jerk chicken, bubble tea, Afghan food, gyros, and burgers, all under one roof. Prices were reasonable. This was the era when Borders Books still existed in the same plaza. There was a children's area play area with a ball pit.
Peruvian food is not easy to find in the East Bay, but Paradita's chef, Carlos Altamirano, is almost single-handedly filling that void. He runs Mochica (in Potrero Hill) and Sanguchon food truck. Paradita is Altamirano's sixth restaurant in the Bay Area; Walnut Creek's Parada, a sit-down eatery, is Paradita's sister restaurant.
"I saw that it had a lot of potential," Altamirano said of Emeryville. "A new generation of people are moving there." This summer, Altamirano Restaurant Group is also opening a full sized restaurant in Lafayette, called Barranco.
Paradita is a casual eatery. One can choose to sit at the bar, where pisco sours, draft beer, wine, and sangria are served. Or patio seating is available for those who enjoy the sunshine. Minus the current view of a large lot under construction, the place has remarkable ambience. There's also indoor seating.
The menu is quite large and consists of bowls, sandwiches, snacks, and anticuchos, or meat skewers. There's also
pollo a la brasa
, Peruvian rotisserie chicken made using Mary's Free Range birds, served half or whole with sweet potato or regular fries and two dipping sauces:
huacaina
, a creamy yellow-colored sauce made from feta cheese, milk and mild yellow peppers; and a bright parsley-based
chimichurri verde
sauce.
[pullquote-1]Many of the dishes have a kick, and that's because Altamirano grows his own
rocoto
chiles at Alta Farm in Half Moon Bay, which he operates and his wife, Shu Dai. "We use a lot of rocoto," Altamirano explained. "I used it basically in all my cooking." If you can't take the heat, you should probably mention it to the cashier upon ordering.
Perhaps Peru's most famous dish is
lomo saltado
, fried beef strips with onions and tomatoes, together with French fries and served with rice. The closest on Paradita's menu is the
lomito al jugo
bowl, served with basmati rice and roasted vegetables. There's also the lomo saltado sandwich, with large strips of marinated tenderloin, onions, and tomatoes.
While not traditional, the fried-chicken sandwich is noteworthy, definitely one of the better ones around. If you liked (now-shuttered) Fusebox's fried-chicken sandwich, you might enjoy this one. While it's not a Peruvian dish, Altamirano adds his take with a spread of rocoto chili aoli on the sandwich.
Indeed, the chef isn't afraid to go less traditional. He said he may add tamarindo spare ribs or chicken wings to the menu down the line. Even the traditional Peruvian dishes — grilled meat, rotisserie chicken, sandwiches — are all very approachable.
The sandwiches are all around $10 and make for a filling meal, and even possibly some leftovers. You can add sweet potato or regular fries to your order for an additional $2. If you want to splurge, try the
anticuchos
, with chicken, pork belly, or
corazon
(beef heart) options. Each one goes for about $10 per order, and is more of a shareable dish than a meal for one person, unless you're on a high-protein, low-carb diet.
The pork belly dish was five large chunks of pork charred just right, each piece sprinkled with tiny pieces of cilantro and served on a small bed of greens. The pork was slightly crunchy on the outside and moist within. A strong smoky flavor meant that it didn't have to be overly salted to give it plenty of taste. It doesn't come with a starch, besides the small — albeit delicious — piece of Yukon gold potato medallion covered with the huancaino sauce.
The quinoa salad was filling and tasty, perfect for a light lunch or for vegetarians. Less of a quinoa salad and more of a green salad with quinoa sprinkled throughout, it's still hearty enough, with chunks of apples, strawberries, tomatoes, sweet onions, hominy, and toasted
cancha
topped with a passionfruit vinaigrette (you can also add a chicken or pork belly meat skewer for an extra $4.25).
Paradita's snacks are all housemade and go well with beer. There's cancha, a toasted Peruvian corn. There are root vegetable chips, slices of purple potato, sweet potato, yucca and plantain. They also sell Inca Kola, a Peruvian soda; Maracuya (passionfruit) punch in bottles, and chicha morada, a cold sweet beverage made from Peruvian blue corn.
If you're a fan of cocktails, you have to try one of the piscos, a Peruvian spirit. The
maracuya
sour pisco
quebranta
, a pisco sour made with a passionfruit reduction, lime juice, and egg whites, was worth the $9.
Prices seem a little high for lunch, but reasonable considering the current market. On a sunny afternoon, eating the fried chicken sandwich and sipping on pisco makes for the ideal lunch break.