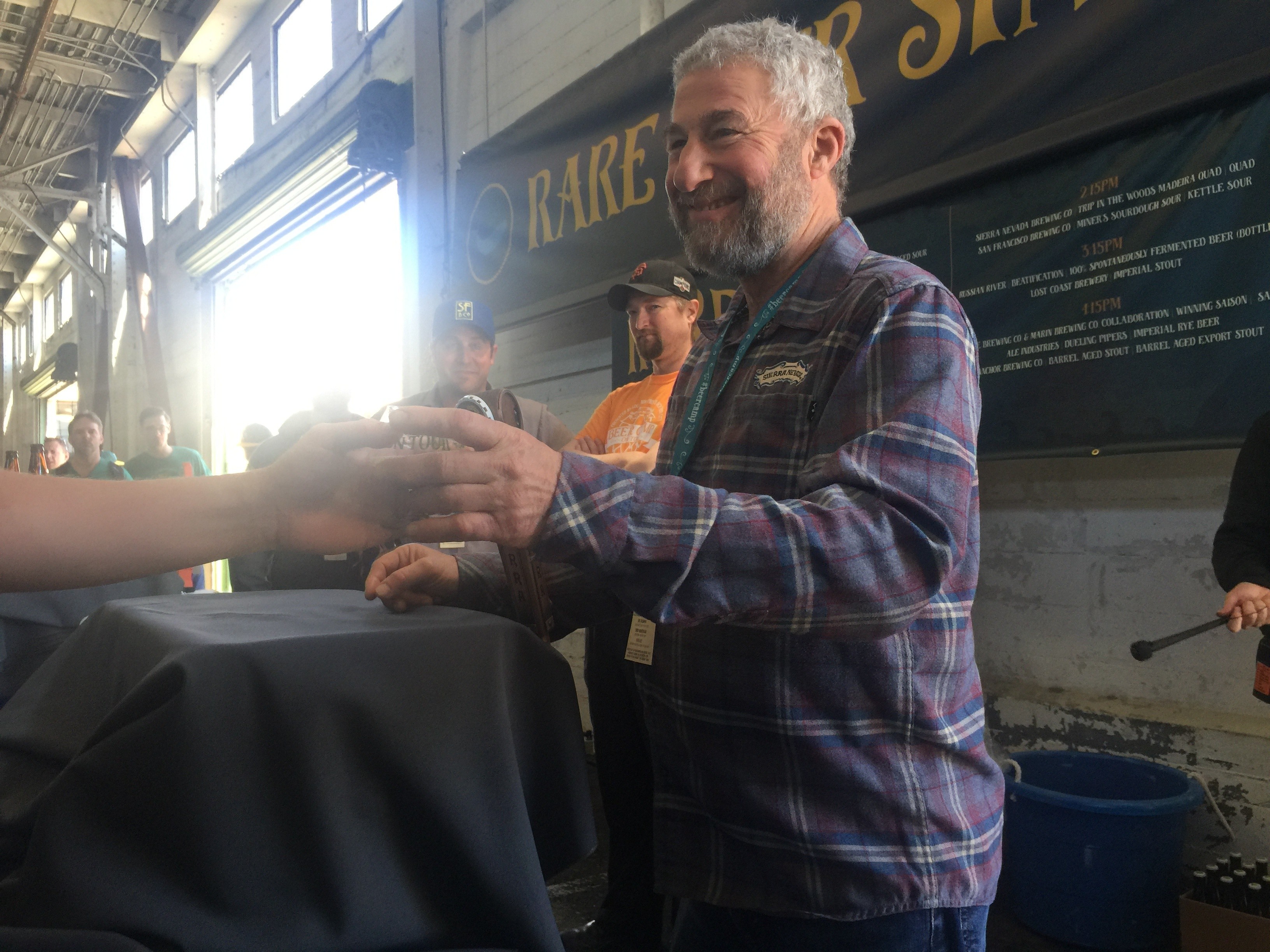 Sierra Nevada Brewing Co.'s annual Beer Camp festival set up in San Francisco this past Saturday, and my big-picture take on the blowout is merely to confirm numerous other reports that, indeed, we are experiencing a "golden age" of brew.
Consider: I sampled nearly 40 beers, and just one was a veritable drain pour (a smoked porter named after an oft-quoted World War II-era politician). Highlights included Mraz Brewing Co's wild ales, including the fig sour; Temescal Brewing Co., Novel Brewing, and the Beer Camp dunkle weisse collaboration between Sierra and Ayinger Brewery.
I spoke with Sierra Nevada founder Ken Grossman briefly during the fest, which prompts me to ask: Is he the most-chill billionaire in America? On Saturday, Grossman spent hours behind a jockey box, pouring brew and posing for snaps with adoring fans. The man in flannel is now a veritable suds-lebrity (OK, I'll stop).
Grossman told the
Express
that its "been a real fun experience to be out pouring again" at these Beer Camps, which first debuted in 2014, on a triple-digit degree afternoon in Chico. Part of the reason its so fun is because, as Grossman noted, there's "so much more knowledge than there even was back then," just three years ago, among brew-drinkers, who he says are "more promiscuous" when it comes to trying new styles.
But enough about independent beer's successes. Let's talk threats. "I think there's going to be increasing challenges about getting peoples' beer in front of the consumer," Grossman explained, "because of the consolidation of distribution channels and retail shelf space."
He continued: "I think we've got to be careful not to allow the largest brewers to dominate the marketplace to the degree where people can't get the beers they want."
And what brew does Grossman want? He said he's enjoying all of this year's Beer Camp Across The World series — but wouldn't play favorites. However, when I mentioned how Vinnie Cilurzo of Russian River Brewing Co. recently admitted that he always keeps Sierra Nevada pale ale in his refrigerator, the world's most relaxed billionaire finally dished on his fridge's contents.
"Actually, I've got some of Vinnie's beers in there right now," Grossman conceded, then laughed.