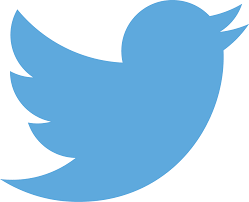 In a case that could have a chilling effect on journalism and free speech on the internet, Twitter temporarily suspended the user account on Thursday held by East Bay investigative reporter Darwin BondGraham after he posted public records on Twitter that he had obtained from the City of Modesto. Twitter suspended BondGraham's account because an employee of the company PredPol, which markets so-called crime-prediction technology to cities and police agencies, claimed that the public documents tweeted by BondGraham included her private information — an allegation that turned out to be false.
However, Twitter initially refused to investigate whether the accusation against BondGraham was true and informed him via email on Thursday night that the company planned to permanently suspend his Twitter account unless he agreed to delete his posting of the public documents about PredPol. BondGraham, an award-winning freelance journalist whose work often appears in the
Express
, described the experience as "surreal."
[jump] Later on Thursday, representatives of PredPol tweeted that they believed BondGraham's user account should be reinstated and wrote in an email to the
Express
that he had done nothing wrong, while distancing themselves from company employee Claire Lovell, who had filed the Twitter complaint against BondGraham.
"An employee acted on her own initiative and not on the company's behalf," wrote Benjamin Hoehn in an email to the
Express
. "PredPol fully supports the active debates on Twitter and journalists' freedoms. We regret that this happened and want to reiterate that PredPol fully encourages his reinstatement on Twitter."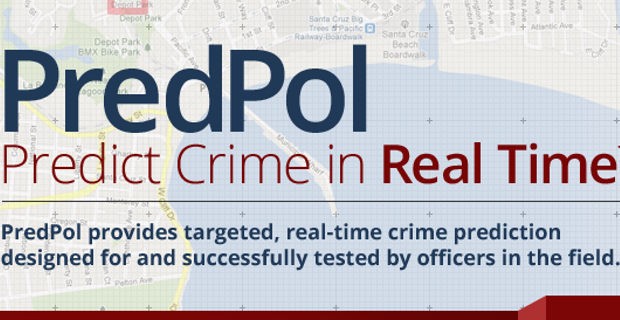 But Twitter did not reinstate BondGraham's user account until
Geoffrey King
, a lawyer and UC Berkeley lecturer who is the internet advocacy coordinator for the
Committee to Protect Journalists
(CPJ), convinced the company
to do so
. "This should not have happened," King said of Twitter's original decision to suspend a journalist's user account.
BondGraham has been following the actions of PredPol for some time. Some civil libertarians have expressed concerns that the company's software technology, which claims to predict when and where crimes will occur, leads to racial profiling. As part of his reporting on PredPol, BondGraham requested public records from the City of Modesto on its interactions with the company. After Modesto sent him the public records, BondGraham posted them on Twitter.
But then PredPol employee Lovell sent a tweet to BondGraham, claiming that her personal phone number was in the public records he posted on Twitter and demanding that he redact the number. But BondGraham responded that it was not his "responsibility to redact public records." In an interaction with another Twitter user, Lovell said that the phone number in the records was actually for her office phone, but that she has her office phone ring to her personal cellphone. (I called the number at about 6:30 p.m. on Thursday, and it did not go to Lovell's cellphone. It was PredPol's main phone line — a number that is readily available on the internet).
Pando Daily
published a screenshot
of the Twitter interaction: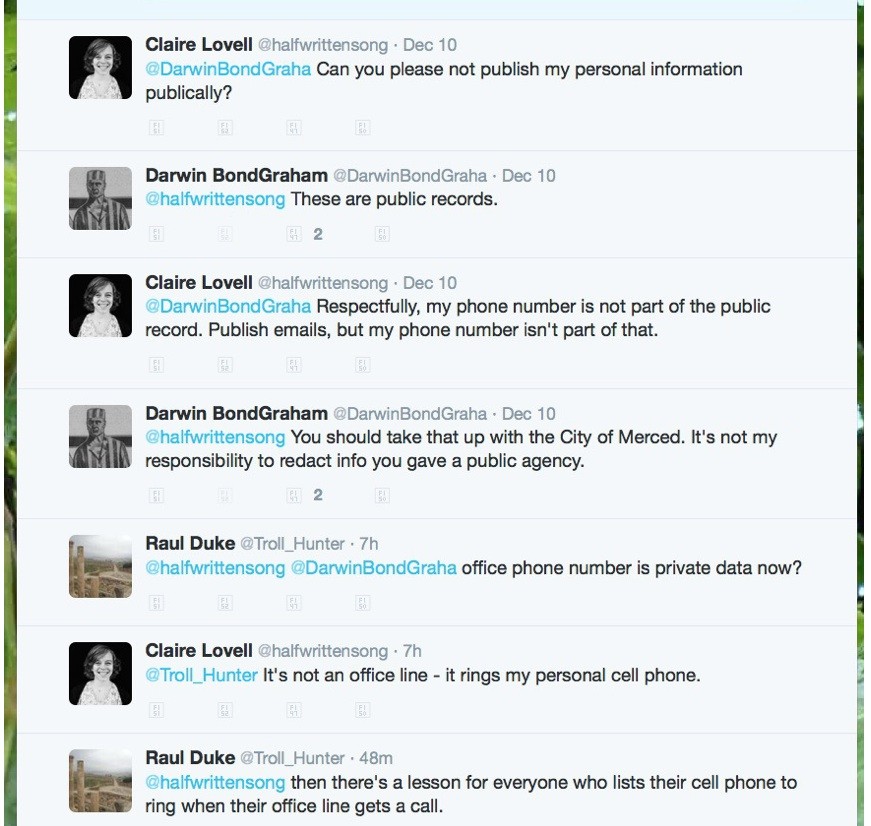 BondGraham also pointed out that Twitter was being hypocritical because the company had filed lawsuits to protect its First Amendment rights but now was censoring a journalist for posting public records on Twitter.
After BondGraham told me that Twitter had suspended his account, I launched a campaign on Twitter to get his account reinstated. In addition, dozens of other Bay Area journalists and Twitter users reposted the PredPol documents that had gotten BondGraham's account suspended. I also contacted representatives of Twitter, but they never responded.
It's unclear when Twitter instituted its policy of suspending a user's account based on an unsubstantiated claim from another user that "private" information had been tweeted. Social media companies have recently come under fire in the
GamerGate controversy
, in which some female journalists have been severely harassed after their private information was spread on the internet. However, it appears that Twitter has overreacted to that criticism and is enforcing a system in which any journalist who posts public documents could have his or her account suspended because of an unsubstantiated allegation made by someone named in those documents.
King, whose organization, CPJ, works with social media companies and nations to protect journalistic freedom, said social media companies are grappling with how to balance free speech and freedom of the press with the invasion of privacy. And King, who also is co-chair of the Society of Professional Journalists (SPJ), Northern California Chapter Freedom of Information Committee, said he could foresee an instance in which a person's "deeply private information was included in a public record" and that it would be inappropriate to publish that information on the internet.
"But this was not one of those cases."
Note: Earlier this week, Geoffrey King also came to the rescue of another
Express
contributor, Ali Winston, who was detained by Berkeley police, along with five other journalists, during an anti-police-brutality demonstration. King, in his role with SPJ, convinced police officers to release the journalists they had detained, including Winston. We owe Mr. King a debt of gratitude.