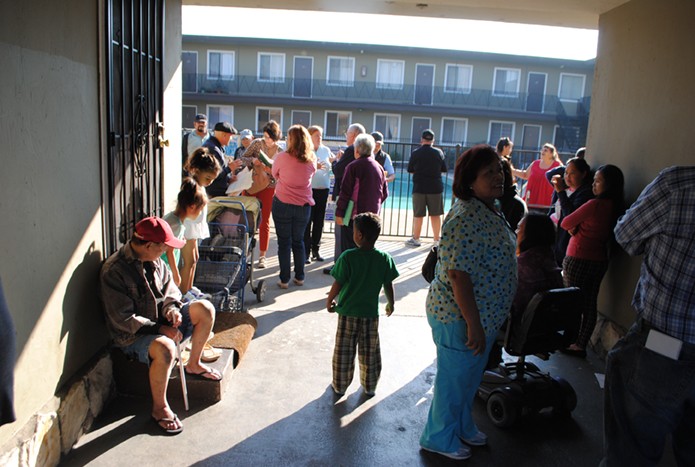 The Alameda landlord who has become the face for greater rent control restriction after he issued notices of eviction to 33 families in the Bay View Apartments last month, sent an inflammatory letter to city leaders strongly opposing regulations that support tenants' rights. Matt Sridhar, the CEO of San Jose-based Sridhar Equities, LLC, also slammed a proposal to establish rent control in Alameda, and criticized Oakland for its rent control regulations.
In a three-page email sent to the mayor and city council just hours before a 65-day moratorium on rents and eviction was approved on November 4, Sridhar the new landlord at the Bay View Apartments, commonly referred to by its address, 470 Central (Avenue), said he would sell the property if rent control is enacted in Alameda.
Sridhar accused Alameda city leaders of caving to political pressure being applied by many tenants fearful of steeply rising rents and mass evictions in the city. "I am surprised and disappointed that Alameda would entertain this politically-motivated and reactionary agenda that simply interferes with free market enterprise and creates substantial government bureaucracy." In boldface type, he continued, "I will tell you with certainty that if you pass rent control, I will SELL my property in Alameda and move on to improve another town."
In an interview, Sridhar said he does not regret sending the letter, which was obtained through a public records request. "This is what you call a storm in a tea kettle," he said. "I don't regret it. People are free to speak the truth." The entire situation with the mass evictions at the Bay View Apartments, he added, "is counterproductive for the town and personally a waste of my time."
[jump] Sridhar, who said he built his equity firm from little, voiced strong criticism of Alameda's elected officials and their handling of the moratorium last month and the revisions they approved on December 1. "The council is totally incompetent," he told me. "They chose to change the moratorium because they don't know what they're doing. They have three lawyers [on the council] and a two-page moratorium. They didn't know what was in it?"
Sridhar moved to evict all the tenants at 470 Central just days after the council enacted a moratorium on evictions in the city. Sridhar took advantage of a loophole in the moratorium that allowed evictions of landlords plan to do major capital improvements on the building. Earlier this week, the council voted to close that loophole.
When I asked about a well-read opinion piece by Don Lindsey, an influential landlord's advocate in Alameda, that charged Sridhar with "acting out of panic" by quickly issuing the mass evictions last month, Sridhar lashed back. "He's small-time. I don't care about what he thinks."
Sridhar wrote in his letter to the council that he plans a complete large-scale renovation of the Bay View Apartments. "Every project we do improves the lives and quality of our residents." He later told me the building currently loses up to $30,000 a month and is unsafe. "470 Central is not the American Dream," said Sridhar. "It needs to be renovated. … Alameda is very unappreciative."
In the letter, Sridhar boasts of his altruism, writing that he once footed the bill for an uninsured tenant's kidney dialysis. In the interview, Sridhar said he also helped a former tenant pay for college and often wrote them college recommendations. "I'm not the villain here," he told me.
Sridhar also alleged in our interview that attorneys from a nonprofit tenants group called Tenants Together are using the renters at 470 Central as political pawns in order to push for rent control in Alameda. "Nothing would benefit them more than to have tenants on the streets," he said. "We're the only one helping the tenants."
Last week, one renter at 470 Central said he and his neighbors would not leave after the 60-day eviction notice expires in mid January. Sridhar told me, "It's not realistic that they will be there for an indefinite time. At some point an attorney working for a nonprofit might give me some problems, but we're a company that paid $6 million for a building and are planning $2 million in renovations. We have money to litigate."
Catherin Pauling, a spokesperson for the Alameda Renters Coalition, said Sridhar is resorting to scare tactics. "This is exactly what his company did while trying to circumvent the moratorium and kick families out of their homes over the holidays. He couldn't bully the Bay View residents, so now he's trying to bully our city council."
Much of Sridhar's letter to the council read like a manifesto in opposition to rent control. He also alleged that nonprofits will use rent control restrictions to game the courts and "encourage tenants to demand jury trials for every simple eviction case…and then 'shake down' landlords for $10,000–$15,000 to move out." Sridhar wrote he has been engaged regularly in such cases. "While this is something I can afford to fight and do so regularly, what will the 'mom and pop' and retired owners do?"
He also asserted in his letter that rent control in Oakland is squeezing small-time landlords. "The City of Oakland is too stupid to realize who they are hurting," he wrote. Sridhar also pointed to San Leandro, which has no rent control restrictions as example of what Alameda should follow, rather than Oakland, which does have rent control. "I suggest you simply take a short drive from San Leandro into Oakland," he wrote. "You will see property dilapidation and the effects of rent control. Is this what you want for our city? I don't think people understand the nonsense that comes with this type of regulation."