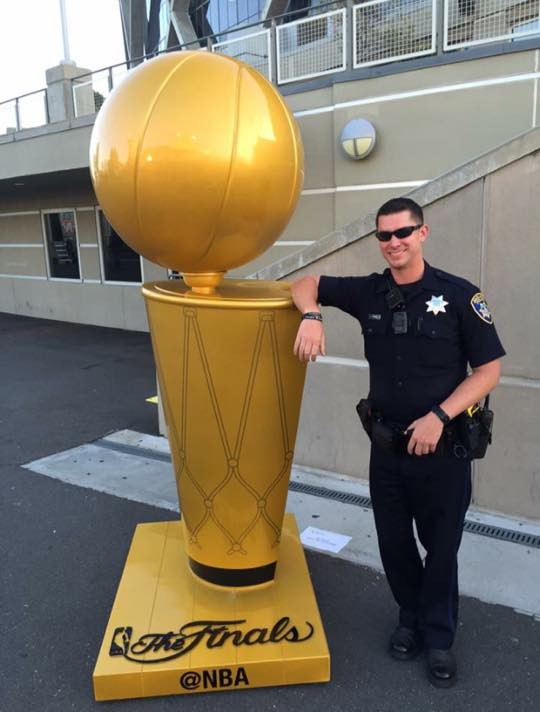 Alameda County District Attorney Nancy O'Malley concluded last week that an Oakland police officer's suicide in 2015, and his wife's suspicious death the previous year, were both thoroughly investigated by the Oakland Police Department. The DA's report, conducted after Oakland Mayor Libby Schaaf requested both cases be reviewed, bolsters OPD's contention that the wife's death was a suicide, not a homicide, as believed by the woman's family and others.
See also:
Oakland Police Underage Sex Scandal Involves Cop Who Possibly Killed His Wife
[jump] Officer Brendan O'Brien killed himself on September 25 last year. He left a two-page, typed suicide note that addressed allegations he raped an underage girl. His death sparked an investigation by OPD internal affairs that uncovered
a sprawling sex-crime scandal in the department — one that eventually toppled OPD Chief Sean Whent and Whent's two successors
.
As the
Express
previously reported, O'Brien and several other officers had sexually trafficked a 17 year-old girl, the daughter of an OPD dispatcher who uses the alias Celeste Guap. Other officers in the department had knowledge of the misconduct, but even after O'Brien killed himself, Guap continued to meet multiple OPD officers for sex. Some officers provided Guap with confidential law-enforcement information.
In the DA's review of O'Brien's death, the sex crime scandal is only mentioned once: a single sentence explaining that OPD Sergeant Jason Andersen and Sergeant Brad Baker, who were assigned to investigate the circumstances surrounding O'Brien's death, "interviewed an 18-year-old woman, Jane Doe, on September 30," five days after O'Brien took his own life.
Most of the DA's report deals with suspicions that O'Brien killed his wife, Irma Huerta-Lopez. Oakland Mayor Schaaf requested the DA review the Huerta-Lopez case
after the Express published a story on May 12 that raised questions about her death.
According to the DA's review, on June 16, 2014, O'Brien and his neighbor Rozalynn Johnson-Spearman (who also works for OPD) called the Oakland police to report that Huerta-Lopez had shot herself in the head. They found Huerta-Lopez laying on her back on the bed with a gunshot wound to the head. The gun had been shot twice. There was a bullet hole in the wall.
OPD homicide detectives treated Huerta-Lopez's death as a possible homicide from the start. O'Brien signed a written form permitting them to search his apartment, car, and his cell phone. O'Brien also allowed detectives to take blood samples and have a gunshot residue test performed on his hands. OPD crime scene technicians took more than one-thousand photos of O'Brien's apartment where Huerta-Lopez's body lay.
In a two-page information sheet released on May 13 of this year, the Oakland police wrote that both O'Brien and his wife's hands tested positive for gunshot residue, meaning both had recently fired a gun. OPD noted that there was more DNA on the gun from Huerta-Lopez than from O'Brien, although it was his firearm.
O'Brien told responding officers and detectives that he had an argument with Huerta-Lopez. He left her home alone shortly after 9 p.m. and drove to the Shell gas station at Mountain Boulevard and 98th Avenue to purchase a pack of cigarettes. When he returned home, he found his wife dead. He had a receipt from the store dated June 16, time stamped 9:45 p.m., approximately the time investigators believe Huerta-Lopez was shot.
Over the next several days, OPD officers canvassed homes and businesses along Mountain Boulevard in search of video surveillance footage that would corroborate O'Brien's story. According to the DA's report, surveillance footage from the Shell station was time stamped incorrectly so that it made O'Brien appear as though he purchased the cigarettes one hour and two minutes earlier than he claimed.
OPD officers were unable to obtain other surveillance footage from multiple businesses along Mountain Boulevard and Keller Avenue that could have been used to verify O'Brien's alibi, according to the DA.
At 5:19 a.m., the morning after Huerta-Lopez was found dead, O'Brien was interviewed by OPD detectives Caear Basa and Mike Gantt. Two DA inspectors, Tom Milner and Deputy DA Matthew Beltramo were also present for the interview, according to the DA's report.
But in response to a Public Records Act request, the DA's office told the
Express
that Milner and Beltramo wrote no reports, and that the DA has no documentation of the two inspector's attendance of the interview with O'Brien.
According to the DA's review, "O'Brien was told he was free to leave and was not advised of Miranda rights." Basa and Gantt also "employed interrogation tactics, including the use of a 'ruse' in order to try to obtain information from Officer O'Brien."
OPD investigators also interviewed Huerta-Lopez's family members, according to the DA's report. Also, two of Huerta-Lopez's co-workers were interviewed by OPD investigators as possible witnesses.
In a previous interview with the
Express
, the sister of Huerta-Lopez, Paulina Huerta, said that Huerta-Lopez called a co-worker the night she died, and that she reportedly sounded panicked and was hardly able to speak over the phone.
Gantt, one of the primary investigators of Huerta-Lopez's death, was recently investigated for misconduct because he allowed a girlfriend to handle recordings of homicide investigation interviews. The woman transcribed some of the interviews for Gantt.
Weighing all the evidence, the DA's report concludes that OPD made the "reasonable and appropriate" determination that Huerta-Lopez's death was a suicide.
In a letter to Schaaf, Assistant Police Chief David Downing, and City Administrator Sabrina Landreth, O'Malley wrote: "After an exhaustive review of the investigation, it is our opinion that both deaths were investigated professionally and thoroughly, ultimately reaching the reasonable and appropriate determination to classify each death a suicide."