The Alameda County Planning Commission heard a proposal to ban "high intensity oil and gas operations" — which would include hydraulic fracturing, or so-called "fracking" methods — at its April 3 meeting, but hours before the meeting began, the commission received a letter from the oil company E&B Natural Resources stating that the ordinance, as written, would interfere with their current operations, and suggesting "edits" to fix the problem. The commission therefore took no action, tabling the proposal until May 2.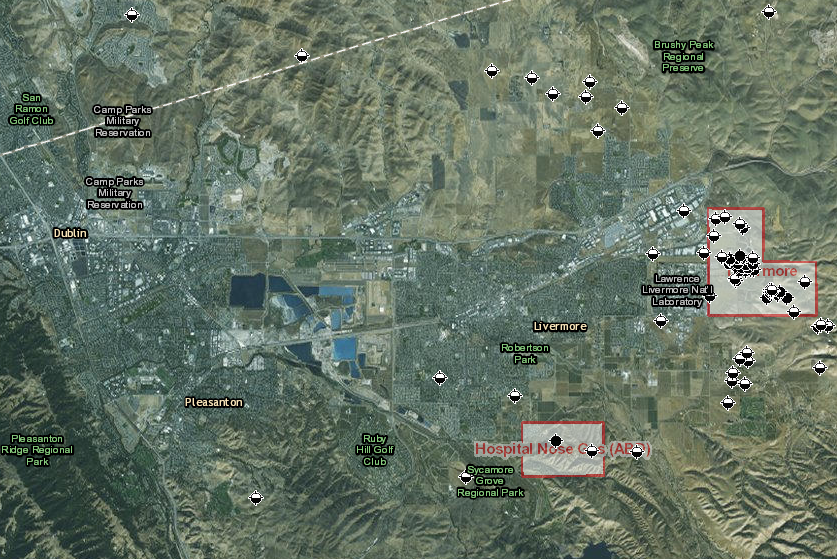 [jump] E&B Natural Resources operates Alameda County's six oil wells, the only oil or gas extraction wells in the county. Its April 4 letter claimed that the draft ordinance, as written "would inadvertently prohibit both traditional and routine activities in our operation, even though they have nothing to do with fracking. The resulting unintended consequences could result in poorly functioning and deteriorating equipment and a 500% increase in heavy truck traffic, with related negative impacts on air quality, Highway 580 traffic and local road conditions, to haul wastewater to a yet unidentified disposal site." The letter said its proposed edits "would allow us to continue our operations but not alter a fracking prohibition. "
Members of Alameda County Against Fracking, who have been working on the proposed fracking ban for almost two years, were outraged at the last-minute letter sent by E&B Natural Resources. During the planning commission meeting they told county officials that the public needs time to study and respond to E&B's letter and proposed amendments, and that the commission also needed to do its due diligence.
The county has delayed taking action to regulate fracking for over a year now. At its February 17, 2015, meeting, the planning commission decided not to take action on the proposed fracking ban because just the day before it had received a long and detailed letter from E&B Natural Resources filled with concerns. The commissioners then postponed action because they felt they needed time to study that letter.
Supervisor Scott Haggerty, whose district includes the only producing oil wells in the county, first introduced the idea of a fracking ban after talking with environmental groups including the Sierra Club, and the Center for Biological Diversity.  
Fracking would be a disaster for Alameda County, said Sierra Club volunteer Rebecca Franke. "Alameda is the fastest growing county in California," she said, adding that much of that growth is taking place in the Tri-Valley area in the eastern part of the county where oil extraction operations could conceivably expand using fracking methods. "There's a lot of agricultural production — vineyards, fruit and nut farms and cattle ranching — worth more $46 million in 2014. We believe oil production as a whole is incompatible with agriculture," said Franke.  
The first draft of the ordinance introduced in 2015 would have banned all new oil and gas extraction in the county. Later the measure was revised to ban only "high-intensity oil and gas operations" including fracking and various kinds of "well stimulation" methods involving the injection of water, acid, and other chemicals. The current draft of the ordinance also bans oil and gas wastewater storage in pits.  
A February 2015 letter from Californians for Energy Independence, an oil and gas industry lobbying group, objected to original version of the proposed fracking ban on the grounds that technically, there's no fracking going on in the county. But the group added that such a ban would violate the "takings" legal principle, which holds that excessive regulation, to the point where the owner can't economically benefit from the property, amounts to illegally taking the property. They warned that this measure could open the county up to an expensive lawsuit.
Franke, a volunteer with the Sierra Club, acknowledged that fracking isn't a problem in Alameda County now, but she said that there's a potential for the industry to expand its operations here.  
"At one time, Alameda County was a prime oil producer," Franke said, and oil could make a comeback in the county if the industry figures out how to extract oil from the Monterey Shale, part of which may lie under eastern Alameda County. "We want to foreclose all possibility of that, to prevent Alameda County from ever having to play host to these toxic chemicals," she said.
Franke also had a political reason for pushing the Alameda ban. "Since Governor Brown refuses to push a statewide ban, the only option is to do it county by county. San Benito County has done it. We want to reinforce what they did. The next big fight is the Monterey County petition drive for ballot measure [banning fracking] in the November election."