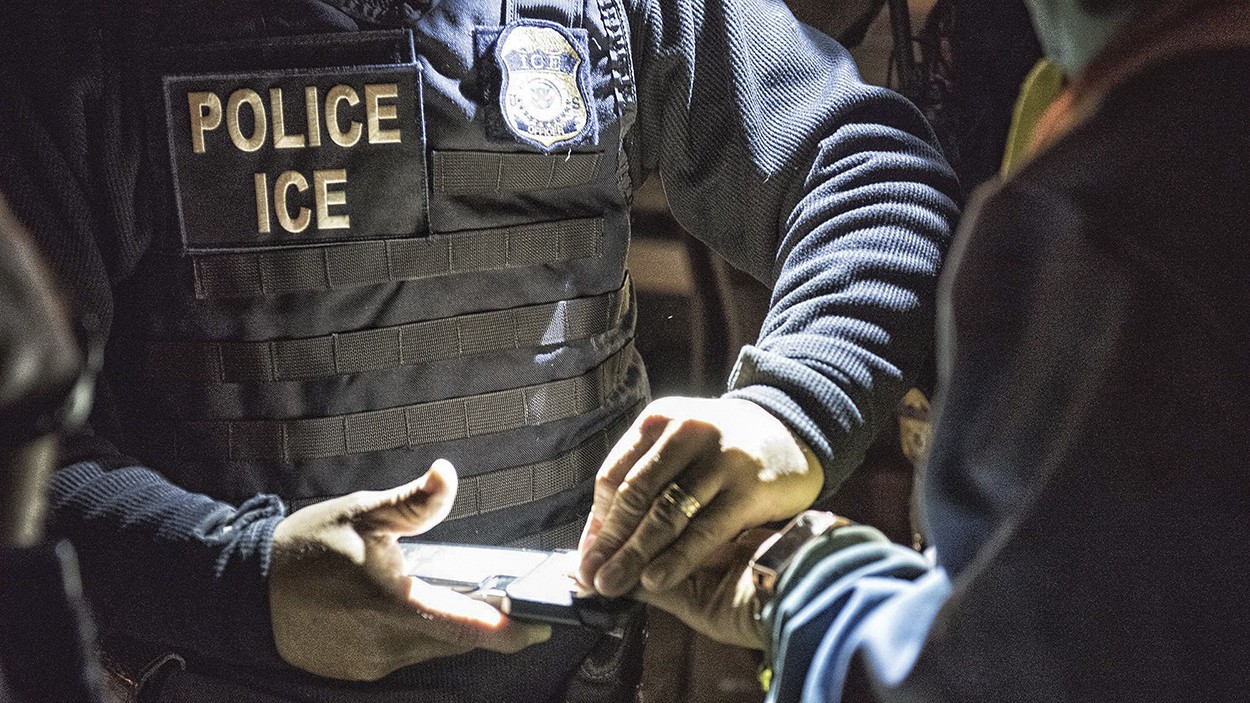 At least 43 times last year, Federal Immigration and Customs Enforcement agents and Alameda County probation officers shared information about people under the probation department's supervision.
According to county records, probation officers initiated contact with ICE roughly half of those times in an effort to find out if a probationer had previously been arrested or deported by federal authorities. But in some cases, the probation officers inquired about the immigration or citizenship status of someone under their supervision.
And in the 22 instances in which ICE first contacted county probation officers, agents requested an array of records, including people's last-known home addresses, jail booking photos, probation and court records, and other sensitive information that could have been used to track down, arrest, and deport people.
Probation officers appear to have handed over some of the information to ICE.
It's unclear if any of this information sharing — which was disclosed in response to a Public Records Act request — violated state or local policies. In some cases, contact between local probation officers and federal immigration agents may even have been legally required due to drug laws that were only repealed this past January.
But immigration advocates say the number and types of communications raise questions about local law enforcement's ongoing collaboration with ICE in one of California's staunchest sanctuary jurisdictions.
"I think we need a greater level of transparency and accountability to make sure our local government isn't aiding and abetting Trump's deportation machine," said Jon Rodney of the California Immigrant Policy Center, who reviewed the probation department records.
The apparent routine cooperation of Alameda County probation officers with ICE is partly due to the use of a department immigration policy that hasn't been updated since 2007 — years before immigrant rights groups succeeded in passing sanctuary laws meant to limit local law enforcement's cooperation with federal immigration authorities.
The 2007 policy requires probation officers to contact ICE whenever they have "probable cause to believe that any felon is not a United States citizen," even if the person is a legal resident and hasn't violated any immigration laws because, "depending on the nature of the crime, aliens in the United States may be deportable."
[embed-1]
Under the 2007 policy, probation officers were also required to contact ICE if they suspect that any person under their supervision for a misdemeanor conviction is undocumented.
Probation officers were furthermore required to investigate a person's immigration status and turn this information over to ICE, and work in other ways with federal authorities to deport all non-citizens convicted of felonies. The overall goal of the policy is to seek deportation of all undocumented people, regardless of how serious their criminal record is.
This policy was in use until July of last year, despite passage of state and local laws between 2014 and 2017 intended to put an end to local law enforcement investigations of a person's citizenship status, and to reduce overall cooperation with ICE regarding enforcement of civil immigration laws.
The first major law of these sorts was the California Trust Act, passed in 2014. It did away with ICE "holds" — any effort by a local law enforcement officer to detain a person solely so ICE agents can apprehend them.
The 2007 probation department policy that was in use until last summer did not bar probation officers from complying with ICE holds, which are mentioned as one possible way probation officers can assist federal authorities. There are, however, no documented cases of probation officers holding anyone for ICE, or assisting another agency in placing an ICE hold on someone, since passage of the Trust Act.
In 2016, the Alameda County Board of Supervisors approved its "sanctuary" law, which expressed opposition to "the entanglement of County law enforcement departments, agencies, offices, officers, and employees with the enforcement of civil federal immigration laws." The supervisors' resolution is one of the strongest in terms of how it limits state and local officials from communicating with ICE. It specifically prohibited county employees from making any type of inquiry into a person's immigration status or national origin, and expressed opposition to any county employee initiating contact with ICE for any reason.
This county-level policy had little effect on the probation department, however. According to probation department records, some of the contacts with ICE that were initiated by probation officers in 2017 appear to have been efforts to find a probationer who may not have checked in for a scheduled appointment and might have been in ICE custody. Some probation-initiated contacts were seeking information about a person's immigration status. Details about each case of information sharing are lacking, however.
In some instances, probation officers might have been required by state drug laws to report certain people's information to ICE. These laws were only repealed on January 1 of this year by SB 54, also known at the California Values Act, which, except in a limited number of circumstances, prohibits state and local officials from communicating with ICE.
Alameda County's Chief Probation Officer Wendy Still said in an interview that she hasn't closely examined all 43 documented instances of information sharing to determine whether there were any violations of state and local policy.
The communications between her officers and ICE were documented upon her request — meaning the reporting was voluntary and may not account for all instances of information sharing. She added that she gave an assurance to probation officers that they wouldn't be disciplined if they disclosed a contact that amounted to a policy violation.
"If they made a mistake it's OK," said Still, "but we want to know accurately what happened."
Still said she effectively suspended the department's 2007 policy in July 2017 by informing officers they no longer needed to investigate a person's immigration status. A month later, her department also updated templates used to produce sentencing reports and other paperwork so that the documents — which ICE can access — no longer include information about a person's immigration status or citizenship.
Then on April 4 of this year, Still issued a directive to probation staff via a video message clarifying that a policy update is underway, and until then, officers should not investigate a person's immigration status or include it in court documents, nor provide information to ICE.
But the department is currently without a new, final written immigration policy that reflects the changes in law implemented by SB 54, the Trust Act, and the county supervisor's sanctuary policy.
The rapid and frequent changes in state and local policies pertaining to law enforcement's relationship to federal immigration authorities has been challenging to keep up with, said Still. A draft of the new immigration policy is being haggled over in a meet-and-confer process with the unions that represent probation officers.
Alameda County Supervisor Wilma Chan said in an interview that she had heard about the department's recent contacts with ICE, despite the county sanctuary resolution and changes in state law. But Chan said she doesn't have much information about the extent and nature of these communications.
"Part of the problem is that Chief Still has only been here two years," said Chan. "The former probation chief, I don't know what she did," Chan said, referring to the department's lack of action to update its immigration policies under Ladonna Harris, who ran the department between 2012 and 2016. "In discussing it with the current chief, she's very clear her staff is not to cooperate with ICE."
Still said that among the department's 400 written policies, most haven't been updated "in decades," and that nearly all of them are currently under revision.
In a county with an immigrant population nearly one-third of the total, some think the updates to the probation departments policies regarding contacts with ICE should have been a greater priority. "Why was a major county department using a ten-year-old policy during this time with the federal administration is doubling down on a hate-filled agenda," said Rodney of the California Immigrant Policy Center.
Still said if it were up to her, the probation department would already have a new immigration policy in place. "I'm ready to issue it this moment, but it's dependent on the collective bargaining process."