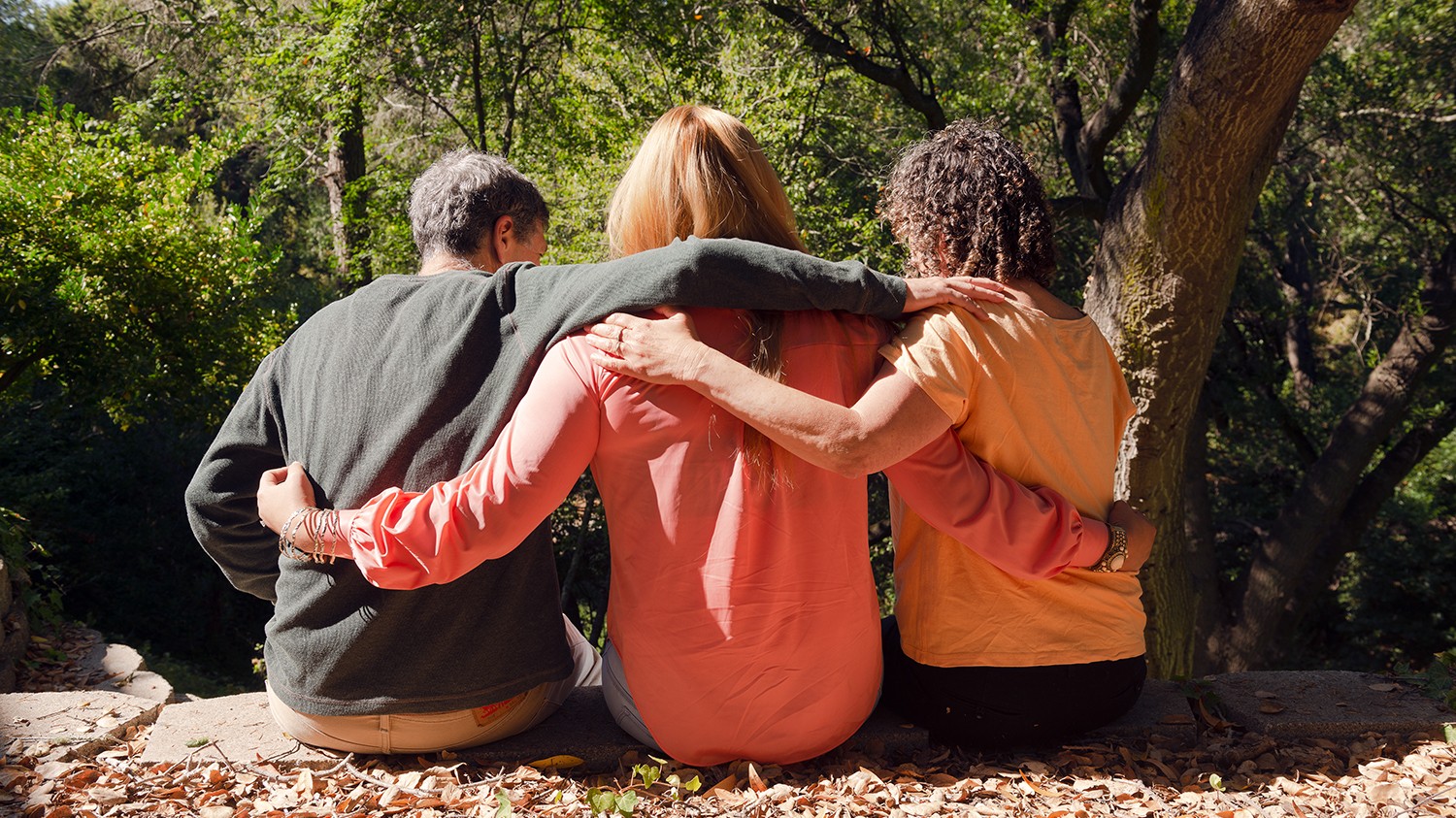 On a Sunday night in Richmond, Esther Ehrlich and Neal Davis are spending the evening with family. Pictures and portraits adorn the walls in the living room where their son, Riley, a senior in high school, creeps in and swipes a handful of popcorn off the coffee table. Laughing with his parents, he shares a mischievous and affectionate smile with the young woman sitting next to his stepmother on the couch.
It's a family moment, just like any other. Yet "Jade," a 25-year-old transwoman from Mexico who asked to use a pseudonym due to her status as an asylum-seeker, is a more recent addition, despite every indication otherwise.
After a long and chaotic bureaucratic process that left them, at times, holding their breath, Ehrlich and Davis became Jade's host family. "The part we couldn't have anticipated," Ehrlich says as she looks warmly at Jade, "was the love."
A little over a year ago, Jade arrived at a U.S. border checkpoint in Nogales, Ariz., with 15 other transgender and gay migrants seeking asylum. They formed what they called the "Trans Gay Migrant Caravan," fleeing discrimination, abuse, and violence that LGBTQIA+ individuals often face in Latin America.
The caravan, an initiative supported by more than a dozen immigrants' rights groups and advocates, originated in Central America, but Jade and a friend, another transgender woman, joined up with the group in Saltillo, the capital of Coahuila, a state in northeastern Mexico. It had already been a long and difficult journey for them.
Jade was 17 years old when she was thrown out of her home by her family, who refused to accept the fact that she identifies as a woman. She said she bounced around for almost seven years until, bearing the scars of an abusive ex-partner, she left her home in the southern region of Mexico in search of a better life.
It would not come easy, though. Jade and her friend moved to Mexico City looking for work, but there was none to be found. Employers often discriminate against transgender individuals, which leads many to sex work, she said. During their time there, they were also physically attacked.
So, they moved on. Eventually, they crossed paths with the caravan in July 2017, and decided to join them on their journey north.
Roughly a month later, members of the caravan found themselves in a safe house in Nogales, Sonora, right across the border from Arizona. Through a coordinated effort with attorneys and immigrants' rights groups, Jade would stay with a host family while applying for asylum.
Ehrlich and Davis hadn't had much time to think about whether or not they would open up their home to an asylum-seeker. Shortly before, they had received an email from one of the immigration committee chairs at Kehilla Community Synagogue, asking for volunteer host families. They had 48 hours to decide.
There were several factors that played into their decision: their daughter had just left for college, so a room in their house was open; they had also begun attending demonstrations in response to the Trump administration's policies, but wanted to do more.
What followed was a flurry of forms and paperwork that had to be sent to officials at Immigration and Customs Enforcement.
For Ehrlich, an author, part of the decision to become a host family stemmed from being Jewish and belonging to a group of people that has been historically oppressed and marginalized.
Davis, a video producer specializing in working with educational and nonprofit organizations, said the decision stemmed from a desire to use the resources they had in the current political climate. "The election activated us," he said. "I think for me it's more from a sense of place and privilege. We live a much safer life and have a responsibility."
Most of the other members of the caravan, 11 of whom are transgender women, were paired with religious groups and other organizations. Ehrlich and Davis were one of the few families to host the asylum seekers. But getting to that point wasn't easy.
After spending a day and a half in a detention center in Arizona, the caravan was transferred to the Cibola County Correctional Center in New Mexico. The journey was difficult, Jade said. They were chained in the bus with minimal food, and the air conditioning unit made it uncomfortably cold. After stopping in Phoenix for a night, the bus got lost and didn't arrive in Cibola until late in the evening.
The Cibola Detention Center, formerly a prison that lost its contract with the county due to human rights violations in 2016, is the only facility in the country that has a specific wing for transgender women held by ICE, also known as the Cibola trans pod. The facility also houses the most number of asylum seekers in the county, according to the New Mexico Immigrant Law Center.
Earlier this year, a 33-year-old transgender woman from Honduras died in the Cibola trans pod after complications from pneumonia, according to a press release from the Transgender Law Center, a national transgender rights' organization.
Jade spent a little more than a month at Cibola, during which time most of the gay men who had been a part of the caravan self-deported due to the conditions of their detention. She said the female guards treated her decently, but the food was terrible and the showers were too hot. She also said that the women were only allowed outside for one hour a day.
Then, as members of the caravan were starting to be released to their host organizations, tragedy struck Davis and Ehrlich's family: Davis' mom, who was living on the East Coast, passed away.
Contingency plans were made, but as Davis and Ehrlich were getting ready to board their flight to New York, they got a call from an ICE agent informing them that Jade was about to be released and placed on a bus to Oakland.
They spoke with Jade's lawyer and got the ICE agent to agree to delay her release for a few days. Ehrlich came back early and, after a 32-hour bus ride from New Mexico, Jade arrived in Oakland. It was Saturday, Sept. 16, the day before her 25th birthday.
Jade was nervous about what was ahead. After a lifetime of discrimination, arriving in a new place with only one small bag of clothes and no way to communicate did not ease her fears. She was trembling and overwhelmed.
"I was scared," Jade said. "If this could happen in my home, my state, my country, I felt it could happen anywhere."
Ehrlich and Davis did what they could to make Jade feel welcome and accepted: They helped her find English classes, health care, and support groups. It's been an ongoing process, they said, but over time, she's adjusted. Yet the process hasn't been without its bumps.
Around Christmas, Jade received word that her cousin, who was living in Mexico and was one of the only people who she said truly accepted her, died. Due to Jade's status as an asylum seeker, she could not return to her home county for the funeral and fell into a state of depression.
It was a period of great strain on the family. Jade had a difficult time functioning, Ehrlich said, and they didn't know how best to respond. But eventually, with support, love, and time, things got better.
"We talk about how we assume we'll know her for the rest of our lives," said Ehrlich, who Jade warmly calls "mi madrina," or "my godmother." She hasn't gotten her working papers yet, so Ehrlich and Davis support her financially, with help from the Kehilla Community Synagogue. Jade grumbles about it, she said, but they joke that when they're old "she'll be taking care of us."
Jade's first asylum hearing is coming up in a few months, a little over a year after first arriving at the border. Ehrlich said she's concerned about the status of Jade's asylum case, considering the fact that Attorney General Jeff Sessions rolled back the legal precedents that allowed asylum seekers to apply on the grounds of fleeing domestic and gang violence.
But Jade is hopeful that she'll be granted asylum.
Meanwhile, she's still adjusting to her new life in the Bay Area. She's made friends and has a boyfriend now, but is waiting on her work permit. She hopes to learn how to be a barista.
Jade's life is ahead of her, but she'll always have Ehrlich and Davis.
"They are not my blood family," she said. "They are my family of love."