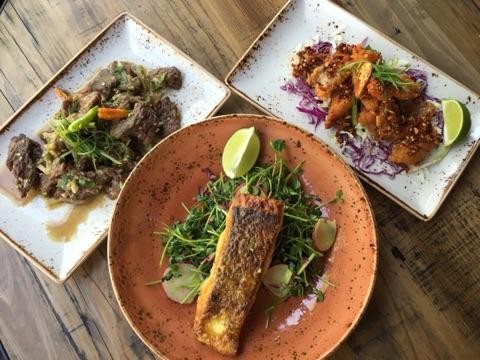 Tiyo Shibabaw got her start in the food biz back in 2007, when she helped Burma Superstar, the insanely popular Burmese restaurant in San Francisco's Richmond district, expand its tea leaf salad empire to the East Bay — first to Alameda and then, later, to Oakland. For about ten years, she worked as a manager at those two restaurants, running the front of the house and even helping to create some new dishes.
[jump] The thing that's somewhat unusual? Shibabaw isn't Burmese. And, in fact, she hadn't had any experience with the cuisine prior to her Burma Superstar stint. She's Ethiopian — and lived in Ethiopia until she was seventeen.
"It took a while to get used to fish sauce and shrimp paste," Shibabaw said.
Suffice it to say that she learned her way around a Burmese kitchen. And now, Shibabaw is taking those skills and branching out to open her own place:
Teni East Kitchen
— a Southeast Asian eatery with an Ethiopian name. (It's named after Shibabaw's mother, whose nickname is "Teni.") Located in a former sushi spot at 4015 Broadway, next door to Clove and Hoof in Oakland's booming 40th Street Corridor, the restaurant has been softly open for a little more than a week now. It will have its grand opening on Wednesday, June 1.
Shibabaw explained that the restaurant is born out of her last ten years of experience working closely with the Burma Superstar kitchen staff, which included a large number of Burmese and Malaysian refugees. Teni East Kitchen isn't a Burmese restaurant per se, but instead focuses more broadly on the herbs and spices of Southeast Asia — the turmeric, lemongrass, kaffir lime, and
balachaung
(a Burmese dried-shrimp chili sauce). In addition to a wide array of Burmese dishes, Teni East Kitchen will also serve some Malaysian-inspired dishes and even some Indian curries.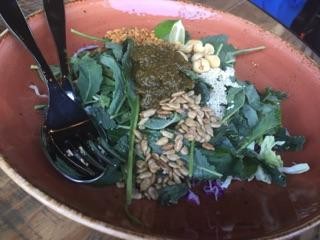 Perhaps taking a page out of Burma Superstar's playbook, Shibabaw said she has taken traditional Southeast Asian recipes and adapted them to suit American palates — and to take advantage of the produce that's available in Northern California. So, the menu includes samosas filled with sweet potato instead of regular potatoes, and curries that are lighter on spice than is traditional.
As for the most well known Burmese dish, Shibabaw's tea leaf salad features kale — the most Californian of the leafy greens — instead of the cabbage or lettuce used by most Bay Area Burmese spots. While it may not be "authentic," Shibabaw claims the kale actually makes the funky flavor of the fermented tea leaves stand out even more.
During its soft-opening period, Teni East Kitchen is open Wed.–Mon., noon–2:30 p.m. for lunch and 6–8:45 p.m. for dinner.