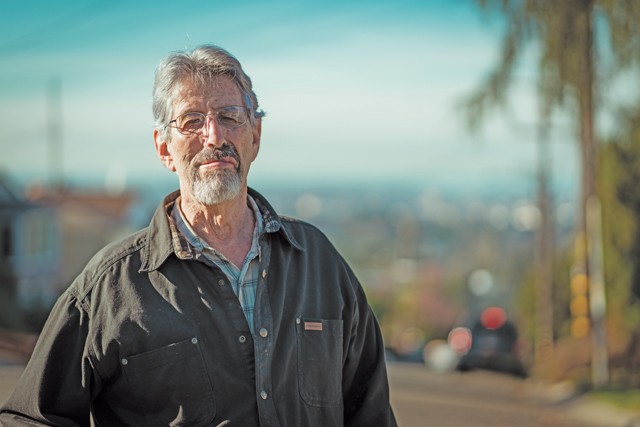 When Local Clean Energy Alliance coordinator Al Weinrub says power to the people, he means power, not just electricity.
For the last decade, Weinrub, a dyed-in-the-wool anti-imperialist from the '60s, has played an important role as a community advocate in pushing Alameda County to create a new public agency that will next year replace PG&E selling electricity to local residents, largely in an effort to increase the use of renewable resources.
In so doing, Alameda County's new East Bay Community Energy agency, or EBCE, will end PG&E's local electricity monopoly. The county is joining a trend that is transforming the electricity industry across the state and nation in which communities are combining their citizens' purchasing power to buy green electricity and compete with investor-owned utilities.
Just cleaning up the East Bay's energy supply, however, is not good enough for Weinrub. He and other activists operating out of a small downtown Oakland office have doggedly tried to ensure that Alameda County uses this moment to plan for building and owning more local clean energy facilities to generate good local jobs.
"To me and the Local Clean Energy Alliance, this is all about social justice," said Weinrub, an unassuming, Harvard-trained nuclear physicist.
Nicholas Chaset, who became East Bay Community Energy's CEO in August, is targeting a start date in June. Nearly all customers in the county now served by PG&E will automatically be enrolled-except for residents of Pleasanton and Newark, which have not yet joined EBCE-with the chance to opt out if they want to continue to buy electricity from PG&E.
Regardless of who produces the electricity, utilities like PG&E will continue making money delivering electricity to customers through their transmission and distribution systems. Utilities also will continue to provide meter reading and maintenance services.
Weinrub joined the Local Clean Energy Alliance in 2009 after he was laid off by Sun Microsystems. For 20 years, he had been a technical writer for software corporations and an officer of the National Writers Union, and he wanted to throw himself into activism. He and his wife live in Oakland and have a 29-year-old son.
Taking community control of electricity, it turned out, brought together key strands of Weinrub's life. Radicalized by the Vietnam War as a young man, Weinrub had turned away from nuclear physics and helped launch a group called Science for the People in an effort, he said, to combat the concentration of money and power in the "ruling classes."
Community energy aggregation, he believed, offered a vehicle for delivering environmental and social benefits while also transforming the world's corrupt economic underpinnings. "Capitalism has been a failure in terms of meeting the needs of the world's population, even though it is meeting the needs of a very small group of people. The reality is the world is on brink of disaster because capitalism has run amok," Weinrub said.
Weinrub lays out his thesis in an essay called "Democratizing Municipal Scale Power" that appears in a new book he co-edited called Energy Democracy, which looks at various efforts by communities around the country to take control of local power systems. "We want to democratize energy – put people back in control of their energy future," he said. "There is no such thing as democracy when there is economic, environmental, and social injustice."
Weinrub and others spent years trying to get various East Bay cities and EBMUD to launch a locally oriented community choice aggregation agency before the county took on the job in 2014, subsequently joined by 11 cities.
Community choice aggregation first emerged in Massachusetts in 1997 and already exists in six states, including California, where it was authorized in 2002 by state law. But it was not until 2010 that Marin County launched the state's first publicly owned electricity service provider, now known as MCE.
Then, in recent years, the concept caught on like wildfire, and it was even cited as a factor in PG&E's plan to close the Diablo Canyon nuclear power plant. UCLA researchers this spring predicted investor-owned utilities could see 50 to 80 percent of their customer load leaving by 2030.
There are now nine operational community choice aggregation agencies around the state, including in San Francisco, San Mateo, Santa Clara and Sonoma counties. About a half-dozen are expected to launch next year, including the one in Alameda County. On average, such agencies have delivered 25 percent more renewable energy to customers than investor-owned utilities, and at competitive prices, the UCLA report found.
Since MCE launched, it has grown to include all of Marin and Napa counties, the city of Benicia, and multiple Contra Costa County cities, starting with Richmond in 2012. Last summer, it agreed to serve a larger chunk of Contra Costa County, including Concord, San Ramon, Pittsburg, and five smaller municipalities, which will nearly double MCE's customer base to about 500,000.
MCE offers between 50 and 100 percent green energy, with customers wanting higher percentages paying a little bit more. It has developed several small, local solar installations and it is currently finishing construction of a $25 million, 10.5 megawatt solar plant on 49 acres of remediated brownfields in Richmond with at least half of the jobs reserved for local residents.
MCE has also committed to spending $1.6 billion to build new renewable generation from a variety of disparate locations, said agency spokesman Alex DiGiorgio.
Weinrub said that's good as far as it goes, but MCE makes "a big deal about a miniscule amount of local renewables" and much of its power is coming from large, remote power plants, like big solar farms in Southern California.
But some worry that Alameda County may try to get too many community benefits up front at the expense of rates that could hurt competitiveness. Nonetheless, Weinrub gets credit for being a staunch advocate and for helping defend community choice aggregation in California. "Their group as a whole has done a phenomenal job of ensuring that our program is better than any other in existence," said Shawn Wilson, chief of staff to Alameda County Supervisor Scott Haggerty, who has championed community choice aggregation.
Weinrub and other advocates on multiple occasions have also helped beat back what they saw as hostile legislative attempts to cripple community choice aggregation.
In 2010, they defeated Proposition 16, a PG&E-supported ballot measure that would have amended the state constitution to require a two-thirds supermajority voter approval before local governments could use public funds or issue bonds to establish or expand public electricity service or community choice aggregation. Though PG&E outspent opponents 500-1, pumping about $44 million into its campaign, voters rejected the measure.
The California Public Utilities Commission is also examining a request by utilities to levy higher exit fees on customers who shift to community owned providers.
PG&E spokesman Ari Vanrenen said his company is not against community choice aggregation, and in fact supported the original legislation allowing the approach. PG&E simply does not want its remaining customers to be stuck with unfair bills, he said.
Weinrub remains watchful and distrustful. "Unless we can create an energy system whose purpose is to meet the environmental, economic, and social justice needs of our communities, as defined by our communities, we will be sacrificed to a corporate-driven, extractive, wasteful, destructive energy model that lays waste to our species and our planet," he said.
This report originally appeared in the January edition of our sister publication,
Oakland Magazine.