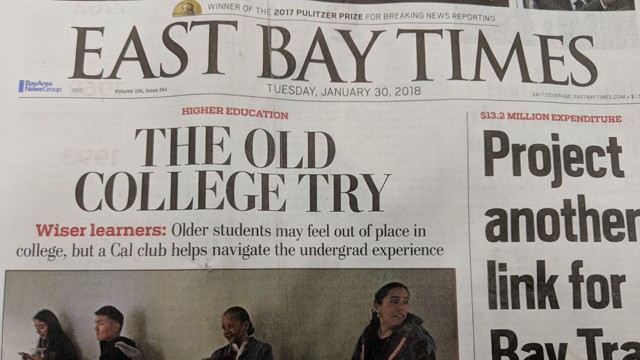 The Bay Area's local print media took another hit this week as multiple senior staff at the
East Bay Times
accepted buyouts ahead of a round of layoffs.
As many as seven
East Bay Times
reporters, photographers, and editors — about a quarter of the paper's
metro East Bay
editorial staff — accepted buyouts which were offered by its parent company, the Bay Area News Group. The buyouts are a first round of cuts and will be followed by layoffs starting next week.
Neil Chase, executive editor of the Bay Area News Group, said the buyouts were intended to reduce the number of layoffs that will be necessary.
"Revenue has been shrinking rapidly, and without the revenue you can't do the journalism," Chase said.
Chase declined to disclose the number of positions being eliminated, but he described this round of cuts as a "significant reduction in the news staff."
According to sources, 28 BANG journalists took buyouts today.
The Bay Area News Group is owned by Digital First Media, a national media company that is owned by the Alden Global hedge fund.
This week's newsroom cuts are only the most recent in a string of layoffs. Last year, just weeks after the
East Bay Times'
staff won the Pulitzer Prize for their coverage of the Ghost Ship fire, Digital First Media and the Bay Area News Group cut the paper's staff by 20 positions. The year before, the Bay Area News Group lost 11 copy editors.
One region that will be hit especially hard by this round of BANG cuts is West Contra Costa County. According to sources familiar with the layoffs, the Bay Area News Group closed its Richmond office and bought out the two remaining reporters who covered Richmond, Hercules, Pinole, and El Sobrante.
Reporters Tom Lochner and Chris Treadway had long histories of covering the region and their departure means a loss of institutional knowledge that is vital to meaningful coverage of government, crime, and culture. As a result, the western part of Contra Costa County will essentially be without regular and reliable news coverage.
Richmond Confidential, an online publication run by UC Berkeley journalism students, will provide some coverage, but the news is sporadic and student reporters change each new semester. The other widely read news source is the Richmond Standard, an online publication that is owned by Chevron.
The cuts continue a national trend of reductions in print media jobs. Despite the Bay Area's booming economy, local newspapers continue to shed journalists. Labor department statistics show that 32 percent of reporter and correspondent jobs have been eliminated over the past 10 years across California. Meanwhile, the number of public relations specialists continues to grow. The bureau of labor statistic's estimates there are 3,490 reporter jobs in all of California while there are 24,690 public relations positions.