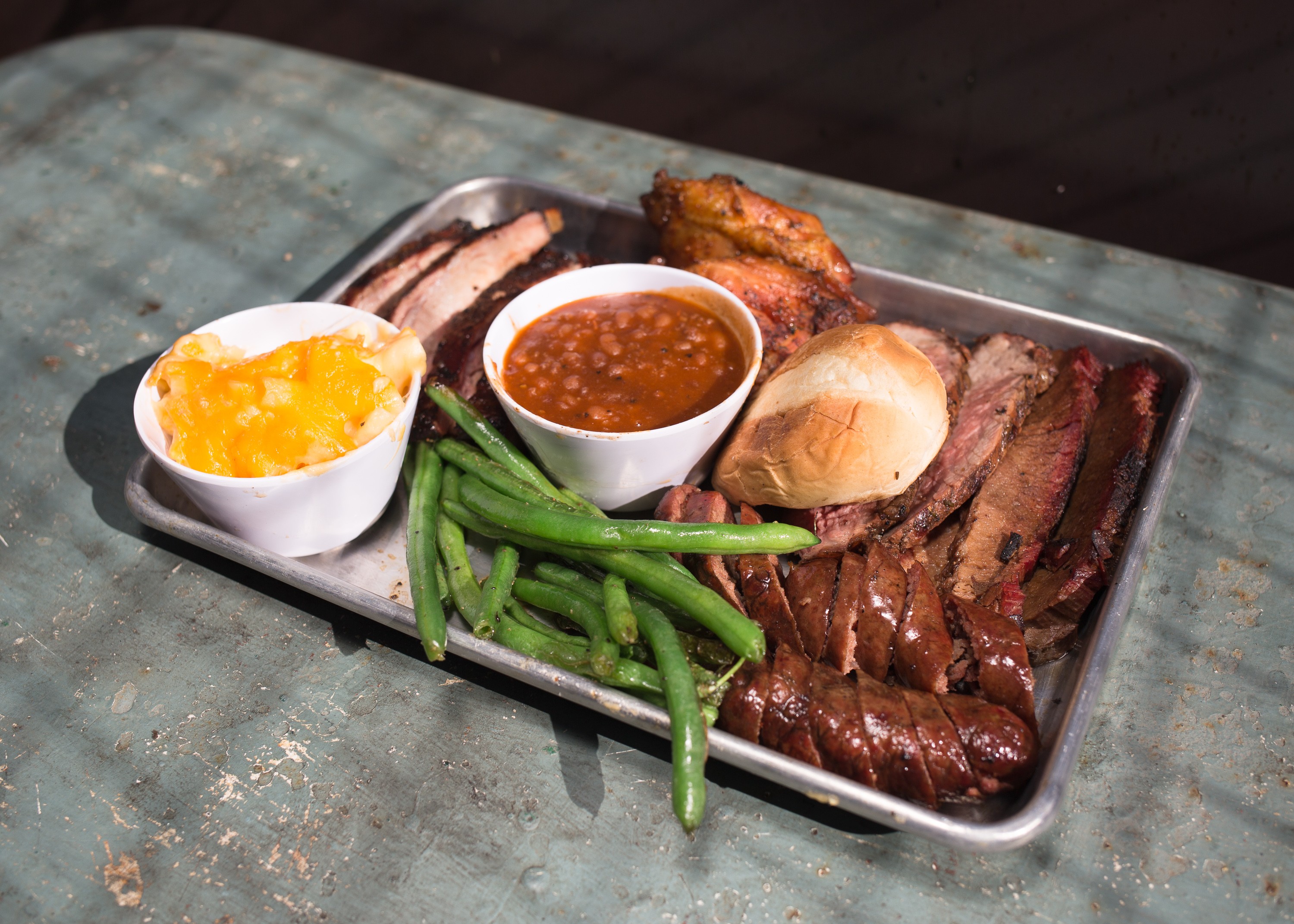 Oakland's newest sports bar also just happens to host some of the East Bay's best barbecue.
Erika Dailey's 2nd Half Sports Lounge (4307 Telegraph Ave.) opened in Temescal's former Urban Latino space on July 30. "It's a wooden tavern. It's really sexy," she told the Express. "It's like a date night spot where you want to have good food, good music, and hang out."
Erika and her husband, James Dailey, also own Halftime Sports Bar in downtown Oakland. The new restaurant and lounge boasts a full bar and seats about 100 people.
While 2nd Half has its own full, Southern-inflected restaurant menu, serving mac 'n' cheese, fish and chips, gumbo, sliders, Cajun shrimp pasta, and vegan dishes, the kitchen closes twice a week to make way for Smokin' Woods BBQ. On Sundays and Mondays, Smokin' Woods BBQ chef and owner James Woodard brings in his menu of meats cooked over cherry and oak wood.
Smokin' Woods BBQ started in 2013 primarily as a catering company. Woodard was still working a corporate job at Frito-Lay. He started an Instagram account, posting photos of his food. "People wanted to try my food," Woodard told the Express. "They asked, 'I can only try if if I [order] catering?"
Woodard left his job last September and moved into Forage Kitchen's pop-up cafe space to serve his mix of Texas and Kansas City style 'cue. It was met with a rave review in the
Express
, and more recently,
Food & Wine
named Smokin' Woods BBQ one of the country's best barbecue joints. Smokin' Woods recently left its Forage Kitchen space, but fans will be able to find favorite dishes and even more at 2nd Half. While the Forage edition focused on plates of brisket and pork ribs — with popular beef ribs on Fridays only — the pop-up at 2nd Half will feature beef ribs both days as well as items previously only available through catering, such as salmon and Brussels sprouts. The rest of the week, Woodard will continue to focus on catering as well as opening his own permanent space. "We're in the build-out process near downtown Oakland, and hope to open a full barbecue sports bar in 2019," he said.
But there are more reasons to check out 2nd Half beyond the barbecue. Erika designed the space as well as a full slate of daily events. There's Taco Tuesday, Wine Wednesday with poetry, Ladies' Night Thursday, live bands on Fridays, and brunch on Saturdays. Thursdays are closest to Erika's heart. Her grandmother was killed in Oakland by a boyfriend, so she dedicates Thursdays to empowering women and raising money for domestic violence shelters.
On Thursday nights, 2nd Half sells leggings and exercise wear for women made by Ola Couture. Profits go toward domestic violence shelters, in honor of Erika's grandmother. The exercise clothing line sends the message to "just keep it going, stay active about being better, and creating better," Erika said.