Folks looking to get into the cannabis industry just got another green light.
Oakland-based marijuana angel investment network The ArcView Group released its annual
market report
Monday, stating that legal cannabis sales will grow 32 percent in 2015 to $3.5 billion.
The industry grew 74 percent in 2014 to $2.7 billion. Eighty-two percent of retails sales were for medical use, and California made up 49 percent of all US cannabis sales by state in 2014.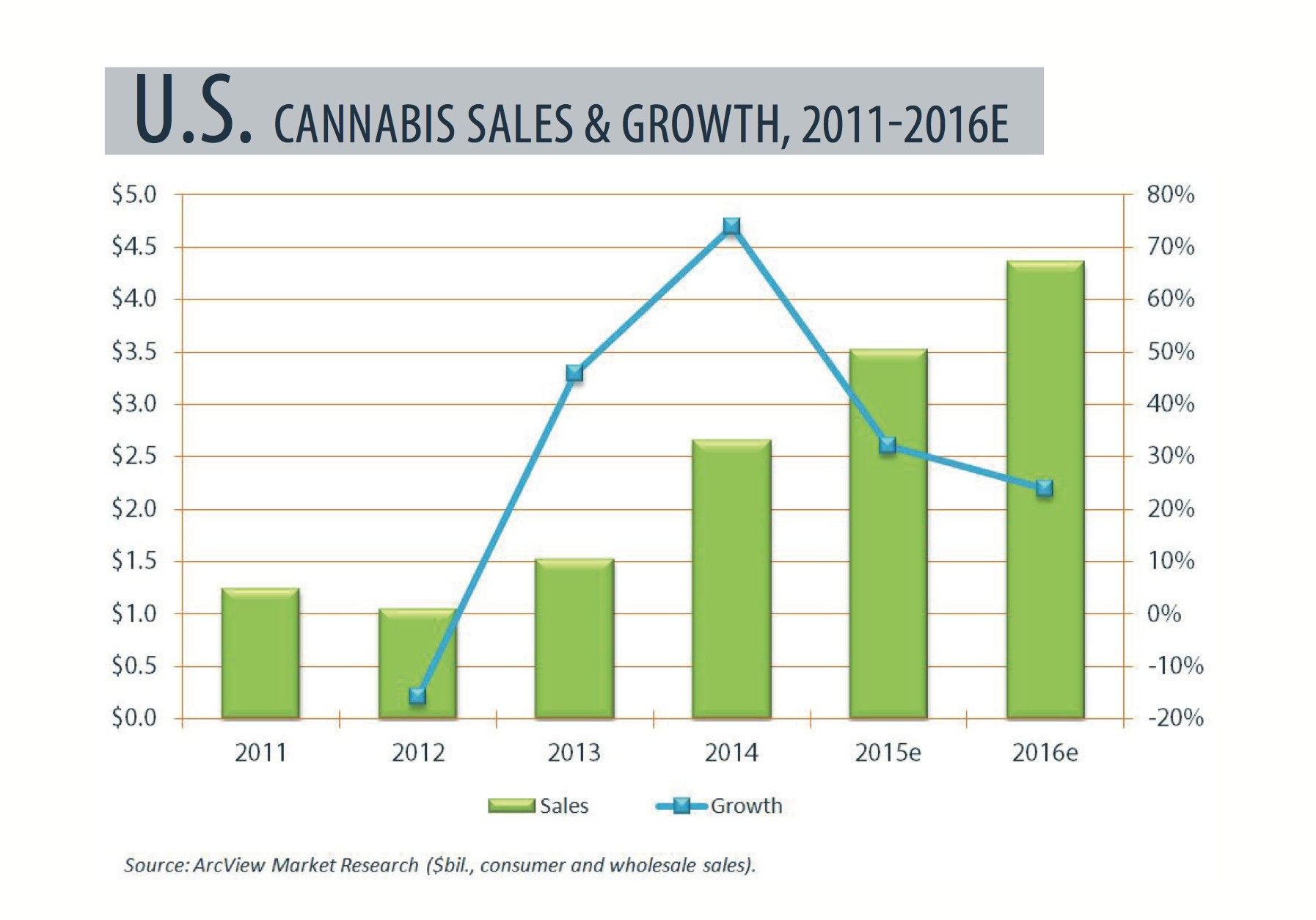 [jump] The California crackdown seems to be in the rear-view mirror, ArcView Market Research Patrick Rea writes. "The industry suffered a few setbacks in 2014, but these were minimal compared to the market contraction and uncertainty that a much more nascent industry withstood in 2011 and 2012 as a result of various federal attacks and unfavorable industry press."
California is being held back by its lack of statewide regulations, ArcView notes. Meanwhile, Nevada has licensed 136 dispensaries and sales there are expected to grow 341 percent in 2015.
A total of 23 states and the District of Columbia have medical cannabis laws, with 14 active retail state markets in 2014. Four of those states and Washington, DC, have legalized cannabis for adults 21 and over. ArcView estimates $10.8 billion in licit cannabis sales in 2019.
Major venture capital investment is entering the space. Uber and SpaceX investors Tao Capital has funded software company MJFreeway. This month, Peter Thiel-led Founders Fund invested millions in the company behind Leafly.com.
ArcView signaled several major trends in 2015:
Beyond Buds
"The marijuana flower is no longer the dominant market force for innovation, as healthier and easier alternative delivery formats rapidly gain market share."
Franchising
"Multistate Licensing. Strong national cannabis brands are finding ways to emerge in a state-segmented market."
Testing
"Product Testing. States are beginning to require product potency and contaminant testing to ensure consumer safety and new laboratories are emerging to meet these needs."
Branding
"Brand Building. Cannabis brands are no longer hiding in the shadows and the branding bar is rising fast."
Mega-Grows
"Changing Landscape of Cultivation. Licensed cultivation facilities are becoming much larger and that's creating opportunities and challenges in meeting the needs of these new businesses and the fast growing demand for legal cannabis.