Originally, I was drawn in by the promises of tableside risotto. That was what jumped off the page — a photo of Shotaro Kamio tossing an order of risotto inside a giant, hollowed-out wheel of Parmigiano-Reggiano that had been wheeled out tableside — when the news first broke that Kamio was taking over the casual West Berkeley bistro Zut! on Fourth Street and gently rebranding it as Zut Tavern.
You won't see this kind of theatrical flourish at many East Bay restaurants. Our dining scene tends to favor the more demure Alice Waters, fig-on-a-plate aesthetic. We don't, to my knowledge, have a restaurant that serves prime rib carved to order on a tableside cart, or that practices the grand (but mostly abandoned) tradition of the tableside Caesar salad.
Reading over the Zut Tavern menu, you can catch a whiff of a place that aspires to offer that kind of grandeur and decadence. In addition to that risotto, the menu has included, at various times, a 16-ounce ribeye steak served with creamed corn and bordelaise sauce; a whole chicken roasted in a wood-fire rotisserie; and even, zut alors!, a burger that costs $31 once it's crowned, optionally, with Hudson Valley foie gras.
But as it turns out, the restaurant scrapped the tableside risotto about a week after it opened. Nathan Gabriel, the corporate executive chef who, along with Kamio, oversees the kitchens at both Zut Tavern and its next-door sister restaurant, Iyasare, said it just proved to be too much of a logistical challenge to have one of the lead chefs leave the kitchen every time a customer ordered the dish.
I'll admit it was a pretty big letdown when my server told me the news, and one that was perhaps emblematic: Despite its casual ambience, Zut Tavern promises a lot, and during my visits, the kitchen put out a handful of excellent dishes. But many others were indifferently seasoned and better in concept than execution. All in all, the restaurant has the feel of a place that's still figuring out its identity.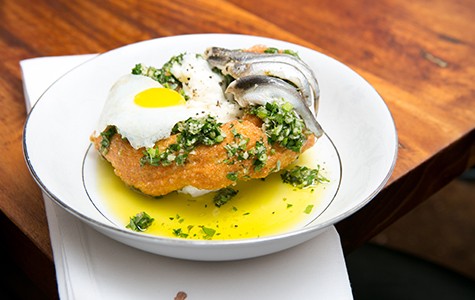 Kamio, of course, is better known as the chef-owner of Iyasare, a Japanese restaurant whose bold, clean flavors and gorgeous presentation make it one of the most well regarded eateries in Berkeley. Zut Tavern marks his first foray into California cuisine — local and seasonal cooking with a healthy dose of Mediterranean influences (similar to the old Zut!, but with more Italian, and less Greek, influence). You can see Kamio's artistic eye and affinity for big flavors in the food at his new restaurant — but not his precise attention to detail.
Even though tableside risotto has gone by the wayside, Zut still offers a version of risotto — a vegetarian summer risotto with Brentwood corn and chanterelle mushrooms. This was a lovely looking plate of food — bright green from the kale that had been blended into the stock, and oozing on the plate in the way a proper Italian risotto should. But as much as I love sweet summer corn, without an adequately salty element to balance it out, the sweetness here wound up overwhelming all of the other ingredients.   
The Spanish octopus will look familiar to anyone who has ordered the octopus at Jack's Oyster Bar and Fish House in Oakland's Jack London Square, where Gabriel last worked. It's essentially a smaller-portioned (and less expensive) version of the same dish: two or three gloriously tender tentacles that were first poached and then grilled and served with Jimmy Nardello peppers and fingerling potatoes. The only problem was that the octopus itself was way too salty, and, those peppers notwithstanding, there wasn't nearly enough sweetness or acidity to provide an adequate counterpoint.
And, as if to prove that the kitchen could be equally heavy-handed with all flavors, a pasta dish that featured fresh tagliatelle, a generous portion of rock crab, and gorgeous heirloom cherry tomatoes turned out to be exceedingly spicy. (The listing of "chili flakes" at the very end of the ingredient list in no way prepared me for this level of heat.)
All of the above offerings are part of the "shareable" section of the menu, but they were really just portioned as regular-size entrées, with the exception of a few larger dishes, such as the steak and the whole chicken. But regardless of how the menu is divided, Gabriel explained that family-style sharing is encouraged at Zut; hence, a fairly extensive selection of appetizer "bites." Of these, a plate of crispy pork belly served with bright yellow corn "pudding" (more of a sweet sauce than anything) proved to be a partial success: The skin part of the belly was nice and crispy, but the pork had roasted in the oven for too long, to the point that the meat was fairly dry.
In spite of the inconsistent execution, there was enough good stuff on the menu to make me feel hopeful for what the restaurant might someday become. By far my favorite dish was the coccoli, a kind of Italian frybread: a ball of dough that had been deep-fried, like a doughnut, and tossed with the garlickiest olive oil you can imagine then topped with a generous dollop of burrata and, for those who enjoy fishy fish, a few whole boquerones, or pickled anchovy fillets. This was a knockout, combining the pleasures of crispy fried dough with the coolness of the delicate burrata. The smell alone — of that garlicky oil — was intoxicating.
Meanwhile, Zut's version of a panzanella, or Tuscan bread salad, was Bay Area summer eating at its simplest and most classic. When you combine good ingredients (in this case, ripe heirloom tomatoes, sweet melons, a basil pesto, burrata, and high-quality balsamic vinegar) and assemble them smartly, it's nearly impossible to screw up. And a lemon verbena panna cotta served with black mission figs and buttery ginger shortbread proved to be the ideal late-summer dessert: rich and creamy, but refreshingly light on the palate.
There's a certain fusty, old-fashioned feel to the restaurant, from the ornate chandeliers to the floral-pattern plateware that looks as if it came straight out of Grandma's china cabinet. The entire main dining area is a patio of sorts, open to the street with a large open-air skylight, so that while I ate I could see birds flying overhead. All in all, it's one of the more charming spaces on Fourth Street — a bright room, abuzz with conversation.
It's a space that has been home to some beloved restaurants, dating back even just a few years to its Eccolo days. With a little more attention to detail, it can be great again. The good news is that changes are on the way: In a few weeks, Zut Tavern will install new wood ovens, allowing the kitchen to bring back the wood-fire pizza that longtime Zut! customers have been missing. Starting this past weekend, the restaurant introduced an oyster bar.
The best news of all? Gabriel said it's only a matter of time until the restaurant has trained enough of its staff to bring back the tableside risotto, and maybe even a tableside Caesar.