Young Gully's Bermuda is a 33-track album in three parts — God, Devil, and Human — the first two of which the Oakland rapper released in eleven-track installments over the course of the past two months. Throughout God and Devil, Gully spits densely packed bars with a palpable urgency, cramming as many syllables into each line as possible. As he expels each verse, he seems to purge past mistakes, doubts, and regrets, laying bare the memories that haunt him.
Above all, Bermuda is about redemption. Gully (Michael Watkins), 28, recorded the project during a recent consciousness shift he experienced after becoming interested in spirituality and studying the Bible. Throughout the album, he reflects on the death of friends, the ups and downs of personal relationships, and the hustler mentality he adopted to survive in his struggling East Oakland neighborhood, while invoking his religious beliefs in subtle ways. After confronting these difficulties, he emerges with a sense of hope.
"In my past, I've done a lot of dirt," Gully said in an interview. "Turning this around is what the album is about — in so many ways, though. I'm really owning up to a lot of mistakes I've made in the past in a real way. … I'm making it vivid for people to understand."
The island nation of Bermuda is at times a specter and at times a fantasy that looms throughout Gully's lyrics. Gully had never been to it before recording the album, though he did eventually have his release show for part one, God, there in October. While writing the record, he imagined Bermuda as an idyllic paradise that was a counterpoint to his harsh reality at home. The lore of the infamous Bermuda Triangle appealed to him as well. As a lyricist, Gully often explores the ways in which beauty and treachery can exist simultaneously.
As he developed the album, Bermuda became less of a tangible destination and more of a symbol of escape and transcendence into a "more spiritual zone." I'm in the land of parasites/Where's paradise?/The only way to it is through it, he raps on "Come on Down," underscoring the importance of emotional healing.
Indeed, in our interview, Gully described the process of writing and recording Bermuda as a form of therapy. He recalled breaking down in tears as he wrote many of the verses. "Sometimes, I had to pull away from it because it was too much for me," he said, reflecting on the year and a half it took to pen the lyrics.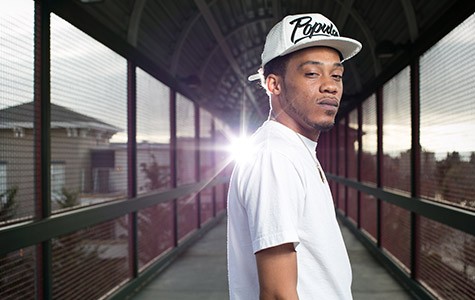 Having his friends watch him lay down the tracks in the studio proved to be a powerful experience, as well. Gully had previously made music that spoke to his community's resilience in the face of struggle, such as his Hustla Movement mixtape series and his Oscar Grant tribute album, The Grant Station Project. However, on Bermuda, he turns the focus on himself rather than society. He said that throughout the writing and recording process, he felt hesitant about creating an album that's so specific to his life experiences for fear of alienating his audience. But when some of his longtime friends joined him in the studio, their positive feedback gave him the validation he needed to see the project through to completion.
"Seeing some of them cry when they heard me record it was kind of the key thing that let me know I need to put this out," he said, comparing the emotional high points of the recording session to an intervention.
"It's a very truthful album," he continued. "It's talking about a lot of my life stories and my past. God would be the spiritual side of what I deal with; the devil would be the hatred, the aggression; the human side is like a lack of care — just living."
Because the cutting edge of rap has moved on from lyrically dense spitting to more of an emphasis on idiosyncratic flows in recent years, Gully's verbose style can be seen as somewhat nostalgic. However, on Bermuda, his signature flow comes through sounding up-to-date. Though the technical side of rapping has decreased in importance in the eyes of many fans and critics, Gully's ability to adapt his best skills to a novel sound is admirable and refreshing and even lends his work a certain timelessness. After all, he became known through his single "Definition of Gas," a manifesto for rapping with acrobatic dexterity. He's keenly aware of his strengths and when to deploy them, and on Bermuda, his speedy rhymes emphasize the importance of his subject matter. They're also pretty damn impressive. Listening to the record, it's hard not to wonder when he will gasp for air.
In contrast to Gully's aggressive flow, the production on part one, God, is airy and uplifting, with gospel samples, soulful hooks, and big, sweeping beats rife with analog instrumentation. On "Show You Love," a melancholic flute sample plays over shimmering percussion; "God" juxtaposes the gentle strum of a guitar with rapid-fire high hats and interlocking, layered vocal samples. However, on Devil, the vibe completely shifts. The second installment of the series opens with "Temporary," a bass-heavy track with an ominous church bell sample that evokes Memphis horrorcore. Got these demons in me, boy/Just trying to get 'em out, Gully announces at the beginning of the song, almost like a prologue. Throughout Devil, he cranks up the intensity of his delivery. In a rare feat, the record manages to be intricately poetic and catchy at once, largely thanks to his savvy choices of dark-yet-danceable production.
"I call it mood music because from the first one to the third one, you'll see the mood shift in each album," said Gully. "It goes from love and owning up and trust issues — truth, things like that — to anger and aggression, and then it comes to actually escaping. It's kind of a story from beginning to end."
We'll have to wait until early 2016 to see how the final chapter plays out, but if God and Devil are any indication, Bermuda should end with a strong finale.