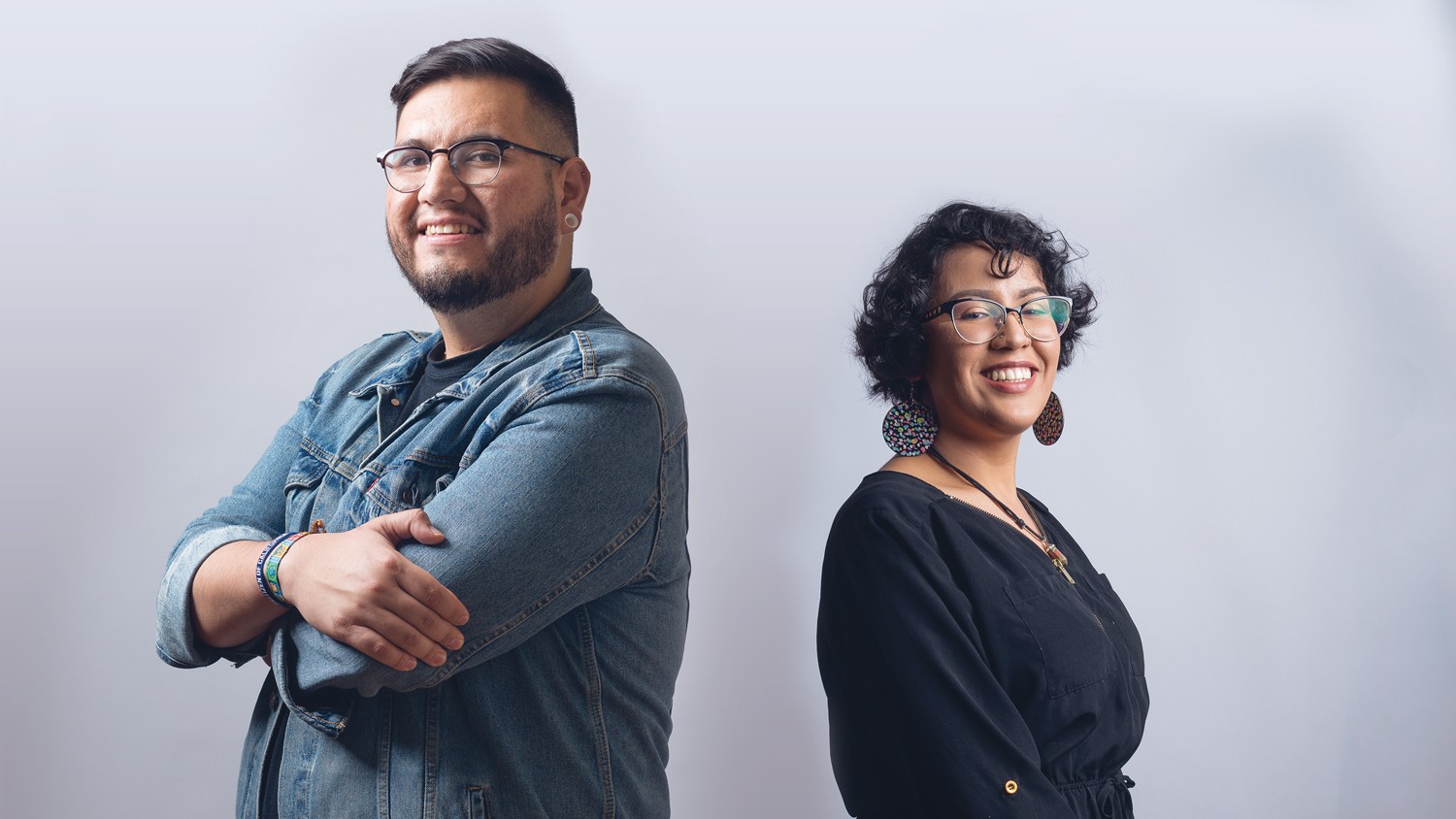 Juan Prieto smiled bashfully as the crowd of about 15 people applauded. Prieto would be intimidating, what with his imposing frame. But he slouched, and there was worry on his face as he began to speak. He stands at around 6 feet, maybe more, and was wearing a denim jacket, black-rimmed glasses, and white ear gauges big enough to put your pinky through. He looked up and down, scratched his nose, and then introduced himself to the protesters outside the West County Detention facility in Richmond.
"A lot of times, we focus on the poor Dreamer or the poor undocumented youth: 'We should save them,'" he said. "But meanwhile, we have places like this," he added, pointing to the detention center's stone walls. "While you're protecting the more Americanized of us, you're allowing everyone else to get deported."
After the Trump administration announced last year that it was dismantling the Deferred Action for Childhood Arrivals program (DACA), Prieto and other immigrant groups sprang into action. While mainstream Democrats have focused on saving DACA and protecting the people enrolled in it, Prieto and members of other immigrant rights' groups in the East Bay are pushing for comprehensive immigration reform, not just gradual concessions.
Prieto was at the protest last fall to speak against what he calls "the Dreamer narrative." In his view, DACA was built on a meritocracy — one that elevates immigrants who have learned English, assimilated, and even found success in the United States. They're commonly referred to as "Dreamers," based on the DREAM Act, a proposal that would have provided protections similar to those of DACA for young undocumented immigrants who came to the country as children but was never passed by Congress.
Prieto isn't opposed to DACA protections or these young immigrants' accomplishments. Instead, he argues that the program only protects those who came into the country as children — currently, nearly 700,000 people — and ignores the 11 million other undocumented immigrants in the United States.
Prieto has been involved with Rising Immigrant Scholars through Education (RISE) at UC Berkeley, which, along with other groups like the California Immigrant Youth Justice Alliance (CIYJA), the East Bay Youth Justice Alliance, and Faith in Action, has been fighting not just to save DACA but for what has been referred to as a "Clean Dream Act." It would create a clear path to citizenship without including provisions that harm the larger immigrant community.
The groups' main tactic so far has been to publicly pressure members of Congress into supporting their initiatives. They have called out local and national politicians through social media and held protests in their offices or at events, like a September event that House Minority Leader Nancy Pelosi held in San Francisco. It's a strategy they've been using since then-President Obama began to work on the Dream Act, and they believe it has the best chance of success.
But they face many obstacles. They acknowledge that it's much harder to enact reform under the current right-wing administration. And locally, some activists outside of these groups say they're not getting enough backing from their community to fully mobilize.
Diana Diaz, youth organizer at the RYSE Youth Center in Richmond, said that from the school district to the board of supervisors, there is a lack of support in Contra Costa County to help the undocumented community. Diaz is currently under DACA status (at least for the time being).
Valeria, a student at Santa Clara University, has been undocumented since 2011, when she arrived at the age of 16. The Express agreed to not use Valeria's last name due to her immigration status. Unlike other young activists, Valeria is focused on passing her classes and applying to graduate school during these uncertain times rather than loudly marching or organizing. But she hopes that a full immigration overhaul will include people like her and her family, who don't qualify for programs like DACA.
Like many immigrants, Valeria, Diaz, and Prieto have led lives that are inherently political, and their stories have often been filled with trauma. But a critical part of their movement is a feeling of empowerment within the young, undocumented community.
"That powerlessness I feel comes from working within a system that wants me to feel like that," Prieto said to the crowd. "But when I think beyond that system, I'm boundless."
---

On Sept. 5, President Trump and Attorney General Jeff Sessions ordered an end to the DACA program. Put in place by the Obama administration in 2012, the program protects immigrants who entered the country as children from deportation and allows them to work and study in the United States.


[pullquote-1]
As part of the order to end the program, Trump gave Congress six months to pass some type of reform that would replace DACA before protections begin to phase out in March.
But earlier this month, U.S. District Court Judge William Alsup in San Francisco halted Trump's plan to phase out DACA, ruling that there was "no reasoned explanation" for the administration's decision. Alsup's ruling allows current DACA recipients to renew their work permits but doesn't require the federal government to issue new permits to young people who have not yet enrolled in DACA.
Late last week, the Trump Justice Department asked the U.S. Supreme Court to overturn Alsup's decision. And the federal government shut down last weekend after Congressional Republicans and President Trump refused to include immigration reform in a continuing resolution to keep the government open. The government reopened on Tuesday after Senate Democratic and Republican leaders agreed to continue discussions on a DACA deal.
According to the nonpartisan think tank Pew Research, about 690,000 people are enrolled in DACA. And since its inception in 2012, nearly 790,000 immigrants have received protections under the program.
Backed by Democrats, the 2017 Dream Act was introduced in the House of Representatives in July 2017. If passed, the bill would provide a clear path to citizenship for undocumented youth who are now vulnerable to deportations without DACA. But the bill has failed to gain traction in the GOP-controlled Congress.
However, young activists like Prieto, Diaz, and others say the latest Dream Act doesn't go far enough. And they're worried that if Democrats strike a deal with Trump, it'll include provisions that could hurt the immigrant community — such as a border wall between the United States and Mexico, increased border security, detention centers, and more. And they have reason to be concerned: Democratic Senate Minority Leader Chuck Schumer said last Friday that he had reached a tentative pact with Trump to include the border wall in a deal on DACA but that the president later reversed course and demanded even tougher immigration measures.
The urgent need for comprehensive reform can be seen through the recent detainment of Luis Mora, an undocumented UC Berkeley student. Mora was visiting his girlfriend in San Diego on Dec. 30, and as they were driving home, he missed a turn and came across a Customs and Border Patrol immigration checkpoint in Jamul, Calif. He told the officer he was undocumented and was immediately detained. He was held in custody at the Otay Mesa Detention Center until Jan. 17 when ICE released him on a $1,500 bond. Mora returned to the East Bay on Jan. 21.
He came to the U.S. in 2009 from Colombia when he was 11 years old. Since the DACA program was only open to those who have been in the U.S. since June 15, 2007, Mora didn't qualify for it — though he would have qualified for past versions of the Dream Act currently stuck in Congress, according to the Undocumented Student Program (USP) at Cal.
Immediately, Mora's detainment sparked an uproar among immigrant rights groups in Berkeley and the East Bay. RISE, CIYJA, and the USP began an online campaign to mobilize and inform more people about it. Using the hashtag "FreeLuis," they pressured California Sens. Kamala Harris and Dianne Feinstein, along with Pelosi, Gov. Jerry Brown, and UC Berkeley Chancellor Carol Christ, to make a statement on Mora's detainment.
On Jan. 5, the group tweeted that Harris, Feinstein, and Rep. Barbara Lee, D-Oakland, reached out to express support for their campaign. Three days later, Christ released a statement on the issue saying she had also been in touch with student activists. However, RISE members published a response on their Facebook page stating that they haven't heard any direct messages from Christ.
Prieto sees Mora's case as an opportunity to pressure Congress into action. He said he strongly believes they can affect legislation, but to do so, they're going to have to mobilize. "We have the momentum," he said. "How can we use this tragedy of detention to resolve this not just for him but for all undocumented people?"
That's why their version of the bill is being called a "Clean Dream Act" — it's not only about protecting young DACA recipients from deportation but also about protecting and acknowledging the contributions of all 11 million undocumented immigrants, said Yaquelin Lombera, who is in the process of starting a Richmond chapter of the national immigrant rights' organization Movimiento Cosecha.
"This isn't just about a document," Lombera said. "It's about getting treated with dignity and respect. The country can't operate without immigrants."
---

Born in Mexicali, Mexico, Juan Prieto made it to the United States as a young child of eight, along with his Salvadoran father, Mexican mother, and three siblings. Since arriving at UC Berkeley, Prieto has been a loud and active protester of the current and previous administrations' immigration policies.
During his speech at the Richmond detention center, the 25-year-old described an encounter with police while he was a young boy in Mexicali after his uncles had gotten involved in drugs. The police barged into their home, pointing guns at Prieto and his mother as they lay face down on the floor, he said. His voice softened as he shared this story. He focused on the ground, eyes half-closed, as if the memory was still too painful.
"They treated us like we weren't human beings," he said during a later interview. "That's when our home was violated."
After that night, they left for the United States. Prieto crossed the border using someone else's papers. His parents told him they were going to a cousin's birthday party. While he was too young to fully grasp the implications, he could tell that something was off: His parents were devastated, and he knew they had to hide it from his grandfather, who they were leaving behind. So, he pretended to be asleep and didn't ask any questions.
He referenced this moment at the protest. His grandfather had recently died, and the pain of leaving him behind years ago has haunted his mother. Before her father's death, she was living about 50 minutes away from him, just across the border in El Centro, Calif. But returning to Mexico to attend his funeral was not an option, because she might never get back. Prieto described how his mother stared out her window toward Mexico as her father was being buried.
"All of that nuance and reality gets erased from the conversations everybody's having," he told the crowd. "It made me realize the fragility of legality."
That fragility comes from how malleable legal and political labels can be, Prieto explained. He noted that when same-sex marriage was illegal, many people viewed it as being wrong. But now that it's legal, it's no longer immoral for many of those same people. Laws often affect the morality of certain actions, but when those laws change, that judgment changes with them. Prieto applies this philosophy to his own work, which advocates for the decriminalization of immigrants like his mother who had to escape dangerous situations. He said the need to survive in certain situations causes moral people to commit certain illegal acts, and though this may make them criminals in the eyes of the law, it doesn't make them bad. "Legality messed up the way we think about morality," he said.
Prieto has been under DACA status since 2013 when he transferred to UC Berkeley from San Bernardino Valley College. He clearly realizes that the Trump administration poses a more urgent threat to his community. He still believes that his and RISE's pressure tactics can work. But, he said, they have to keep fighting.
---

Valeria came into the United States in 2011 with her family, who wanted to reunite with her grandparents who had already moved to the country. Her father had just lost his job, and the violence in her town, Queretaro, Mexico, was getting harder to endure. Before they left, her father explained to Valeria and her siblings that they were going to be undocumented. She made sure she knew her rights.
At 16, she arrived in the East Bay city of San Pablo and began attending Hercules High School. She said she immediately felt a sense of culture shock and alienation. It was hard to communicate with people in another language. She also felt she was at a disadvantage, because she had to learn a new school system. There was also the pressure of being undocumented.
"There was no one in Hercules openly saying they were helping undocumented students," she said. "If there were any resources, I didn't know of them."
Later, as she was going through the college application process, she didn't know the extent to which being undocumented would affect her chances of getting accepted anywhere. After talking with her high school counselor, Valeria began to trust her and told her she was undocumented.
"She was totally clueless," Valeria said.
But the counselor became her main source of support. She told Valeria that, although she didn't know how to help her get into college, they were going to tackle the challenge together.
Her counselor assembled information on opportunities for undocumented students in California, and Valeria soon began applying to schools and scholarships. This is also how she learned about the nonprofit advocacy group Educators for Fair Consideration (E4FC). Through this group, Valeria learned about the California Dream Act and Assembly Bill 540. The former was put in place in 2011 and allows some undocumented students to apply for and receive state-funded financial aid if they qualify under AB 540, which states that students are eligible for in-state tuition if they attended high school in California and are applying to a public university.
Valeria said she felt safer once she found out about the state's Dream Act and after Obama put DACA in place. She didn't qualify for DACA because of the age limit imposed on the program — only those who were younger than 16 when they entered the U.S. are eligible, and she didn't qualify for the state Dream Act because she hadn't attended a California high school for more than three years, as the law mandates. Still, she was hopeful and kept applying to schools and scholarships that didn't require her to give a Social Security number. "It gave me some trust in the government saying they cared about young people who were doing things right," she said.
Today, the 23-year-old undocumented engineering student at Santa Clara University never considers going back to Mexico. She still has friends and family in the country, but she wants to go to graduate school and continue doing research in her field.
She said she's too busy to be involved with immigration activist groups, but she continues to share resources from E4FC to make sure people know that the California Dream Act and AB 540 are still in place. She knows people were scared after Trump announced the rescission of DACA, but she doesn't want that to dissuade her siblings and others to apply for college.
Her dream job is to be an engineer for NASA. But without a work permit or a Social Security number, she's unable to get employment. Though she's wary of anti-immigration crackdowns under Trump, she hopes that eventually there will be some kind of immigration reform like a Clean Dream Act that will include people like her.
It would change everything. "I haven't really thought of a future with papers," she said.
---

After Trump's DACA announcement, a student group at Richmond High School called La Raza organized a walk-out in protest. They asked staff members of the high school to join in. Though many declined, some made it clear that they supported the students in their mission.
[pullquote-2]
But other teachers and school administrators immediately pushed back against the protest, resulting in a low turnout for the student walk-out. This is what Diana Diaz says is the community's biggest obstacle: a lack of adult support for youth organizing and activism.
Diaz coordinates and hosts the Organizing Club meetings at the RYSE Youth Center. RYSE aims to transform Richmond into a city that embraces young, politically minded people, and the club works to mobilize students in all kinds of political activism. They go to city council and school board meetings, talk about current political issues, and share their experiences.
Diaz said students learn terms like "patriarchy" and "white supremacy," and she teaches them the terms' histories and how they apply to their own lives. "A lot of them get really angry, because they don't talk about this anywhere else," she said. "They didn't have the words for what they were experiencing."
Diaz sees students eager to organize and protest issues that impact their lives, but she's discouraged by the lack of resources from the school district and city officials. Not only are city council and school board meetings not youth-friendly, but they're only in English, which she says isolates Richmond's large immigrant community.
Diaz learned she was undocumented as a senior at Richmond High School, when she was accepted into a summer program at Boalt Hall School of Law at UC Berkeley. Since the program required job placement, she had to give a Social Security number. At the time, she didn't have one, so she continued into the program as a volunteer. But she had to start applying to college.
As Diaz and her mom filled out college applications, DACA went into effect. She qualified and went on to major in community studies at UC Santa Cruz. There, Diaz developed her passion for organizing and activism when she began to work with the Undocumented Students Office on campus.
For Diaz, a Clean Dream Act would mean decriminalizing all the people and families who didn't originally qualify for DACA. It would also mean getting rid of the division within immigrant communities.
"There shouldn't be a label on the identity that gets access to a Clean Dream Act," she said. "Queer, trans, people of color, Black people, and Latinos — it should be everyone."
Like Prieto, Diaz is tired of the "Dreamer narrative" that creates a caste system among immigrants. And she believes comprehensive immigration reform has to include the dismantling of detention centers. "We're supposed to be a sanctuary city, but we're still trying to expand our jails," she said, referring to the expansion of the county jail in Richmond.
Diaz sees these contradictions in politicians like Pelosi, too. She admires the pushback that groups like RISE have shown against those in leadership positions. Though she hasn't participated in the protests and she doesn't know whether anything will come from them, she wants these groups to keep demonstrating.
"If she has so much power, why isn't she using it to help?" she said of Pelosi.
---

On Sept. 17, President Trump met with Pelosi and Schumer to discuss the future of the Dream Act. They announced after a meeting that they had come to an agreement and were working on a deal that would protect Dreamers from deportation. (The deal later unraveled.)
On Sept. 18, Pelosi held an event in San Francisco to specifically call on Congress to pass a new Dream Act. She stood behind the podium with a "#ProtectDreamers" sign hanging on it. A group of young activists marched in front of her holding a red banner.
"Fight 4 all 11 million," it read.
They unfurled the banner, and the crowd of about 40 identified themselves as "undocumented youth." They chanted: "We are not a bargaining chip!"
Video from the event shows that Pelosi was hidden behind the banners and signs, almost invisible. And it was clear that she was confused by the crowd.
The protesters hijacked Pelosi's event. And they made demands: a clean bill, protection for all 11 million undocumented immigrants living in the United States.
It's hard to tell whether Pelosi was enraged, frustrated, or bewildered. Her attempts to grab the mic and shout over the protesters showed persistence and a willingness to have that dialogue. But there was also confusion.
"Let us speak!" the crowd continued to shout.
"You've asked some questions! You've asked some questions!" Pelosi replied.
Later, the protesters shouted "Yes or no?" to which Pelosi responded, "To what?"
She tried to regain control four or five times, moving around the crowd, her security close as she tried to speak directly to the loudest protesters. After about 40 minutes, the House leader and the other speakers — some of them Dreamers — left.
The protesters were resilient. Through call-and-response, they made their demands clear. There were few who were at the front of the crowd, those who yelled the loudest, who pointed directly at Pelosi, calling her a liar for negotiating with Trump behind closed doors.
But behind the crowd, at the end of the line, was Prieto, towering above the rest in a dark suit jacket and a white button-down shirt, a departure from his usual denim look. From the corner, he proudly held a sign that echoed the red banner and fervently chanted along with his fellow activists.
After the demonstration, Pelosi began using the language of the protestors. A few hours later in Sacramento, Pelosi said she and other Democrats were committed to passing a "Clean Dream Act" — immigration policy without any deals that included a border wall.
And ever since, she's made the same promise. In response to the protesters, she's said she understands and respects their goals and that passing the Dream Act is just the start of broader immigration reform.
"That protest was about all of us or none of us," she said at a press conference the next month. "They want comprehensive immigration reform; we do, too. But right now, we have decided to go down the path with the Dreamers."
The strategy that these young activists have employed — that of publicly pressuring politicians is not new, of course. The American Civil Liberties Union has been using the same approach for a long time. Roberto Alcantar, senior immigrant rights policy strategist for the ACLU of San Diego and Imperial Counties, said one of their most successful campaigns have been those that specifically target Republican legislators like Darrell Issa and Mimi Walters.
Past campaigns for the Dream Act have included social media, radio, and television ads, billboards right outside their offices, and even lawn signs that Alcantar said were posted in Issa's neighborhood. According to Alcantar, it seems to be working. Issa and Walters have both either made a public statement or signed a letter in support of legislation like the Dream Act. And Issa announced earlier this month that he will not seek reelection this year.
Alcantar said Republicans have been the ACLU's main target when it comes to the Dream Act, because that's where they see the most opportunity. But they are supporting the efforts of these youth-led groups to pressure Democratic legislators as well.
"If we're not seeing action from our allies, then we will put pressure on them," he said.
With all that the ACLU has invested and all that it's willing to do in the future, Alcantar said they're prepared for a long fight ahead. The ACLU's key strategy is to back smaller, grassroots campaigns and organizations like RISE and the Immigrant Justice Alliance.
"We want to encourage and support the work that's already been happening even before the ACLU jumped into this fight," he said.
Like the ACLU, Prieto and other young organizers are pushing for reform that humanizes all immigrants and undocumented families. "I think we've successfully convinced 800,000 undocumented people that they're worthy of dignity and respect — those are the DACA recipients," Prieto said.
"What does that mean if you convince all 11 million that we're worthy of dignity and respect?"