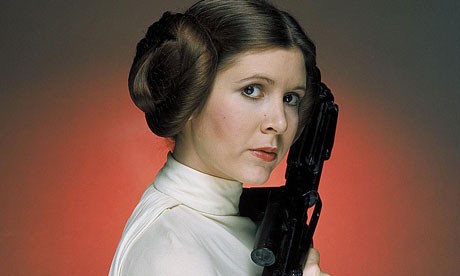 A friend pointed us to a Bay Area beauty parlor that offers "Designs Down Under" — pubic hair sculpting options (for men and women!) and vajazzling — which included the
Princess Leah
[sic], a "crown w/ blue crystals (Bride's Special something blue)."
Not to be THAT person, but Princess
LEIA
never wore a crown. A more accurate pubic representation (not that we've put a lot of thought into it, HA HA) of the
Star Wars
royalty would be two bun-like tufts on each side, obviously. Or some kind of laser gun, in — fine — blue crystals (something blue, indeed). 
While we're on the topic, here are some other "designs down under" that we'd like to see happen:
[jump] The Rapunzel: A three-foot braid that extends down to one's toes.
The Mr. T: A landing strip with forty gold chains attached.
The Google Map: Bald, except for one tiny dot, with text above in crystals that says "You are here."
The Ryan Gosling: A "hey girl" design that also promises to accompany you to your parents' house for dinner and say nice things about your father's politics and mother's meatloaf.
The Hillary Clinton: Your pubes would look great in a well-tailored pantsuit.
The Carmen Sandiego: Extends your bush circumference by several feet, prompting unsuspecting paramours to wonder "Where in the world … ?"
The Three Stooges: Hairy (extensions), Curly (with perm), and Moe (bowl cut).
The Moron: "Your great" spelled out in mustard.
The Tech Billionaire: Pubes that fly you to Carmel in a private helicopter that comes with a portable jacuzzi so you won't be bored on the flight down.  
The Four Square: Design that lets you become "Mayor" of your own vagina.
The Gentrification: Displaces your less desirable pubes with lighter, more well-to-do ones. 
The Bisexual: Invisible. Just like your sexuality.
The Lake Merritt: Includes McDonald's wrappers and several unidentifiable smells.
The Hipster: Whatever style was fashionable twenty years ago. For an extra $3,000, service comes with a single Coors Light.
The Foodie: Organic, sustainable crystals that promise to use the ENTIRE PACKAGE every time.
The PETA: Bald. FUR IS MURDER.
The Burning Man: A gigantic, bioluminescent dome that vanishes after a week, leaving no trace.
The Punk: "Straightedge" razors
only
.
The Buzzfeed: Replaces your pubes with GIFs of corgi puppies.
The Gentrification II, anal bleaching: You've never seen an asshole this white!
Follow @annapulley on Twitter.