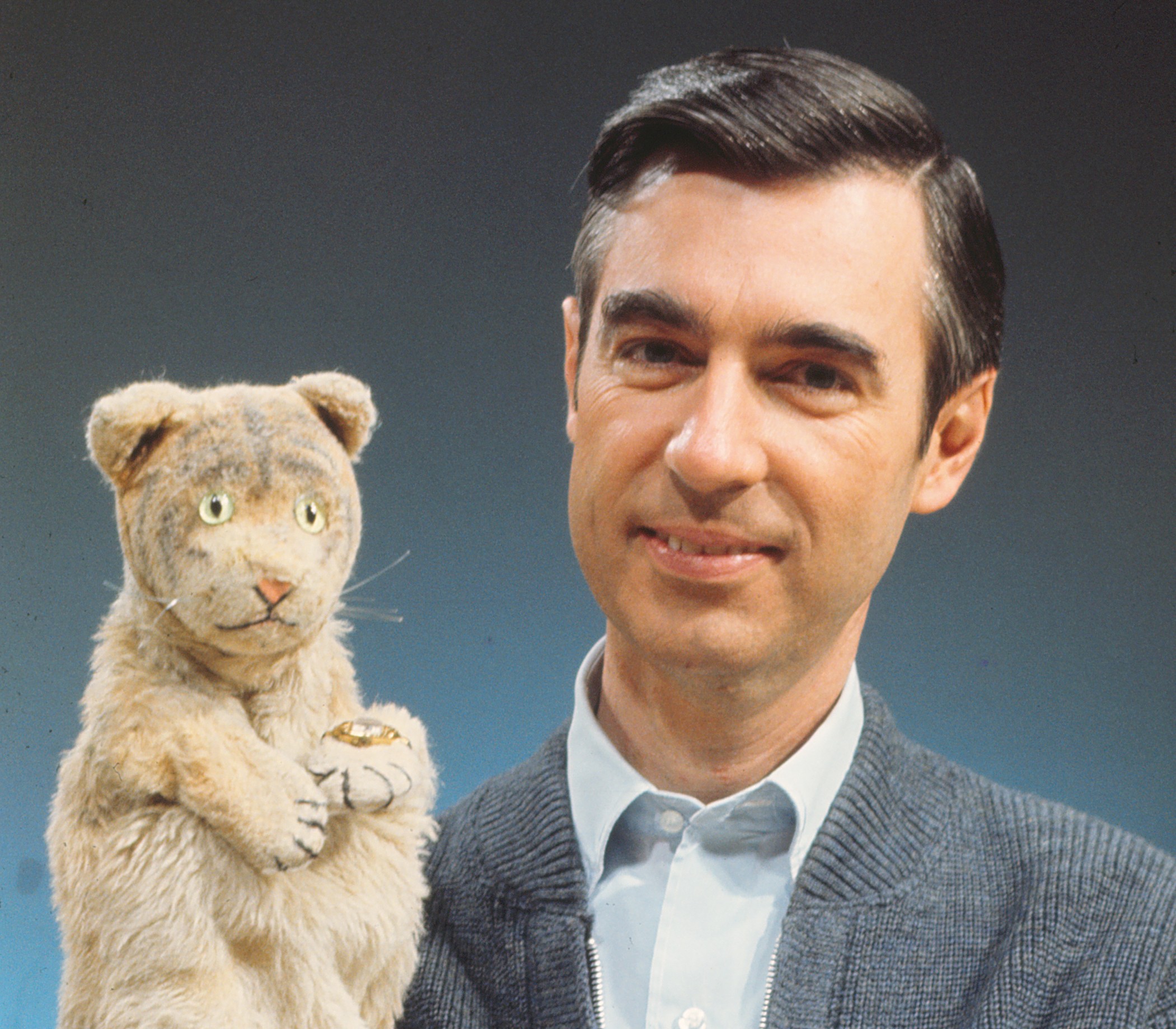 I confess I was not a regular viewer of
Mister Rogers' Neighborhood
when Fred Rogers ruled the TV kiddie-show roost from 1968 to 2001. Tuning into the popular PBS children's program for even five minutes was enough to convince us that Rogers was a wholly different animal than the bumptious clowns (
Bozo's Circus
), slapstick comics (
The Soupy Sales Show
), uniformed old uncles (
Captain Kangaroo
), marionettes (
The Howdy Doody Show
), androgynous onesie-clad mock-infants (
Teletubbies
), and wise-cracking frogs and sweet monsters (
Sesame Street
,
The Muppet Show
) who purported to tap into the Baby Boomer juvenile mindset — and that of Generation X, as well — as kids gathered in front of the tube in those relaxed pre-Internet days. Public Broadcasting must have saved thousands on wardrobe, props, and cast salaries on the Rogers show.
Rogers himself, the subject of Morgan Neville's well-behaved new documentary Won't You Be My Neighbor?, with his comfy slippers and shy manner, was almost frighteningly bland compared to the stuff juvie hipsters preferred then, namely <i style="mso-bidi-font-style:
normal">The Adventures of Rocky and Bullwinkle and Friends and Pee-wee's Playhouse. No corny-movie in-joke parodies or Gary Panter talking furniture for Mister Rogers. Just a very gentle man and his seemingly heartfelt naive whimsy, doled out in 28-minute helpings that seemed to go on for hours.
Filmmaker Neville (20 Feet from Stardom, Johnny Cash's America) wants to help us forget how bored we got in the neighborhood. But a funny thing happens as we actually get to know Rogers, up close and personally. As proclaimed onscreen by his widow, his sons, his associates on the show, and such awed admirers as cellist Yo-Yo Ma, the much-loved Rogers, an ordained Presbyterian minister and lifelong Republican, was every bit as warm, loving, and generous as his onscreen persona. Neville's doc takes great pains to show this, and we're glad it did.
The care he took in helping his young viewers — the target audience was 2 to 6 years old — negotiate the often-confusing world opening up to them, the sense of shared humanity, and his reassuring "we're all in this
together" vibe were as deliberate a part of his mission as his use of puppets Daniel Tiger and King Friday to help explain such scary grownup matters as the assassination of Robert F. Kennedy and later, 9/11.
Rogers sincerely believed that kids deserved more thoughtfully conceived television than the cruel pie-throwing spectacles or violent superheroes he saw on rival TV shows. His public support of Black and gay rights cost him the ire of Fox News rightwing ideologues — sign-carrying haters picketed his funeral in 2003 — but his mission as a "repairer of creation" was clear: "Let's make goodness attractive." He did just that. We guffawed at The Ren & Stimpy Show, but Mister Rogers went the distance with something more basic, if more than a tad tearfully: "It's you I like." It's hard not to be at least slightly moved by Won't You Be My Neighbor?